Revv D20 Review – Is the Small amp worth the BIG Price?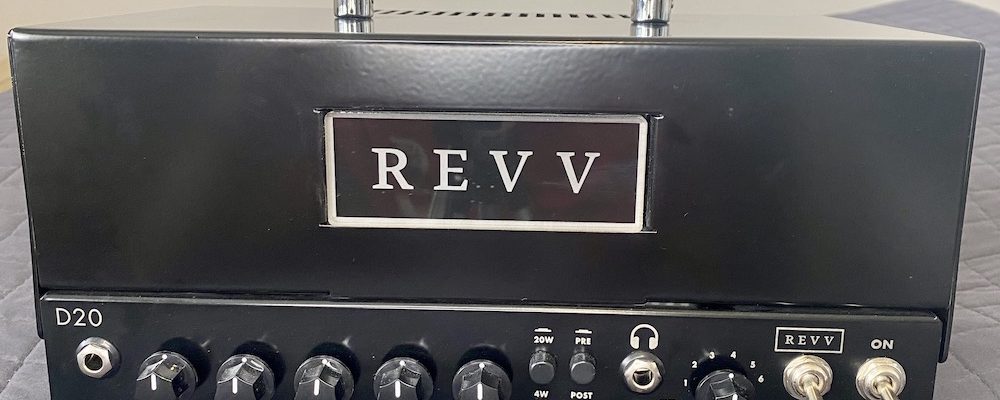 I have been after a new amp for the studio for a while, something with a bit more power and something a little different. However, the issue with buying tube amps is that you have to have a load attached to them or buy a combo. For what I was going to use it for, I didn't want a combo. I also didn't want to go down the load box route. After going to the British Boutique Guitar festival, and speaking to Henning and Tom (From Elevated Jam Tracks), they both highly recommended the Revv D20. Great pedal platform, small and lightweight and also has the Two Notes load box built-in. Sounded perfect!
So I decided to bit the bullet and order one, I have been playing it for a while in many different ways and for many different uses, so thought it would be worth sharing my experience about it and let you all know what I think this little amp is like.
The Canadian built Revv D20 has been hailed as the best pedal platform amp. With its super clean and amazing crunch and break up tones. With a pair of 12AX7 valves in the Preamp and a pair of 6V6s in the Power Amp. The amp is a 1 channel, 20-watt amp which is switchable down to 4 watts. It has a serial buffered effects loop to run effects through. It is a lunchbox style amp coming in at only 4.1kg for the unit.
What makes this amp stand out is that it has a Two Note Reactive load built straight in. Meaning you can run this head straight into your interface and use virtual cabinets (6 customisable virtual cabinets selectable via the front knob or up to 128 via MIDI) to fine-tune your sounds and record.
So, for me, this amp sounded perfect, Great for demos and home recording. So I thought I would give it a go and let you know what I think! Let's dive straight into it.
Now, let us start by saying that the Revv D20 is not a cheap amp. It isn't as expensive as some Amps but due to the Two Notes side of it, it does push the price up. The unit I bought was £939. They vary by around £50 depending on where you buy them and also what colour you get. (The white one is slightly more expensive than the black unit). Is the unit worth this price? We will go over this at the end.
If you go on the Revv website they also have a range of colours you can only get from them, this includes a lovely baby blue and red D20. These do come in a bit more expensive but if it is something you like and are after you can buy them from their site.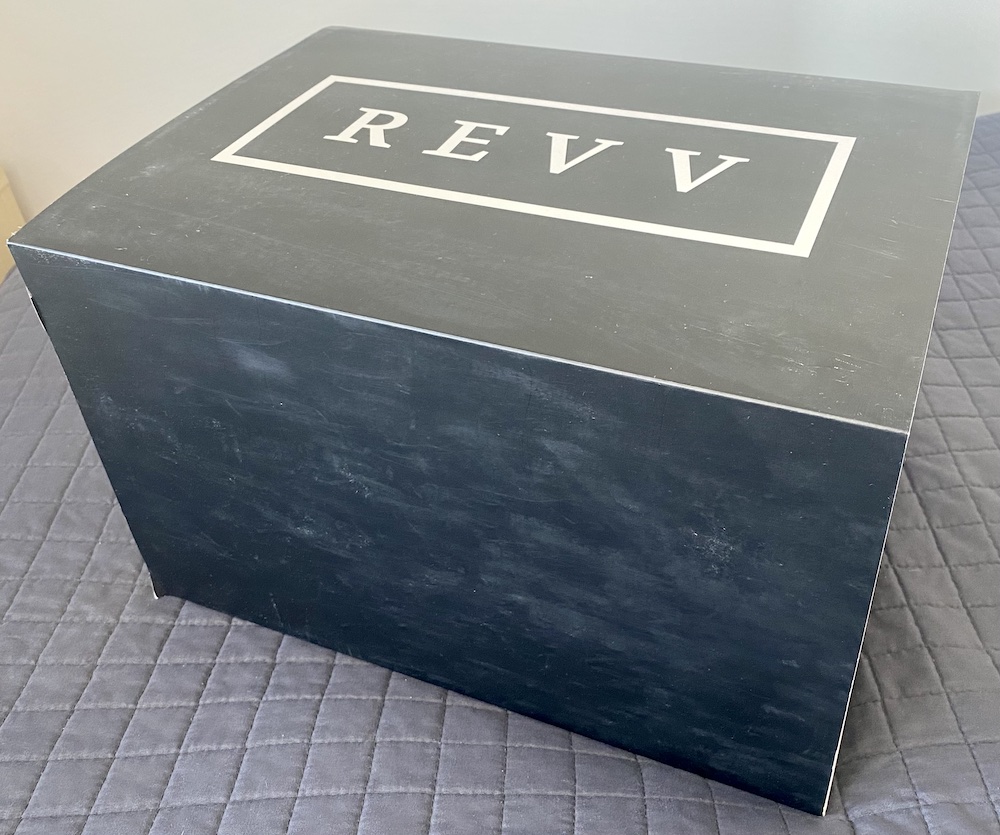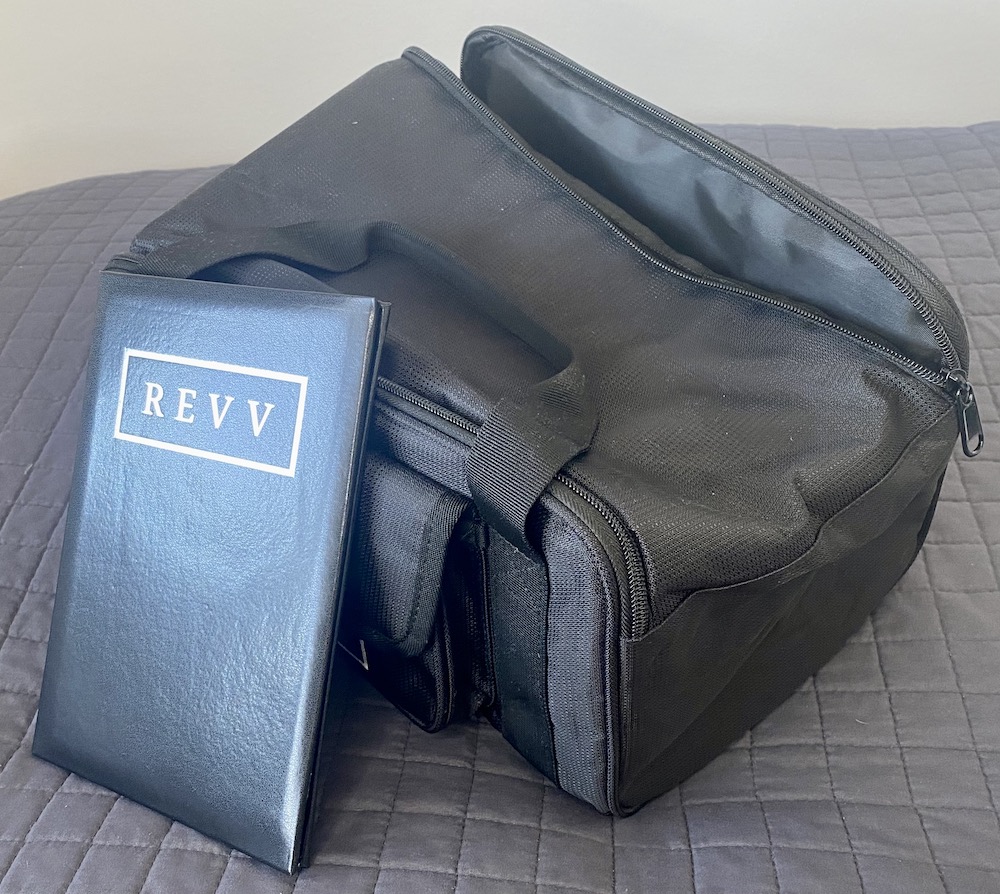 The packing of this amp is second to none! You are treated with a lovely box with a branded sleeve. Removing the sleeve unveils the amp, carry case, cables and also to the Certificate (more on this in a minute). The whole amp is packaged well and arrived safely.
The carry case, that comes with the amp I might add, is very nice! Fits the amp lovely, got some very nice carry handles and a front pocket for power cable or anything else that you might want to carry with your amp. Might just be me but I think the "free" carry case is a very nice touch! We have had included cases with guitars for years, time more amps came with them (I am looking at you Boss Katana!)
As I mentioned above, it comes with a certificate. This contains a few things, The serial number, The model number, date of manufacture. It also has a list of everyone that was involved in the making and testing of the D20 (not names just initials). This is a very nice touch and great to see the steps it goes through! The amp goes through 8 steps (Although looking at the initials 3 people have done all 8 steps). Nice to have a nice little booklet with this information in it.
The Revv D20 looks amazing! Pulling it out of the box you can tell that this is a well-made amplifier. I couldn't see any signs of blemishes or marks on the casing, and everything works the way it should. I went for the Black unit (You can also purchase it in White). When powered up the amp has an internal glow of blue. Goes well with both the Black or White units. All the controls and switches feel great and perform great. A nice feel when using them! Nothing is loose or wobbly, everything has been built and secured very well. All the labelling and writing on the amp are clear and have no issue with the printing (More on the labels shortly). It is a very clean looking amp! Very modern and clean looking!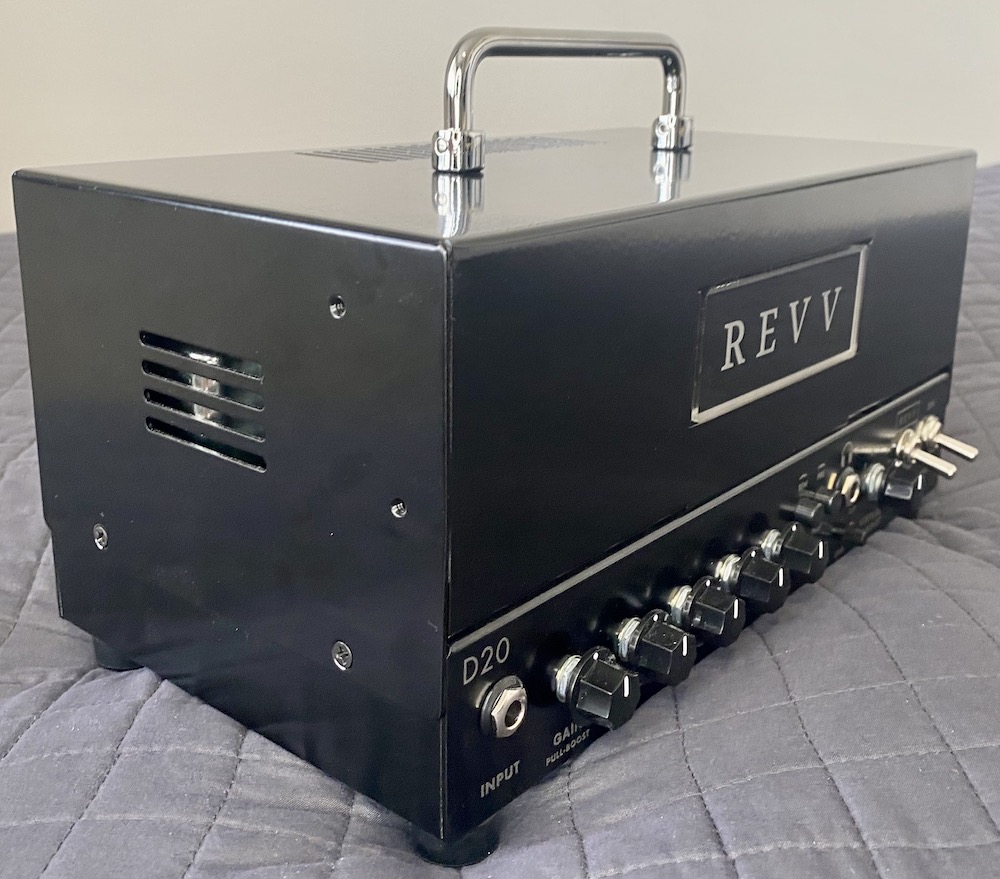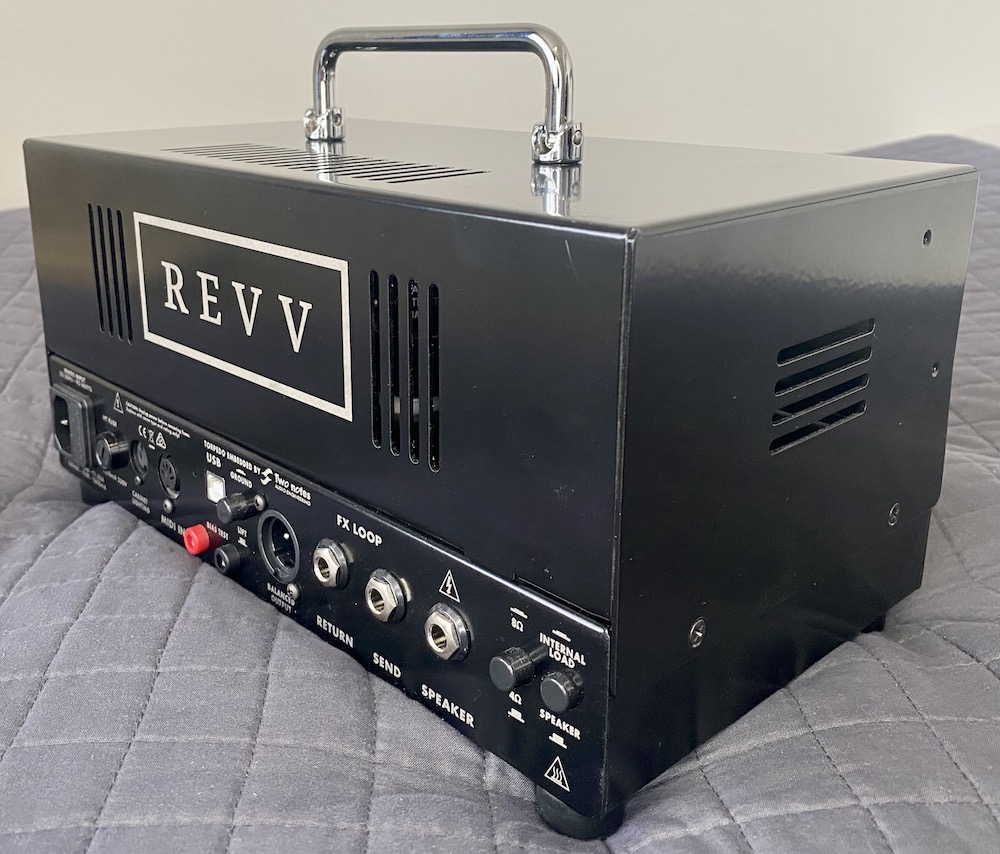 Revv D20: Favourite Features
So, I am not going to go over all the features of this amp, however, I am going to go through a few of my favourite features that led me towards this amp and how I use them with this amp.
Direct out/Two Notes
This is one of the main reasons is purchased this amp. For what I do and where I live I don't need and have got the space to crank an amp into a cab, so using a mic and a cab is not an option. So I had to look into amps with good Di out. Most amps have a line out (some simulated some not), however, the Revv D20 has 128 presets, MIDI adjustable and also one of the biggest names in load box and cab sim technology inside it. So this amp kind of was no brainier.
Push/Pull Gain
This amp is only 1 channel but it has a Push/Pull gain feature allowing you to increase the gain. This is like a phantom second channel. Engaging this will bring the amp into a lovely crunch/light overdrive! Allowing you to get some pushed cleans or lovely country lead sounds. This is also a great place to be if you are after a heavy, hard gain sound. Pull the gain knob out, dial in a lovely crunch sound and then stick an overdrive pedal in the front and welcome to Hard Rock and Metal sounds. This amp may be super clean but thanks to the boost feature it can do almost any sound you are after.
20w/4w Ability
Most amps come with this feature but it is always nice to see in an amp. The ability to bring the power down allows you to drive the amp harder while keeping the volume at a reasonable level. Perfect for home use. I like that they have put the button on the front of the amp, making it easy to access if you need it.
Control with USB
This last one is a point I wanted to make. I don't love the actual USB feature, a lot of gear can connect via USB. I love that you don't need the USB to enjoy this amp. If you are a person who loves plug and play, then you will be able to use this amp and get great sounds from it. Furthermore, if you plan to only use it with a cab, then you won't use the USB or direct out at all. However, if you do like to tinker and mess about then plugging this amp in allows you to do some amazing things with the Two note software. Which we will talk about more later on.
The size
This is classed as a lunchbox head. it isn't as small as an orange Micro Terror or a Spirit of the nano, but for its punch and features, it is a very small amp. This was also another must when buying this amp as it needed to be space-saving and fit into my studio nicely. Which it does. With the included gig bag, this amp would be easy to move around from rehearsals to gigs and back again. It is fairly lightweight and because of its small footprint easy to carry.
Foldable Handle
This is just a small thing, however, on top of the unit is a metal handle (as you would expect), but this handle folds down, allowing you to stack either another amp on top or pack it up easier or even put it into a case for travelling and gigging. This is such a small feature but one that is welcomed and you will find is very useful!
So how is the Revv D20 to use? Is it easy to get a good sound out off? Are the controls easy to use? Well, Simply, Yes! The amp itself is very simple to use. You can go deep and include MIDI and load presets (and also change lighting using a Revv Guitar Cab), however, if you were just after a simple plug and play amp, this is also perfect for you.
You could run this through a cab, plug your pedals into it, either through the front end or the included effects loop and you will get a great sound. However, if you were interested in using Midi and Cab sims and direct out, it can do all that for you as well.
As you will be able to hear and see from the sound clips below, by just using one of the included cab sims and fiddling with the controls you can get some amazing sounds, Then running a pedal into the front of it make it even better. I think this amp is so easy to get good sounds with. While we are the subject of sounds, let's go through a few, shall we?
Now, let us talk about the main feature of a guitar amp. The sounds. What does this amp sound like? Well, the Revv D20 is famous for being super clean and a great pedal platform. I can confirm this is true! This amp has wonderful crips cleans but using the push/pull Gain knob you can push the amp into a nice crunch and breakup. Perfect for those country cleans or those bluesy breakup sounds.
For these sounds, I will be running the Revv D20 straight into my interface using the XLR direct out and using an included cab (One of the ones you get free when you register). I will be running through some sounds and messing around with the controls at the same time. I will be swapping between cab sims as well. Any reverb you hear will be from the Two Notes software.
Now, I am going, to be honest with you all. The software as amazing and as helpful as it is, I don't feel looks the best! I feel like it looks a bit "messy". I get and understand they have tried to make it look like real life and give it the appearance of actual hardware, but I would rather they just made it look cleaner.
Another complaint I have is that when you register your D20, you will gain access to several free cabs. However, you have access to sample other cabs, but not save. This can get confusing on what you do and don't have access to. I have found out that you can click a button called "Online" and this will hide all your "demo" cabs.
However, saying that the Two Notes software that comes with it is easy enough to use, packed with a few features and cool little things that help you get the sound you want. With the huge range of IRs available on their site (or the ability to import your own) the sound you are after is so easy to get.
It is not a lot I dislike about this amp, like I said in the beginning, for me this amp is perfect! However, I have thought of a few that other people might dislike. The first one is the price of the amp. There are other amps by other brands that have similar features but cost a bit less. I have spoken to people who own various amps and they have all said that if you want a simple amp that gets you a good tone no matter how you set it, the Revv D20 is the one to go for.
Also, the looks of the amplifier might put some people off. I like modern looking things, I also like to look forwards and not back so an amp like this is right up my street, however, I know people still love their retro and classic looking amps. The Revv D20 isn't that! With its black or white case and blue LED's it is very modern looking, so some people might be put off by it. For me? It's perfect.
If I had to be picky, I would say that the control labels being on the bottom of the controls isn't the greatest, Having the amp on the desk and looking down at it can make it hard to read, However, after a bit of use you learn where the controls are so the label doesn't matter! I did find myself having to bend over to read the labels at first.
So to round off this review, What do I think? Am I happy with the Revv D20? And would I recommend this amp? To answer all of them quickly, Yes! I am over the moon with this amp, from the build quality to the feature set, to how easy it is to get a great sound out of it! Everything is just above and beyond! Without repeating what others have said, this amp takes pedals extremely well! Which is, again, perfect for me to review and try pedals out. If you want an amp for gigging but also need something for quiet home use, it can also do that, due to the built-in load box and cab simulation the headphone out quality is 10/10. I can't wait to get some more pedals in to review and see how they sound through this amp.
I couldn't recommend this amp enough! If you are after an amp that you can use for gigs and studio this would be the perfect amp! I am aware there are some added downsides with Tube amps. Replacing Tubes, Servicing and general stress of reliability, but from my research, Revv amps seem to be rock solid! Also, if you are after something with high gain, you might want to look at the Revv G20 instead. the D20 will do high gain but will need the help from pedals, whereas the Revv G20 has a lot more gain built into the amplifier. However, if you are using pedals, either one will be perfect!
Want to hear more of this amp?
Want some more examples of what this amp sounds like? Well, below is a few reviews we have done and all of them were recorded using this amp. Hopefully using the articles and videos below you should be able to see if the Revv D20 can do sounds that you might want. So please feel free to check out the articles below.
The type on is a stunning chorus ensemble which is loosely based around the Boss CE-1 pedal.
A fantastic overdrive.distortion pedal based on one of my favourite TV shows!
This is another overdrive pedal aimed at giving you that classic Marshall sounds, without the cost or volume!
So that is my review and thoughts on the Revv D20, A great little amp and I am over the moon that I purchased one! I can't wait to get to use it more for more pedal reviews and guitar reviews and see what sounds I can get out of it! I do plan to do a few gigs with this Amp but will have to put together a pedalboard to go with it (or run the Headrush without a simulator on). There is experimenting to do! I am keen to try it out with a Revv cab and use the lighting feature, Would be a nice touch at a gig to have everything matching! Do you own the Revv D20? Or maybe another Revv amp? Let us know what you think about it over on our Instagram! We would love to hear from you all and hear your thoughts!
If you want to purchase a Revv D20 of your own you can head over to our affiliate link below to pick up your unit. Also, you can find a list of all the gear I have used or do use currently at this link.
Buy the Revv D20 (Affiliate Link)
Check out our other Articles here