Sigma 000MEL Acoustic Guitar Review – The Most Affordable 000?
Something a little new to the website, our first acoustic guitar review! I have seen the Sigma brand for a while now, and heard nothing but good things! After setting a recent goal of mine (More on that to come), I am currently in the market for an Acoustic guitar. A few emails and conversations later, and here we are. I have a Sigma 000MEL on loan to review and try out!
I have always wanted a 000/OM acoustic, being an Eric Clapton and John Mayer fan. However, they are either really expensive or just not available for left-handed people. However, The Sigma 000MEL acoustic guitar is an affordable 000 guitar that is also available left-handed! So let us dive into the specs, hear some sounds and then talk about my thoughts.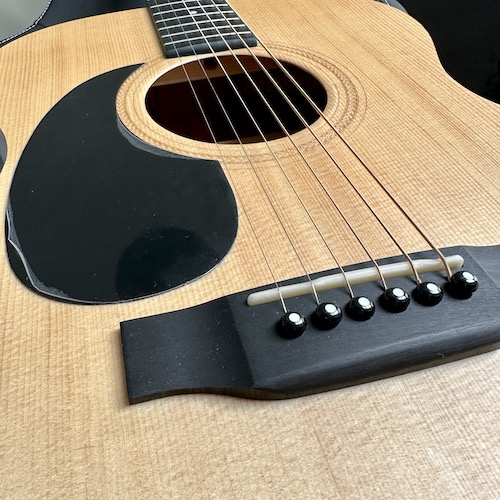 Sigma Guitars is a guitar brand originally owned by Martin Guitars but sold to AMI. If you are from the USA, These guitars will be under "Kindred Guitars". Although AMI is German the guitar themselves are manufactured in China. Sigma Guitars has a varied/wide lineup from super affordable guitars all the way up to higher-end guitars. A fantastic choice for all types and skill levels.
So the Sigma 000MEL is a 000-14 shaped guitar. What this means is that the body is connected to the fretboard at the 14th fret. Let's go over woods and construction first. So the guitar is made with a variety of woods. The body top is solid Sitka spruce, with Mahogany back and sides. The neck is low profile Mahogany neck connected using a dovetail neck joint, topped with a Micarta Fingerboard. The whole guitar, body and neck are finished in a satin finish! Feels amazing, comfortable to play and looks incredible! The nut and saddle are both made of bone, a very rare of guitars of this price point.
More on the Sigma 000MEL Acoustic Guitar
The guitar has a 25.4" scale length (similar to Fenders), and a nut width of 42.9mm. The neck is kept in place with a two-way truss rod and the strings are kept in place by Sigma Branded Chrome Tuners a bone nut and also a bone saddle.
A few other things to mention are that this guitar is fitted with a Sigma Branded Preamp, with a 3-band EQ, volume control and built-in tuner. It does not ship with a gig bag or hard case. As standard this guitar came with D´Addario EXP16. As mentioned, Sigma has various price ranges for their lineup, This guitar that I have today is from their more affordable range, the Sigma 000MEL retails for $410 (The right-handed version retails for $390).
For sounds, I wanted to do something different! No demo song for this one! For the Sigma 000MEL acoustic guitar, I just sat down, hit record and got lost in the guitar for 15-20 minutes! Then cut together some of the best bits for the video below. I find acoustic guitars are all about spontaneous playing, picking it up and strumming away! So that is what I did.
The demo sounds are a mix of sounds. I have a t.bone Condenser microphone set up around the 12 fret, this is where most of the sound is. I am also recording the pickup from the guitar and will mix them both together as well as give you a taste of each on its own. Hopefully, this gives you an idea of what this guitar sounds like!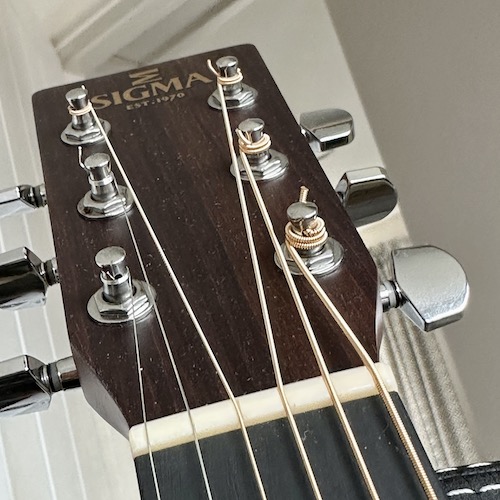 Straight out of the box, the guitar was only slightly out of tune (as to be expected) however, the action and set-up were great! I've played more expensive guitars with worse action! The overall playability of this guitar is very comfortable and easy to warm to, Would feel happy to gig this and for the price think it's an amazing guitar! Would it hurt to get a set-up carried out? Not at all, every guitar could do with a set-up! Will always help!
The design and shape of the Sigma 000MEL are spot on! They have absolutely smashed it! The shape and size feel perfect, comfy and lightweight but sounds good with a nice resonance! The wood looks and is finished lovely, Of course, I'm not expecting AAA-flamed wood here, not at this price! However, the woods they have used look lovely with some nice grain. It is wood that is standard with acoustic guitars, known for giving good sounds and resonance.
Few More Thoughts
Bright sounding with a nice ring and a good amount of low end however, not as much as a bigger bodied or a jumbo acoustic guitar but enough! The bright sound sounds perfect when finger-picking! The 000MEL has plenty of sustain and holds out notes for a good amount of time.
This guitar also has a Pickup system built in. The pickup system is a Sigma-Own brand! And it is just fine! Of course, there are better systems, and there are also much worse! You will be able to hear in the sound samples that the direct sound does remove a lot of the bass (As expected), however, you can get around this by playing with the 3-band EQ that is built in! The EQ is very responsive and noticeable but easy to dial in sounds and not extreme!
What this guitar has done is made me fall in love with the 000/OM guitar shape and size! They are so comfortable, portable and easy to play! I can see why so many great players choose this shape! They will definitely feature on the site more!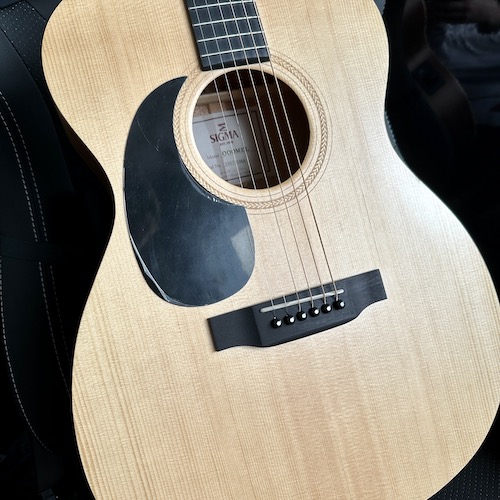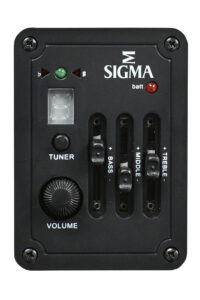 Final Thoughts on the Sigma 000MEL
Looking over the guitar, I did notice a few very minor imperfections. However, it is nothing I wouldn't expect from a guitar at this price range! Just small finishing and final touch issues. Also, there are some areas that are "cheaper" to keep the price down low. For example the own brand Tuners and Pickup system! However, these could be upgraded if you wanted but I had no issues with any of them!
For the price, I think this guitar is just perfect! In fact, I would say that this guitar is a bargain! A great price and will see you through almost every scenario! Worth noting that this guitar doesn't come with a hard case or soft case of any kind. Unless the retailer you are buying it through supplies one as a bonus! (Normally if you ask politely, they will!)
Hope you enjoyed our review of the Sigma 000MEL Acoustic Guitar! Massive thanks to Sigma for arranging for this guitar to be loaned to me this guitar for a while. It was amazing and great fun to play. It definitely made me want a 000/OM guitar even more, and I may even have to come back to this one (Or one of the other Sigma models). Although they loaned me the guitar, all the thoughts have been my own.
Make sure to give our Instagram and YouTube a follow. It helps out the website massively and allows use to continue making content and bringing you reviews!
If you want to pick one up for yourself you can visit the Sigma Guitars website below to find your local retailer. Also, make sure to check out their Instagram below! 
Sigma Guitar Links:
Check out our other Articles here