Bispell Audio Saxon Pedal Review – Marshall in a Box!

Are you after a Marshall sound but don't want to buy another amp? Well, this pedal might be the perfect solution for you! Today I am looking at the Bispell Audio Saxon pedal. This is an amp in a box pedal which aims to mimic some famous late 60s Marshal amps.
All the Bispell pedals are designed and hand-built in the UK in small numbers. Want to thank them for allowing me to borrow this pedal to do this review and sound clips. So why don't we dive into more about the pedal?
So what exactly is the Saxon pedal? Well, it's a highly accurate recreation of the legendary JTM45 and Plexi amps of the late '60s. The amps that because of price increases, not many people can afford anymore. This pedal aims to make any amp sound like a JTM45. Does it? We will get onto that shortly.
The pedal can look a bit confusing due to the many controls however if you think of it like an amp it is very simple. You have a 3 band EQ (bass, Mid Cut and a treble) then you have your Gain, Volume and Presence control. Below all that are two switches, a Bright switch and a bass switch, playing with these will get you sound from a JTM45 to a Plexi. All good fun!
More on the Saxon Pedal
As far as the look of the pedal goes, I am a big fan, the barebones hardcore look is very nice. The red (But can be blue) gain knob is a nice little touch and I would imagine being super useful on a live stage if you needed to adjust it. The rugged casing and font choice make for a very rock feel
All the controls are nice to use and don't feel too loose or too tricky to adjust! A nice resistance to them. When switched on the Saxon pedal has a nice bright white LED so you know it is on.
Let us talk about the price. How much for all of this? How much for a Marshall Plexi pedal that has been hand-built in the UK? If you get it from their website then it is £189. Which, when you look at other "amp in a box" kind of pedals (Hand built ones especially), you will see they sell for a lot higher than this one.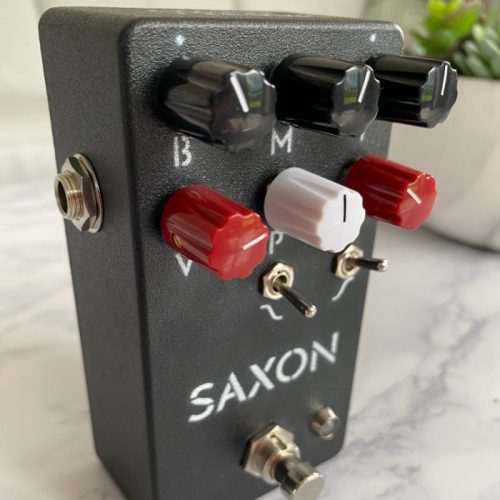 Below is a demo track and a walkthrough of the sounds you can get from this pedal. Although the pedal is aimed to give Plexi sounds, you can achieve other sounds with it. In the opening demo track, I managed to get an almost fuzz sound out of the pedal for some of the guitar parts! All the guitar was recorded with this pedal going into the front of my Revv D20, I have only put a small amount of EQ on the guitars (A low cut at around 100hz) and a slight bit of reverb and delay in post.
In the sound clips and walkthrough after, I run you through all the controls and the possible sounds you can get from the pedal. As this is a Plexi Pedal, All the sounds are recorded with my Gibson Les Paul Traditional going straight into my Revv D20 (using Direct out with a 4X12 cab sim.).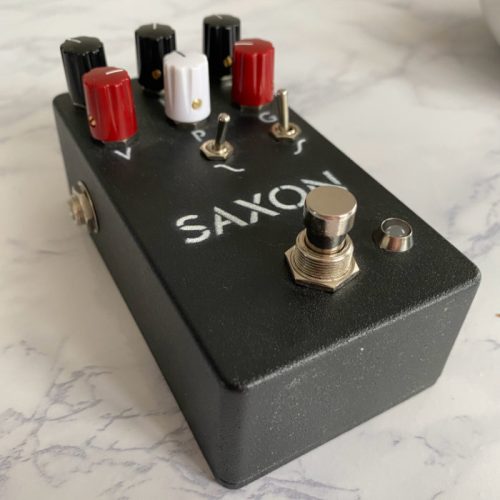 As you can hear from the sound clips above, this pedal not only does the Marshall sounds extremely well, but also has a range of other sounds. Pushing the gain up and the volume will push the pedal and give you a lush drive/fuzz. You can also roll the gain right back and push the volume up and use it as a boost pedal. What impressed me about this pedal is how responsive the EQ controls are. All three controls are useable and never get muddy or scratchy, allowing you to dial in the perfect tone. If you are playing straight up Rock then a nice clean amp and this pedal will do you just fine! (Something like the D20). You will be able to get that classic, vintage Marshall sound without all the other things like cost and maintenance.
This pedal has a nice amount of gain in it too. Allowing you to go from blues leads through to classic rock and even touch some heavy rock or metal. A great range on this pedal. Using the bright or bass switch allows you to dial in that tone you are after.
Anything Else?
I mentioned it quickly above but it is nice that all the control and very responsive and react when using them. Even the two switches! They all make a notable difference to the sound. yet even when pushing the knobs to the extreme they are still very useable! So unlike some pedals, you can use the whole range on the control, not just a certain area and anything outside of that goes to rubbish!
My closing thoughts would be that if you have a good amp currently but are after a Marshall sound, don't jump straight to buying a Marshall straight away, try this pedal out! It sounds so good and is an AC/DC sound in a box! However, it is also worth remembering that this pedal isn't a one-trick pony! It isn't just a "Marshall in a box" pedal, it is also a top-quality overdrive pedal and a very usable boost pedal, However, would be a bit overkill if you were to buy it just to use as a boost pedal.
So that is our review of the Bispell Audio Saxon pedal. Overall I am very impressed with this pedal and it has made me very excited to check out the other pedals he currently has! Did you like the pedal? Let us know what you think of the sounds and the pedal over on our Instagram, we would love to hear what you all thought about the pedal.
If you want to check out the Bispell Audio Saxon pedal in some more detail or even purchase one for yourself, you can find everything you need to know at the links below! Also, make sure to give them a follow over on their Instagram. They have a few other pedal available, including a fuzz pedal which looks interesting! Hopefully I can get one in for review!
Bispell Audio Links:
Check out our other Articles here