Hughes and Kettner Spirit of Vintage Review - Our full opinion on the little amp!
By now I think everyone has heard of Hughes and Kettner. Fantastic amp manufacture from Germany. They have created some amazing Amp using new and exciting technology. I decided to purchase one of their "Micro" amps "Spirit Of Vintage" (As I am a fan of small, compact microamps). This is a low gain, bluesy kind of amp, perfect for home recording and playing. We thought we would give our Spirit of Vintage Review but from a different angle!
After having the amp for a few weeks and using it I thought I would put together an article and give my opinion on the Little Amp and what I think about it. This review isn't going to be normal, Our main aim is sounds, as this will vary from user to user, Gear you use, Cabs, guitar and pickups that you use. However, we want to focus on what the amp is like to use, can you get great sounds from it and record using it. So let us begin from the start. The looks!
Thought I would touch on the price briefly. Price is a tricky one because these amps tend to vary. A lot of retailers will have these on sale so you can get them at a good price. They retail at £199., however, You will see them between £150-£200 depending on where you look and offers on. My advice is if you are after one, have to look around for a deal, and if you can't find a deal sit on it for a bit. A deal will always crop up and they will be reduced. 
Getting the Spirit of Vintage amp out the box I could tell this was a well-built unit. Felt solid and well made! First looks it looks exactly like a Hughes and Kettner Amp! I don't think it would be a stretch to say this looks like the Spirit 200 amp (Which this little unit is based on) but just shrunk down. You have the well-known Logo on the front, the Nano Tube light and the controls. 
I am not a huge fan of the Cream knobs and they look a little bit out of place when the unit lights up. However, I guess this is in keeping with the "Vintage" feel. I would have preferred to see black knobs on the front.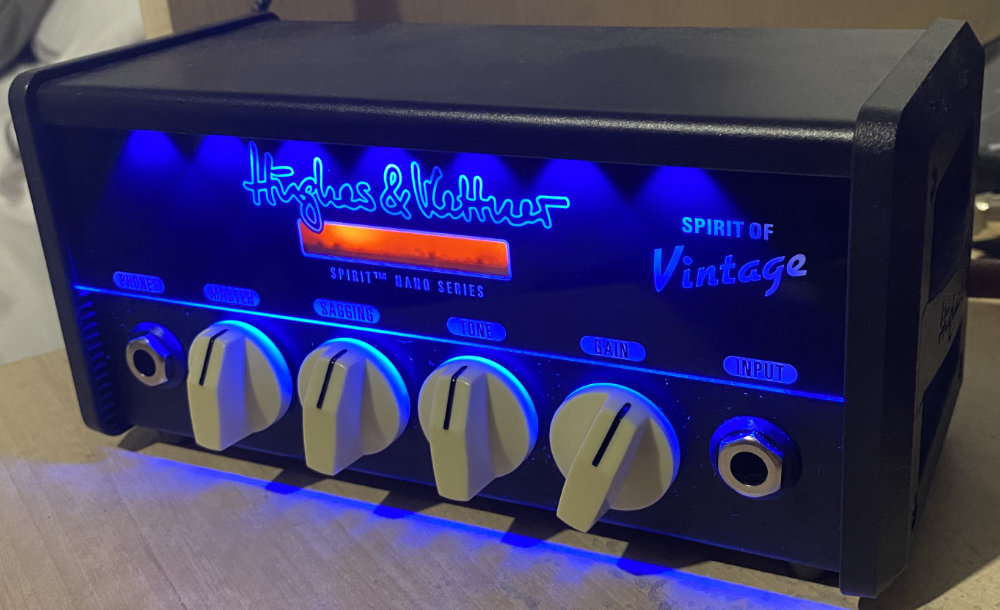 So what features and inputs/outputs does this amp have? Well, starting from the front we have (Left to Right):
Headphone Out
Master Volume Control

 

Sagging Control
Tone Control
Gain Control
Input

 
On the back we have (From Left to right):
Line Output
Aux In

 

Power
Speaker Output
Power Input
It is a fairly simple amp, looking at the other Amps that Hughes and Kettner produce you would think this one lacks in features and effects, and it does! However, this is done to keep the price and the size down. Allowing these Amps to be sold for under £200. Which I think is a bargain for the sound (more on this soon). Saying this, I would have loved to see some reverb built-in! Could have added so much to the amp.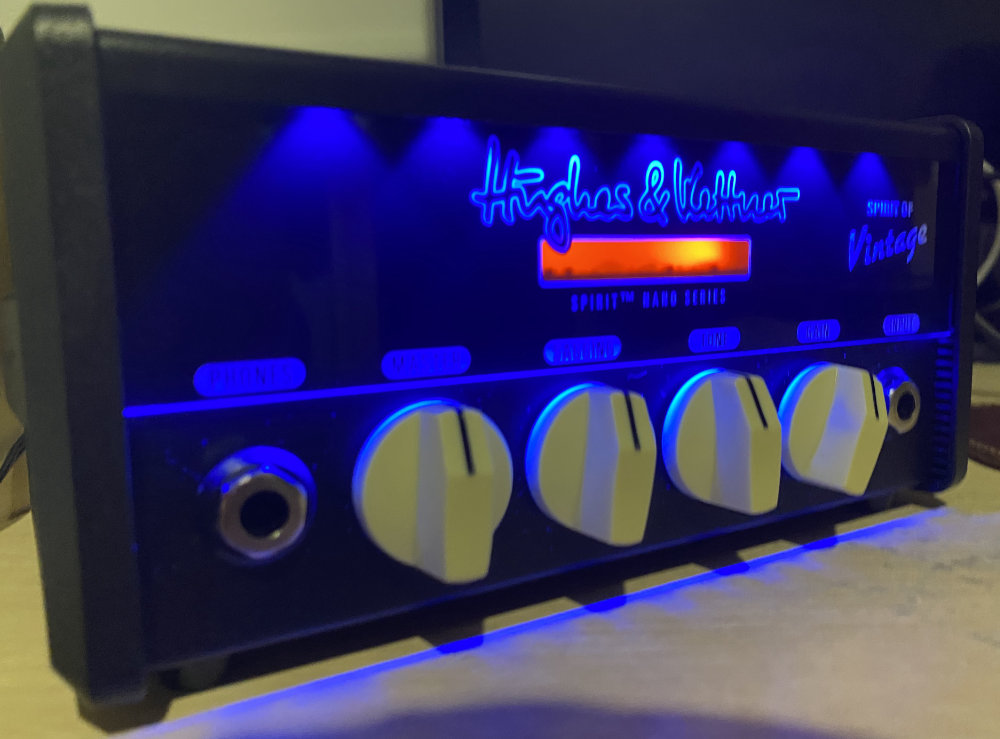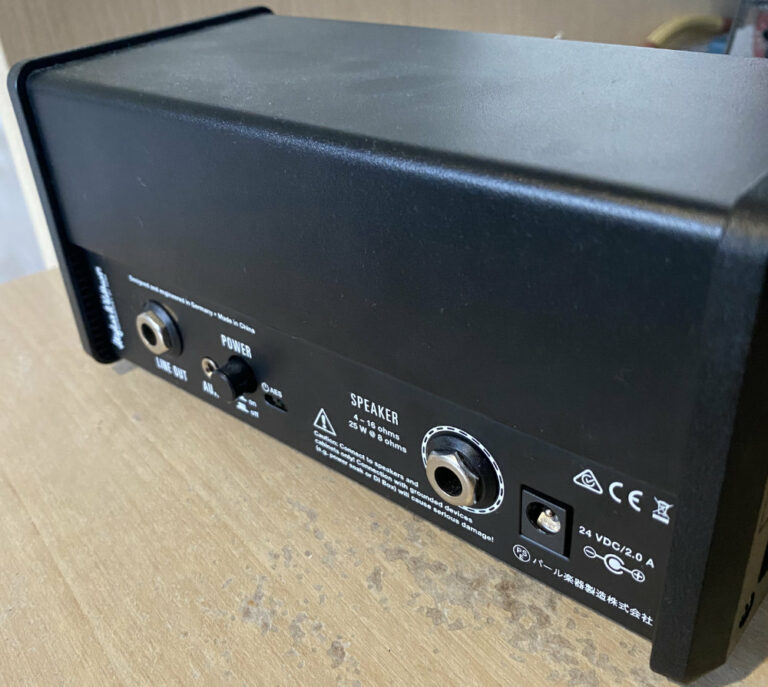 The layout is simple and easy to use Cables are clear to read. That is one thing I was worried about when buying my first Spirit of Vintage amp. Is everything going to be clear with the blue lights, I can tell you that they are. The controls are lovely and smooth, no grinding when turning a knob up or down, and they have a lovely "weight" to them.
You will be able to use any speaker with this amp as it can run from 4-16 ohms. At 8ohms it will run at 25W. So will be pretty loud and powerful. However, the main reason I love this amp, is that you can run it without a Cab, As long as the Line Out is in use the amp doesn't require a load. Which is perfect for recording and allowing you to use any IR that you want! Makes for easy recording and demoing! Just how we like it!
More on the Layout
If you haven't ever used or seen a Hughes and Kettner amp before they feature a control called "Sagging". This knob replicates the sound of a tube power amp being pushed and "sagging" or compressing under load. This knob only really comes into play in the higher gain stages. So when playing clean you won't hear a difference, however, up the gain and you can hear (and feel) the amp "struggling" as if it was a tube amp. Is it perfect, of course not, but it is a nice touch that allows you to get some great sounds. This is what Hughes and Kettner say about the Sagging control on their website: 
"Twist it to dial in the tone and feel of classic power amps driven to saturation at extremely high volume levels.  The Sagging knob on the Spirit Nano Heads gives you total control over power amp saturation regardless of volume. Sagging Spirit-style delivers that the awesome sound of a vintage power amp driven to the point of meltdown. A very sensitive tool, it dials in everything from the hair-trigger response you need for lean, mean rhythm tone to the powerful compression you need to broadcast your musical statements out into the world with in-your-face attitude."
The thing I love about this amp is that it is so easy to dial in a usable sound, The three-tone shaping knobs (Sagging, Tone and Gain) all affect the sound, and the master volume makes it so you can use the amp at a comfortable volume!  As we said above, the knobs have a lovely weight and resistance to them so when moving them you can be precise and dial in the sound you want.
Being so small and light it is also easy to move around and transport! Also being so small you can fit it almost anywhere! Make it perfect to have next to you while recording! This amp is a joy to use for recording and home use! 
The first about the sound of this amp is that it is loud! Like really loud! For its size, it's hard to believe how loud it is. it can reach 50 watts at 4ohms. Could you gig or rehearse with this amp? I think it would depend on the cab you use, However, you could easily use it with a 1X12 and use a mic! It would make a great clean amp for gigs!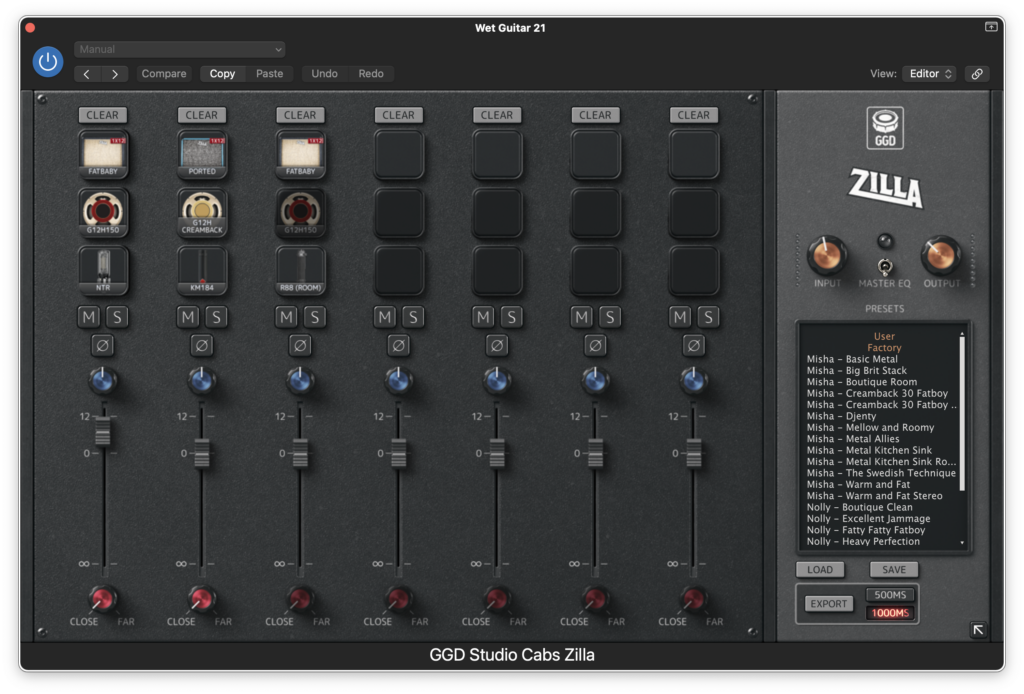 What I love this amp for is the range of tones you can get from it for such a small amp! As said above, I use this amp for recording and home use, so I use its line out and a cab sim. I am yet to find a sound I don't like (Except high gain, which we will get onto shortly). If I want a clean sound I can roll the gain back and the amp cleans up beautifully and then I can slowly increase the gain to go into that break-up sound and then into a full gain/crunch sound. What I have noticed is that the sound can get a bit "mushy" when you start to push the gain (round 90-100%). However, on this amp, I wouldn't ever run the gain that high. You will be able to hear these sounds in the sound clips below
Sound clips (different Cabs and Settings)

High gain
Crunch
Clean
Mushy Gain Tone
Clean with effects
Crunch with effects
I love the overall look and feel of this unit! Feel well built, looks amazing and feels durable! You could easily throw this In your gif bag and use it as a backup amp and not worry about it getting damaged. The looks are just like its big brothers but only a miniature version (except the knobs which we already touched on). The unit weighs almost nothing and is easy to move around and plugin! You could even put it on a pedalboard if you wanted! 
The clean and crunch sounds you can get from this amp are amazing! For those blues and jazzy tones, this amp is perfect! Being so easy to dial in I am certain anyone can find a sound and tone that inspires them! Pair this with some delay and reverb and you have a great recording amp that can be used for your whole track! Considering this amp is under £200 it makes it perfect! 
There are only a handful of things I don't like about this amp, everything else I love! I just love these portable small amp, they are pumping out some serious sounds and the Hughes and Kettner Spirit of Vintage is no different!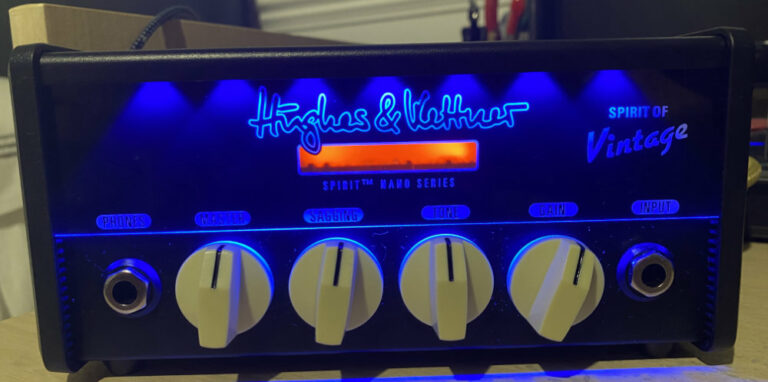 If you are after an amp to give you high, crisp gain tones, this isn't it! In fairness, you wouldn't expect it to do high gain tones. When the gain is around 9-10 it gets a bit flabby and is pretty much unusable. If you were after higher gain I would recommend getting the Rock or metal amps, these handle high gain better. 
This amp doesn't contain an effects loop either. Which for me isn't a huge issue for home recording use, but if you were to use this amp live it means you would have to run all your effects into the front (Which is neither right nor wrong). For some people, this might be a deal-breaker, but for others, it might not. As I said for home recording I would use a Reverb plugin anyway (Same with delay).
Speaking of effects, this amp doesn't contain any, which is fine however, it doesn't contain reverb. Which is a bit of a bummer on an amp which is meant to be a "vintage" sound. You would have thought a reverb option would be a must. Even a small dial on the back for volume would have been good enough. Again, as with the above, in the studio, it is not an issue but lives it might be for some people (Reverb before the Amps gain section).
The last niggle I want to have is the power cord. As with all these small lightweight amps they all seem to have these short Power bricks. Would I prefer a proper IEC cable (Kettle Plug), of course, but I understand to save space they can't, but at the least give me a bit more cable! For anyone that wants to gig with this amp, you will need an extension cord!
You have a few other options when looking for a small mini head like this. Luckily we have reviewed a few of them! Some are cheaper and some are more expensive, Check them out below and see if that one is the one for you!
So do we recommend you check out the Hughes and Kettner Spirit of Vintage? If you are after a small, low gain affordable amplifier, we think you should check this amp out. However, if you are after either a high gain amp or you already have the main amp, then you might not need this amp. That being said, if you want a small amp for studio use, this is also perfect for that! As you can see it fits lovely on my desk! The Spirit of Vintage is one of three in the range and we hope to check out the other models soon, as well as their big brother "Spirit 200".
If you want to keep up to date with everything we are doing you can check us out over on our Instagram, or if you want to get in touch with us either send us a message on our Instagram or email us here. Let us know which small or medium amp we should check out next!
Buy Spirit of Vintage here (Affiliate Link)
Check out our other Articles here