FuzzImp Shroot II Deluxe – Bears, Beats, Battlestar Galactica!
What do Guitar pedals and the office have in common? Well, nothing! However, FuzzImp set out to change that with the Shroot II Deluxe! Blending everyone's favourite TV sitcom and everyone's favourite guitar sounds into one magical box!
This "amp in a box" style pedal contains many gain sounds and is proving rather popular for not only its sounds but also its looks and appeal! In this article, we will be going over the features and giving our thoughts on this pedal. So why don't we dive into what the pedal does, sounds like and also looks like

The FuzzImp Shroot II Pedal
The FuzzImp Shroot II Deluxe is hand-made in Oregon USA by Justus. Each one is hand-made to order and shipped from his house! Proper Boutique pedal making here! Just what we like! The pedal retails for $159.99 (plus shipping) and is available in four colour ways.
The amp contains various gain sounds from your standard tube screamers up to other classic overdrive and high gain pedals. This pedal has so much useable gain in it. Everything from your classic rock sounds up to your modern metal sounds.
More on the Shroot II Pedal
Looking at the front of the pedal you will see 5 controls. You have a gain control, a tone and a volume across the top, then the two below are a low EQ and a Mid EQ controlling. With a "non-click" foot switch main for smoother switching on and off as well as a bright LED. Both the inputs and outputs are at the top of the pedal as well as the 9v power connector.
We can't overlook the inspiration and looks of the pedal. It is highly inspired by The Office and the character Dwight Shrute. Side note, if you haven't ever seen The Office (Both US and UK versions) I highly recommend you check it out, it is a great show. The front panel of the pedal has two pictures of Dwight and the controls are famous phrases that he said during the show!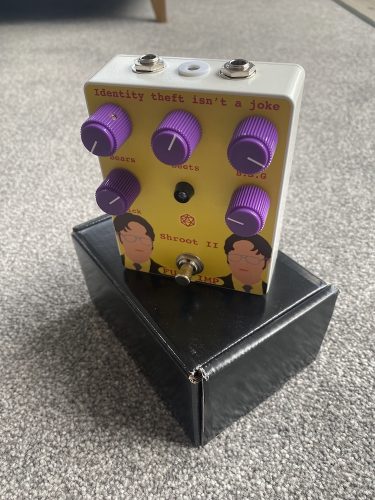 Below is a video on the sounds of the FuzzImp Shroot II. As usual, it has a demo song and then a walk-through of the controls and sounds. For the demo song and the sound demos, I am using my Gibson Les Paul into the Fuzzimp Shroot II into my Revv D20, Using the direct out to record.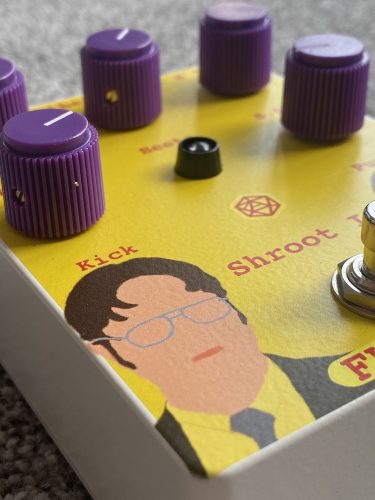 This pedal is a monster! How much gain do you want? This pedal has enough for any genre! Plus with the three "tone" controls you can sculpt the sound to exactly how you want! It can do everything from being used to push your amp and using the pedal as a slight boost, all the way to turning a clean amp into a high gain monster! The tone control is very responsive but very usable all through the band. I will say that if you are looking for a low-gain overdrive pedal this might not be the best pedal for you. This pedal will do low gain but lives in that crunch and high gain territory! However, if you are after a Cranked Marshall-sounding pedal, then look no further!
It is worth mentioning that this pedal is hand built in the States so if you are from the UK you will have to pay to get it delivered to the UK, however, FuzzImp pricing is very responsible and in my eyes well worth the money to get this pedal! I also didn't have to pay any import tax or custom fees when I received this pedal which is always a nice huge sigh of relief! Now thing worse than a surprise bill!
Anything Else?
What this pedal would be amazing for is if you were doing a gig and had a backline amp, Doesn't matter what amp it was, set it to a clean(ish) sound and run this pedal into it and you have a perfect rock sound!
The FuzzImp Shroot II is also very pedalboard friendly being top mounted for all its inputs and outputs and power, Meaning you can put it tightly up against other pedals without having to worry about leaving room for cables.
Now, it is hard to review this pedal without saying how much I am a fan of the look! The design, colour scheme and just "officeness" of the whole thing! Being a huge Office fan in general I may be a bit biased but I love the look of this pedal! Makes me smile every time I see it and Is a real talking point when other people see it, If you are going to be gigging with this you will be getting asked a few questions about it. However, is this pedal only for fans of the office? Absolutely not! if you are after a great "Amp in a box" pedal, this has you covered!
If you want to see more on this pedal then you can check out the FuzzImp's website below for all the details plus their other pedals. He has a range of pedal from high gain to fuzz pedals. Make sure to give them a follow on Instagram.
While you are over there make sure to follow us on Instagram as well as subscribing to our Youtube channel,  It helps!
FuzzImp Links:
Check out our other Articles here