Soldano SLO Pedal – As good as it's big brother?
After our review of the Soldano Mini Head the other week (Review Here), we thought it would only be right to check out the Soldano SLO pedal. This overdrive pedal has been out for a while now, and looking at the reviews I have heard many different sounds. So I wanted to check it out for myself and use it how I would plan to use it live. 
I have seen a lot of people running this pedal through big overdriven or naturally high-gain amps, However, I don't use one of those live, I use a Fender Tone Master (Review Here). So how does this pedal sound with my Fender Tone Master? Can it make a modeller amp sound like a Soldano SLO? Why don't we find out a bit about the pedal and then see what it sounds like?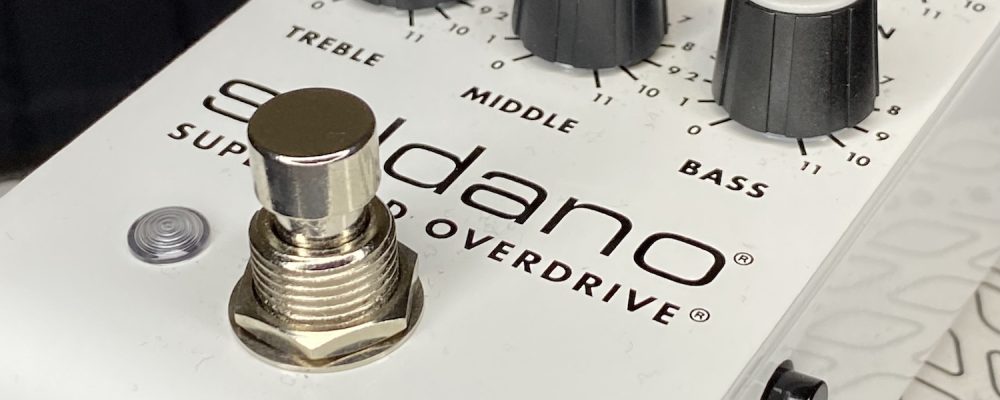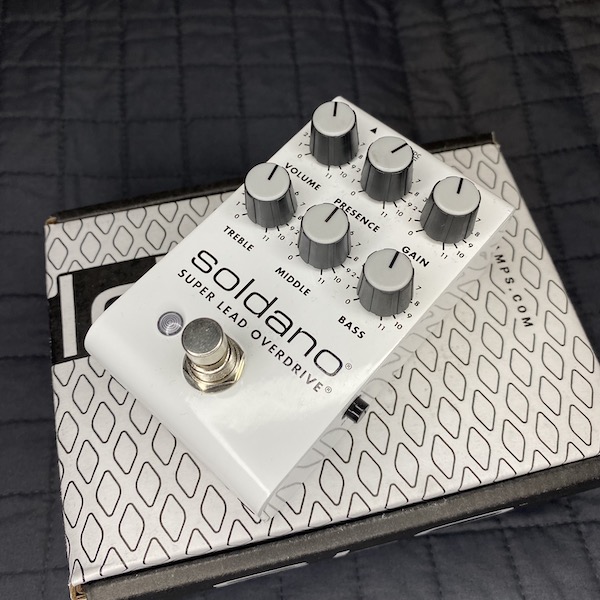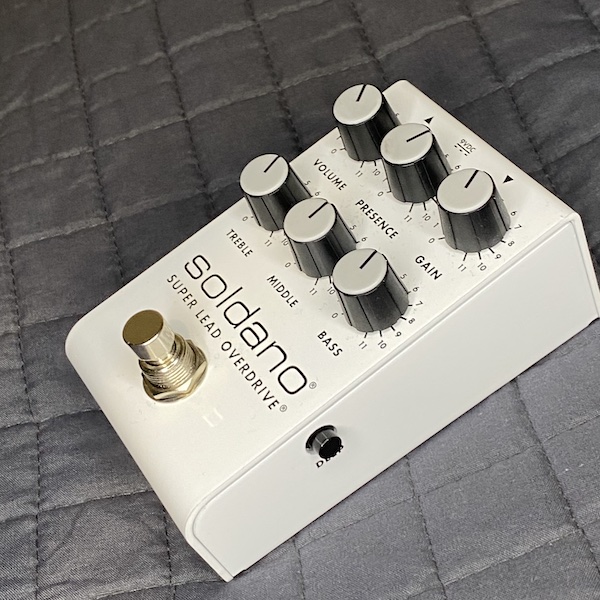 The Soldano SLO pedal is an overdrive pedal that replicates the sound of the famous SLO-100 Amp. Being able to run the pedal into the front end as a drive pedal or boost pedal, or you can run the pedal into the return of an effects loop and use it as a Pre Amp pedal! The pedal design is based on the Soldano amps with hints of similar design and is made out of solid metal, Build quality feels solid.
Looking at the pedal it has a few controls, Starting at the top left, You have a volume control, Then a Presence than a gain. All standard stuff. On the second row, you have your EQ options. You Treble, Middle and Bass. All the same controls you would get on the amp. You then have your foot switch to turn it off and on. On top of the pedal, you have your 9v power and your input and outputs. 
More on the 

Soldano SLO Pedal

On the right-hand side of the pedal, you have a Deep Switch. The deep switch adjusts the output's low end! Giving it more "meat" or "thickness". That is all the controls you have on this pedal, it's a fairly simple pedal if you look at it like an amp. Lots of controls but simple enough to use! 
For sounds I tried to cover a lot, I ran it into the front end of a Fender Tone master and also into the FX Return of the Soldano Mini Head. Using both single coils and Humbuckers for the sounds. Going through each of the sounds on the pedal.
As always I created a demo song, the whole demo song was created using my Two Notes Torpedo (Review Here) and the Soldano Mini Head. I actually love this demo song! Came out really good, and I think a full mix would slap!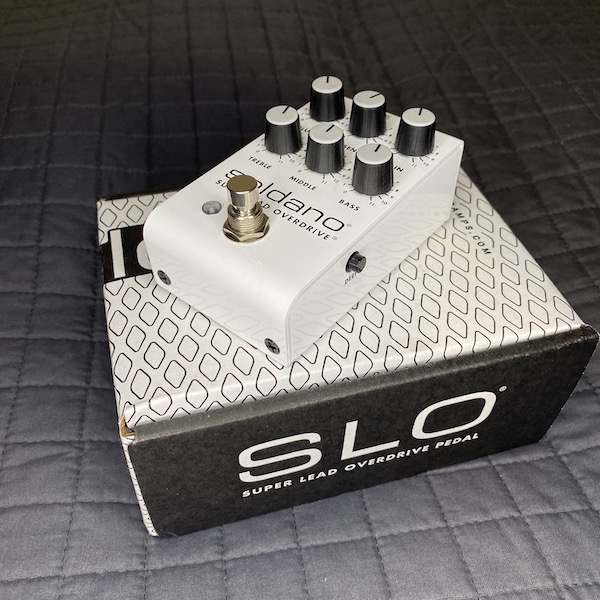 Before we get onto sounds and what I think about the noises this pedal makes, let's first talk about design! Because Soldano has smashed it! I didn't expect them to fall short of this but the look and feel of this pedal are wonderful! It is not that big of a pedal, just a bit smaller than a Boss pedal, however, they have packed all the controls and inputs and output in. All the controls are easy and comfortable to use! No issue there, the LED is bright and easy to see! The whole pedal looks as good as the amps, and also feels as well built as the amps! No complaints about the look and build quality of this pedal!
Before we get into the two ways to use this amp, I want to talk about the overall sounds and usage. The controls have a great response and it is easy to get the sound you want out of the pedal! Nice weight to the knobs and doesn't feel cheap. The EQ section of the pedal sounds great with each part doing its bit wonderfully!
Front End of Amp
So what does this pedal sound like in the front of an amp? For this part of the review, I used the SLO Pedal in the front end of my Fender Deluxe Reverb Tone Master (review here). This is an amp that is a well-known pedal platform and can be shaped to many different sounds. It is also common in back line and studios. So thought it would be good to try this pedal out.
First off, With the single coils this pedal sounds amazing! Running into the front end this pedal gives a nice overdrive/distortion sound. Having the EQ section means you can push those mids which single coils tend to miss in gain sounds. I would happily put this pedal on my board and gig with it. As for low crunch sounds, it does alright. It wouldn't be my first choice for low and mid-overdrive sounds. However, for high gain and high overdrive, it is great!
FX Return Sounds
So how does this pedal sound through an effects loop? Using it as a preamp pedal! Well, I ran it into the FX return of the Soldano Mini Head (Review Here). Doing this, for anyone that doesn't know, bypasses the preamp and only uses the power amp to amplify the signal. So no controls on the front of the amp work (Unless you have a master volume for multiple channels). So the pedal is providing all the EQ and gain and the amp is only amplifying the signal.
What I will say is that the high-gain sounds from this pedal are wonderful, and do remind me of the Amps! They are thick but not flabby, so useable and fun to play with! The sustain you get playing this pedal is amazing. However, saying this, when plugged into the FX loop of the Soldano Mini Head, there isn't a lot of sounds you can get, it's either high gain or very slightly less gain! The EQ is very responsive but the gain is either, a tiny bit less or nothing.
Small details are that although this pedal is top loaded, which is something I like, the inputs and outputs are close together and have the power Jack in between, mounting this on a pedal board could get a bit tight if you are not careful with your power management!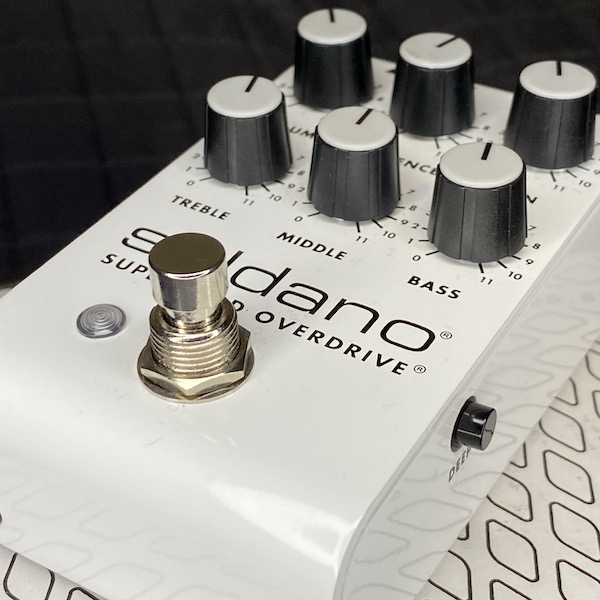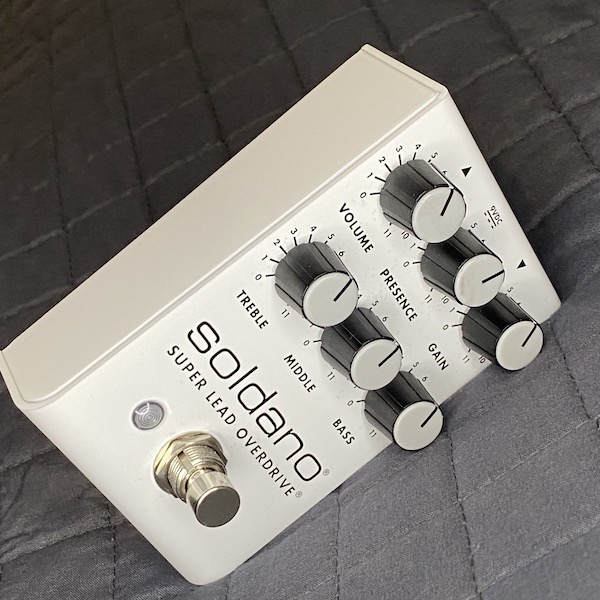 So overall I would say that this is a fantastic pedal and sounds really good! As I said, it is a "do all kind of pedal". This is very much a Medium to high gain pedal. So if that is what you are after then this is perfect for you! Small touch is also the size of the pedal, very compact and perfect for pedal boards!
If you want to purchase this pedal for yourself you can use our Thomann affiliate links below! Make sure you also check out our Affiliate page for all the fear we use! If you purchase something with our links we get a small kickback, it helps the site out massively!
Make sure to give us a follow us on Instagram as well, It helps!
SLO Pedal Links:
Check out our other Articles here