Horrothia "Type One" Review – The Perfect one Knob Chorus!

Nothing better In life than when something is simple yet still gets the job done. This is especially true when it comes to guitar gear. As much as I love high tech modern equipment, sometimes you just want something simple so you can focus on your creativity. Something that does its job well as simple as possible. Luckily, Horrothia has accomplished this with their "Type One" Ensemble pedal. A one-knob pedal that can you can get loads of sound from and allows you to focus on being creative and performing. 
Horrothia pedals are designed and manufactured in the UK in small numbers by Tom Oakes (Tom, Huge thanks for sending this pedal out to me).
The Horrothia "Type One" pedal aimed to capture the spirit of the Boss CE-1 (a hugely popular and iconic pedal) but in more of a slimmed-down and modern package. The pedal has a completely analogue path, however, the switching and control of the signal are digital. It has a Stereo output allowing for a Wet/Dry rig, or a single mono output if you wish. The "Type One" runs on a 9v supply meaning most power supplies will run it just fine and you won't need any special power to get your lush chorus effects (I am looking at you Electric Mistress!)
The packaging is amazing! It comes in a lovely box which is made out of eco-friendly material. The logos and printing on the box are nice. They look very professional while maintaining a handmade and boutique feel. Opening up the outer box you will see the pedal which is in a little bag. Another nice little touch! This bag has the company logo on it, opening the bag you get to the pedal itself.
More on the Design
The design of the pedal is nice, I was shocked at how nice and the quality of the pedal was when I first took it out of the bag. The graphics are well printed on a piece of metal. It is well put together and overall feels like a well-made bit of kit. The one knob that it does have is metal and feels amazing to the touch and to use, with nice resistance to the movement, making it a joy to dial in the sound you are after. Pair all this with the bright Green LED and the pulsing white light to show the speed and this pedal is a dream to use!
If you purchase the pedal from their Reverb shop you will pay £195 for this pedal. Which, for a boutique built guitar pedal, isn't that bad at all! They also sell their pedals through their Reverb store. Building their pedals in small numbers and then put them on their store when they are available.
Below is a video going over some sounds from the Horrothia "Type One"! I use various setups! However, I am using the pedal as if I would use it. This means I will be running It Into the front end (you could happily run it in the effects loop but I love my modulations to break up). I will be using it with a clean, crunch and dirty sound! 
I love the sounds you can get with this! Running it through the Revv D20 with my Klon Clone pedal in front sounds killer! You can get a huge array of sounds! From lush, silky smooth chorus cleans, all the way to dirty 80's metal Chorus leads! All with the turn of a knob!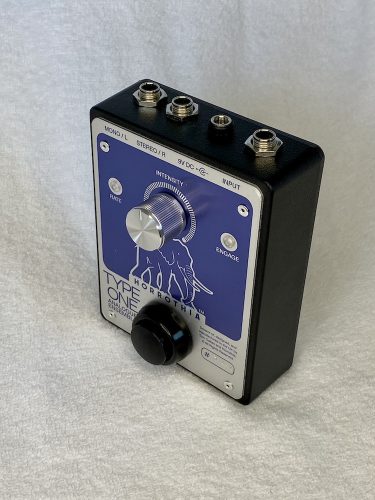 The first thing I noticed (and I'm sure you will) is that it doesn't have a conventional switch! It operates the same but is just a different size and build. I just say I am a huge fan of this switch! Big enough so when playing live, it will be easy to press it. Plus it has a nice feel. I am just a huge fan of this switch! I will also mention that the inputs and outputs are top loaded. Meaning everything plugs into the top of the device. For me, I love this, however, some people might prefer side loaded inputs and outputs.
It's also worth noting that the packaging is super eco friendly! I touched on this at the start but want to go more Into it. There isn't any plastic in the box, the packing is all card and paper so easily recycled. And the pedal comes in a lovely bag which is easy to repurpose. This is great to see! If you can reduce plastic packaging then do it! 
Any 

Negatives?

So who might this pedal not be good for? Well, if you are the kind of person who loves to fiddle with controls, and you have specific sounds in mind that you want to dial in. This might not be the perfect pedal. For obvious reasons! It only has one control! However, if you want a pedal you can plugin and get a sound out quickly this is perfect!

I am also a huge fan of the one-knob design! I think they will have to manufacture some more pedals with this design! Maybe a delay or reverb! I think it allows people to focus on playing without having to worry about presets and loads of options. 
So that is our review of the Horrothia "Type One" pedal. If I am honest, I will be sad to see it go! This pedal has inspired me and made me create so much music! I love the sound that the pedal puts out and also the design and packaging! I think Horrothia will be setting a trend for eco-friendly packaging!
What did you think about it, Did you like the sounds? Would you like to hear more from Horrothia effects? Let us know over on our Instagram and maybe we could sort some more reviews out. Want to hear how this pedal compares to the Boss CE-2 Chorus? You can check out our review of the Boss CE-2w here!
I hope to get more Horrothia pedals in for a review, Would love to try their other lineup, Especially "The Berkeley" pedal. If you want to check out the Type One pedal for yourself or even purchase one you can do so over on tier Reverb store. You can also keep up to date with Horrothia on their Instagram. Links below.
Horrothia Links:
Check out our other Articles here