Two Notes Captor 8ohm Review – Why I didn't go for the Captor X 
Not very often do I purchase something with the intention of making things easier! Normally it's for pleasure or fun! However, I have been lining up a lot more amp reviews and didn't want to deal with the hassle of mic'ing cabs. So decided to purchase a Two Notes Captor so I can run my amp without a cab, speeding everything up! So I thought I would give you all my thoughts on the one I got and why I got this one. Also, what do I think of it in general and would I recommend you buy one!
I do want to mention that I did buy this product with my own money, however, two notes were kind enough to give me a bit of a deal. So let's talk about what this device is (if you don't already know) and how I use it and how it sounds!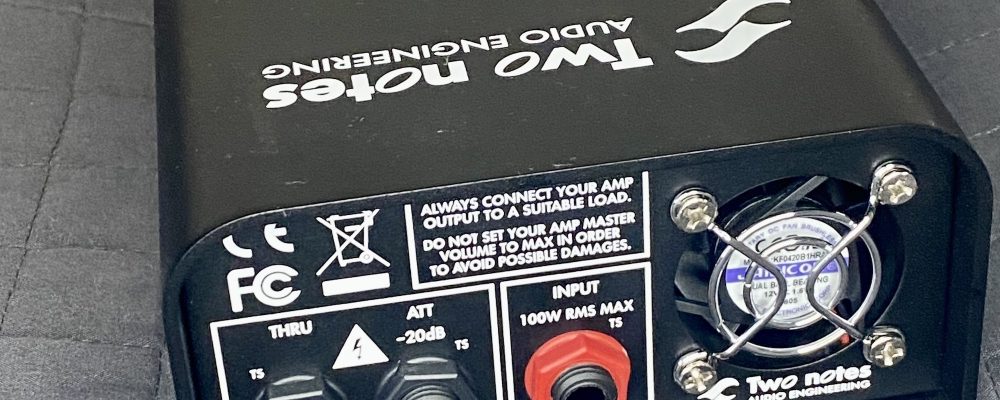 First off, let's talk about which one I got. There are a few different kinds on their website some with extra features. I went for the Two Notes Captor 8ohm. Which might surprise some people. Why didn't I go for the Captor X? Let's go over a few reasons.
Of course one of the main reason to purchase this model is because of the price. Captor 8 is substantially cheaper than the captor X. For the reasons I gave above as to how I plan to use it I didn't feel I needed the captor X, something to think about if you plan to buy one of these for yourself.
Of course, the X has a built-in IR loader so you can use it with headphones you don't need to plug into an interface at all. They are very popular for people that use them live, I don't plan to use mine live that much however if it was something I would like to do I would like to purchase an IR pedal and keep the whole rig down to a single pedal board, maybe that is an article I need to do! If I need to use an amp with headphones I have the Revv D20 that I can use for silent practice.
The reason I got the 8ohm version is that most amps available have an 8ohm output, so I feel that this model would cover all the amps I will get for review and work with. So a good option to get. However, if you want to be fully covered you would have to buy all three models (4ohm, 8ohm and 16ohm).
So let's talk more about the model I got. I purchased the Two Notes Captor 8ohm. This is a lord box, attenuator and a DI box all in one, and it is "passive" (to a point) running on phantom power or a power adaptor if you want to.
On the front, you have the input from your amp, marked with a red bolt so you know exactly where to plug the speaker output from your amp. To the right of this, you have your speaker through. Meaning you can hook your amp up to this and still run it through to a cab on stage or in your room. Then on the other side,l you have the dry line out, Out Level, phase switch, a built-in speaker sim (more on this shortly), a ground lift and the Direct XLR output. A lot of features are packed into this.
You have two options for attenuation on this device. You have the Output Level, which is like a volume and you also have a -20db output which you can put to your amps cab on stage. This gives you the ability to crank your amp, but turn it down! Why is this useful? Well for home recording you can get those lovely tones you like without upsetting the whole town, but also, live it means you won't be upsetting the sound engineer with your vintage Marshall with no master volume! Everyone will love you!
More on the Two Notes Captor 8ohm
The Box has two pre-loaded analogue cab sims for me for electric guitar and one for bass guitar. The cab sim for Guitar is based on a Marshall 4X12 cabinet with an sm57 Microphone and the Bass is based on an Ampeg SVT 8X10 cabinet with Neumann U87 Microphone. These are all analogue cab sims, so effectively an EQ curve on the output signal. You will be able to hear these in the sound demo below.
The great thing about the Two Notes Captor is that it is entirely passive and analogue. Meaning if you wanted to use it as an attenuator on stage, you don't need to power it at all. You only need the power for the XLR out and the speaker simulation. you can power it using a power adaptor or you can run it with Phantom power. Meaning if you are using the XLR DI, you can run Phantom power to it to power it. One cable for both!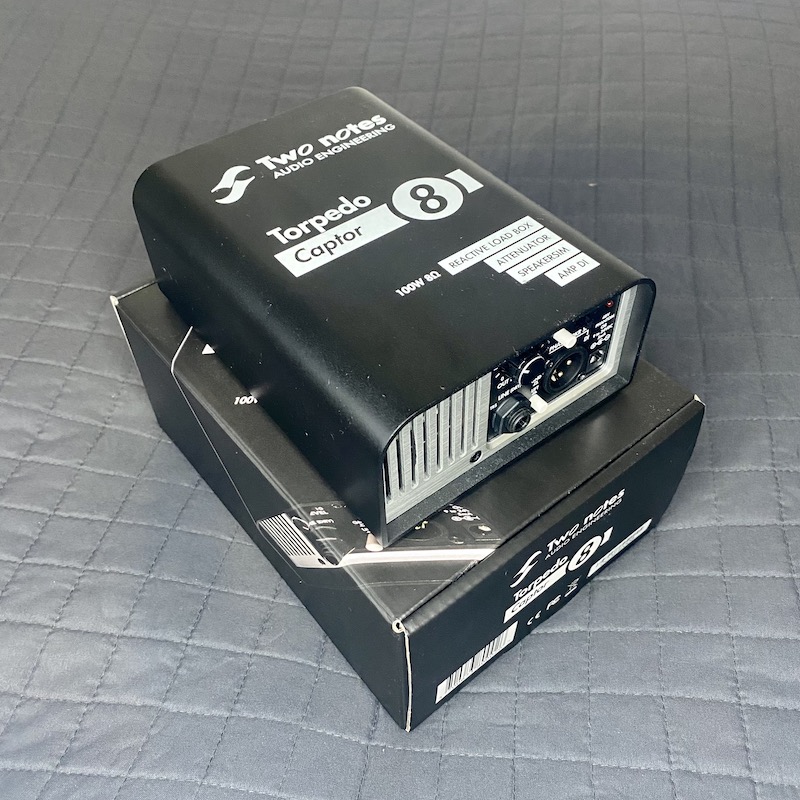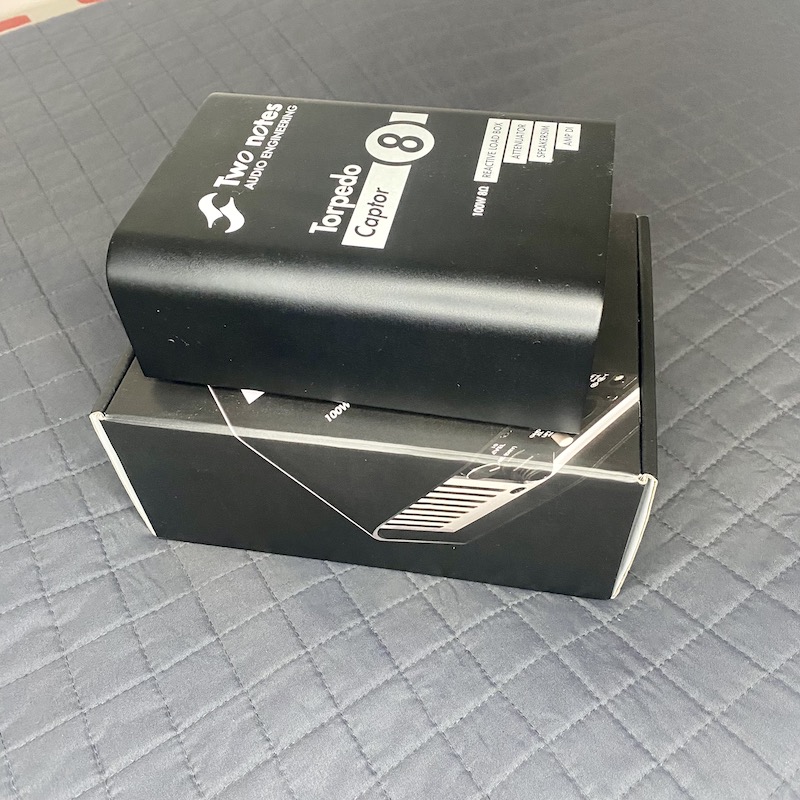 There isn't a lot I can do to demonstrate the Sounds of the Two Notes Captor as it depends on the amp you're using and the cab simulation that you are running. So What I have done Is record a quick demo and run through several different cabs simulations to let you know the quality you can expect plus what you can do with the software in a DAW. For the demo song, I am running my LT custom Strat (Article here) into a Soldano Mini Head (Review Here) and then into the Captor. I am also using my LT Strat for the sound demos after.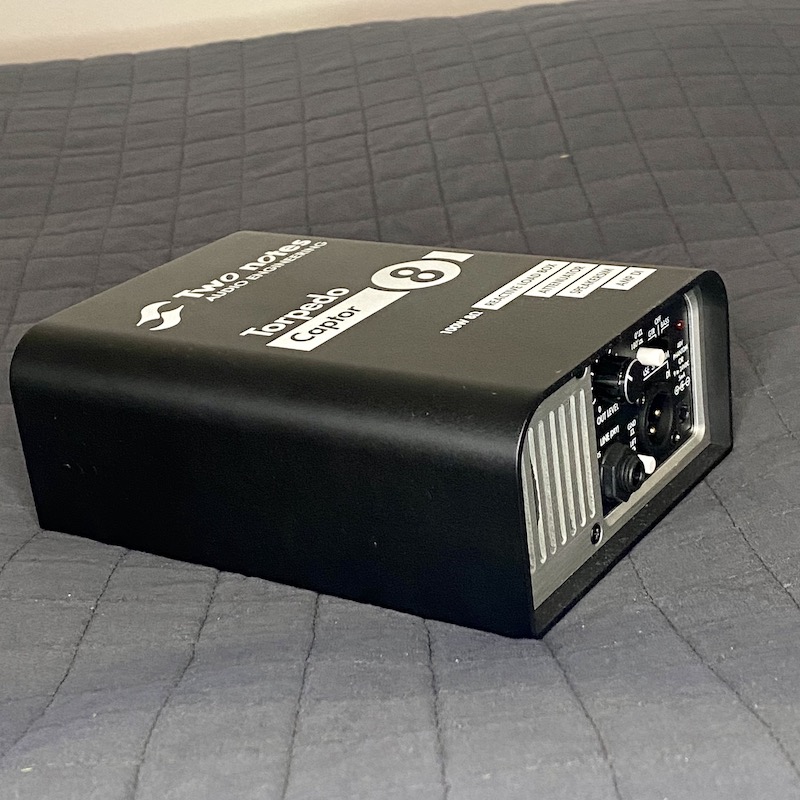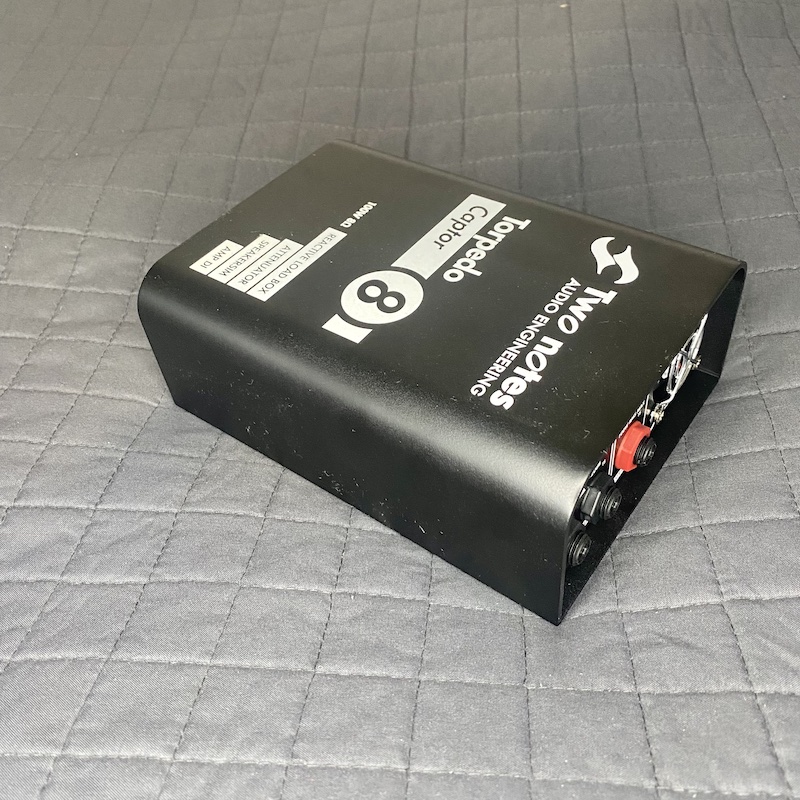 When I first took this Two Notes Captor out of the box instantly noticed the build quality of this, it felt solid and hard-wearing on a device that you could trust to not fail. The packaging was top quality, well packaged and got delivered without any issues. I shouldn't be surprised that the Two Notes Captor is built with such quality as a lot of people use them on tour for direct outputs to the soundboards, so they are built to last when touring, something I look to try with my one!
One of my favourite things about the Two Notes Captor is that it doesn't need external power you can run it off your phantom power using your audio interface, through an XLR cable. This is great for keeping power consumption down make sure that your studio stays clean and tidy. It also means that if you are travelling on the road you can quite easily hook it up without having to bring extra cables or worry about a power outlet. Plus it is always nice not to have to plug another wall wart in, Using Phantom power keeps everything tidy. of course, if I was using it live just for the -20db attenuation, then I wouldn't need power at all!
Anything Else?
Speaking of hooking it up and setting up, the Two Notes Captor is so easy to use to set up that you will be recording within minutes of unboxing it. Can you plug your speaker cable into one end and then you got your XLR cable that goes into your audio interface on the other end. The speaker is marked with a red bolt so that you know exactly where to put your speaker input cable. I would argue that you wouldn't even need instructions to set this up, If you have ever set an Amp up then you will be fine setting this up. The hardest thing about setting it up is knowing what amp to plug in first!
I touched on the Two Notes software when I reviewed the Revv D20 (Review Here) I mentioned I wasn't overall impressed with the software, and it is the same software here. You will use their "Wall of Sound" plugin, which runs in any DAW, to load up your IRs. It works just fine, and sounds amazing! It just isn't the easiest to use and set up. By default it shows you all of the cabs available, even the ones you haven't purchased, You have to click an option to only show the ones you can use. It's not a huge deal but just an extra click I would prefer not to do. 
If you spend a bit of time with the software and get to know it then you will work out how to work it and quickly be able to make sounds. For me, I tend to leave everything off and just play around with the Cabs and Microphone options.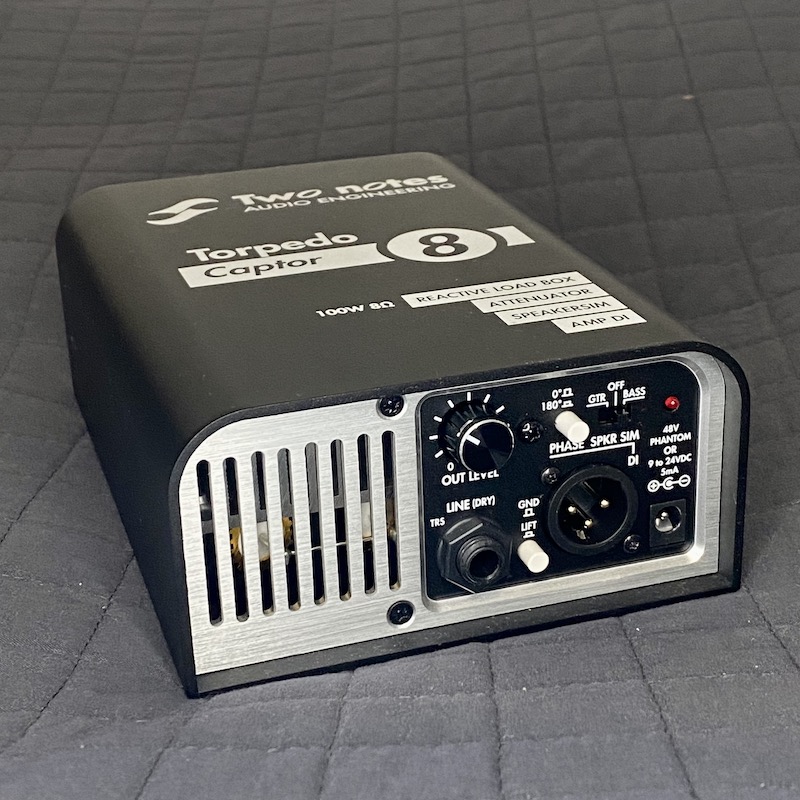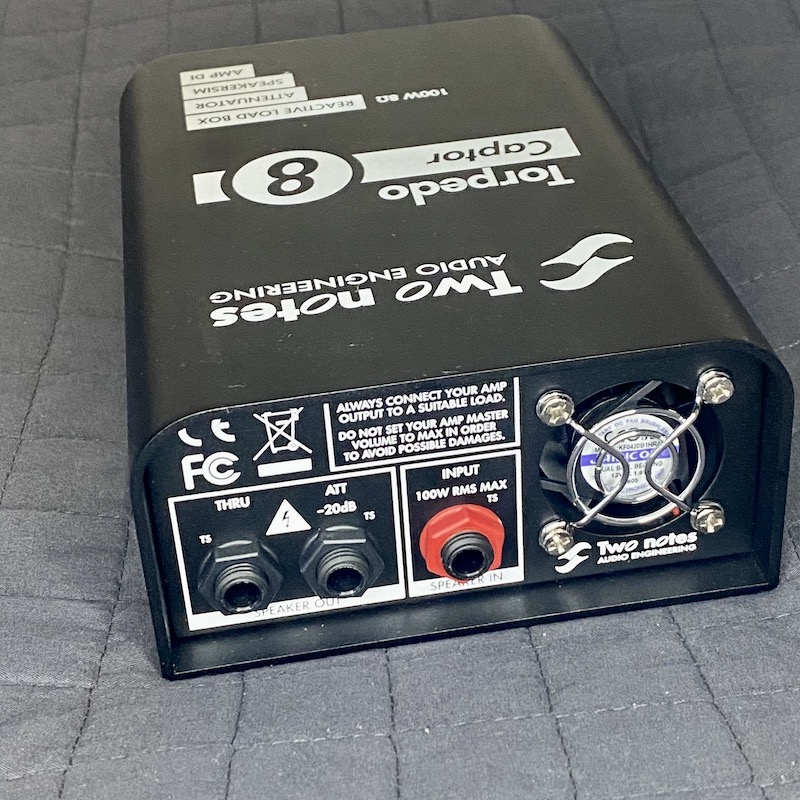 Final Words
Overall, I am very impressed with the Two Note Captor 8ohm, and think it was a great buy! It is going to be used a lot for amp reviews and demoing in the future so was a purchase that I needed to make. However, I am happy that I chose to go for this model. Of course, I looked at the other version and other manufacturer's options but for my uses and what I need it for they were all a bit overkill. This had just the right amount of options for me and was a great price.
My only real negative with this device is the amount of included cabs, don't get me wrong you get good selections however, I feel as though a few more wouldn't have gone a miss! Would be nice to have a few more stock 1X12s or 2X12s to pick from. Of course, you can go in and buy more cabs but not everyone wants to do this, having a nice selection from default would be a welcome bonus.
If you want to hear some more examples of sounds with the Two Notes. You can check out or RD Amplification review we did. We run this amp through the two notes and it sounds huge! You can check out the full review here.
Again, Two Notes did give me a deal on this, however, I did pay for it and all options are my own. If you are after an attenuator or DI for your amp, I would put this one at the top of your list. Definitely, if you are after a simple and easy-to-use one. if you want to see the Two Note Captor in full use then check out our Soldano review where all the sounds are coming out of the Two Note captor. You can check that out here!
If you want to keep up to date with everything we are doing then you can follow us on our Instagram or check out our Youtube channel. Feel free to subscribe, it helps us out greatly!
Two Notes Links:
Check out our other Articles here