JSA "Dumblemost" Review – Can this Dumble in a box hold up?
The Dumble Amplifier is world famous for its sounds, Its players and its price. All of which leads to the issue of availability. They are so hard to get hold of. So if I told you that you could have the dumble sound, for a fraction of the price and not even have to get a new amp? What would you say? Luckily JSA Pedals has you covered with his "Dumblemost" pedal. A Dumble-inspired drive and boost pedal.
I have been playing this pedal for a few weeks now (Studio and rehearsals) and want to share my thoughts on this pedal. So today I will be doing a full review of the JSA Dumblemost Pedal. Let's first go over the pedal and talk about what it is and its features.

So what is the Dumblemost? Well, it is an overdrive pedal aimed are recreating the sounds of the Famous Dumble amps. The pedal is a two-channel overdrive pedal. One side is the gain channel and the other is a boost (Which runs into the gain). You can use each channel individually or use them together for some silky smooth overdrive tones. The pedal itself is handmade in Derby, England. Each one is handmade by the same person, each with the same level of care and attention.
More on the JSA Dumblemost Pedal
Looking at the pedal you will see a few controls but they are all fairly simple. Starting from the top left, we have three controls for the gain side. A Level to control the volume, tone control and gain control. Use these three to shape the overall sound and volume of the main gain channel. Then if you want to you can add the boost side which also has three controls. A Treble knob, Allowing you to push the upper frequencies, a bass side, and a Boost. The Boost is how much volume you want the boost side to have. This can be adjusted to taste. Inside the pedal is a pot to adjust the overall boost to make the knob more manageable. You then have two switches, for each channel.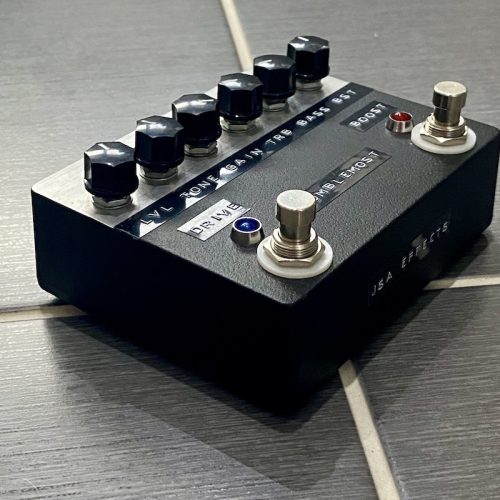 The case is painted to resemble the famous Dumble amp with the knobs adding that little extra touch. All the inputs are top loaded making for easy cable routing and access. The labels use a 3d effect label which due to the black and silver colour scheme are very easy to read, even for their size. So now I know what you are asking. Does it sound like a dumble? Well, in truth, I don't know. I have never played a dumble. However, I can judge it based on what I think it sounds like. So let us move on to sound.
Below is a video with a demo song and also a sound-only run-through of the pedal. For the Demo song, I use my LT Custom Strat (Build Article here), into the Dumblemost, into my Revv D20 (Review Here) and then use the direct out to record. Same set up for the Sounds clips except I also use my Gibson Les Paul (With the same signal path).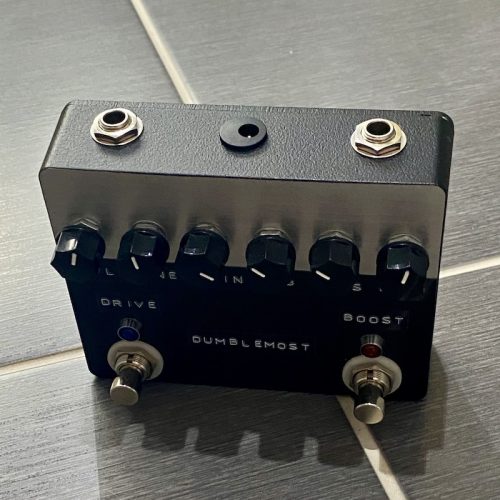 When using this Pedal I find myself keeping the drive side on as a kind of a clean boost and a shaper for my amp. Keeping the gain low and using the level to push my amp a bit. Gives me a wonderful clean tone that breaks up if picked harder. I then used the boost side to either increase gain or increase the volume for solo. The boost side is lovely to get that extra push and is very manageable as JSA has made it adjustable with an internal control pot, allowing you to increase or decrease the maximum volume boost. When pushing the pedal, it can give you lush, smooth overdrive. Which reacts lovey to your volume pot and cleans up lovely.
Also worth noting that thanks to the Bass and Treble controls on the boost you can really dial in a sound that cuts through a mix when hitting the boost for a solo. A great little touch that comes in super useful when in a band situation!
Anything Else?
The look of this pedal is so different but so nice. The casing is a lovely Black and Silver. Very similar to the amp it is meant to be replicating. The labelling is done using these raised, 3d labels which give the pedal a lovely look and feel, plus make the pedal easy to read due to the label's contrast. Simple design, but very impactful. Overall a nice-looking pedal will look great on anyone's pedal board.
The price of this pedal is £160, which for the quality and build is amazing! Throughout the build, I received photos of the progress. Was a nice touch seeing the pedal coming together and all the parts that make it up. This is a truly hand-built pedal, so I think the price is good value.
Overall and am well and truly happy with this pedal! It has such a smooth overdrive and gain structure to it, yet functions so well as a nice boost on a clean sound! The EQ and gain knobs are all responsive and have lovely feedback. Making it a joy to dial in tones. The Dumblemost contains nice bright LEDs, so when using it live it will be very clear which side is on!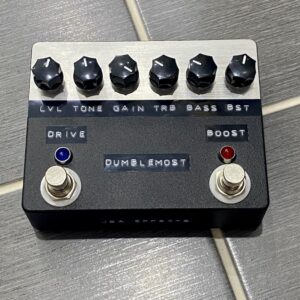 Thanks for checking out this review of the JSA "Dumblemost", This pedal has been a joy to use! Inspiring and also so much fun to mess with and get so many sounds! With both Single Coils or humbuckers! I will be checking out more of his pedals in the future. He has a wide range of pedals from clones to original creations.
If you want to purchase this pedal or one of JSA pedals other pedals then you can head over to his Instagram or his reverb page. Have a thought for a pedal? I am sure he will be able to assist somehow! Drop him a DM on Instagram. 
While you are over there make sure to follow us on Instagram as well, It helps!
JSA Pedal Links:
Check out our other Articles here