Soldano SLO-Mini Head Review – How does it sound?

It's finally time, to try the Soldano SLO-Mini Head! A few months ago we reviewed the Hughes and Kettner Nano (review here), and also the Orange Micro Terror (Review here). It is now time to try the Soldano SLO-Mini Head! I have been looking forwards to giving this amp a try for a while.
Why try this amp anyway? Well, a full-fat Soldano is around 3k so for a lot of people, this might be the only Soldano amp they can justify purchasing, so is it worth it? Let's find out!
The Soldano SLO-Mini Head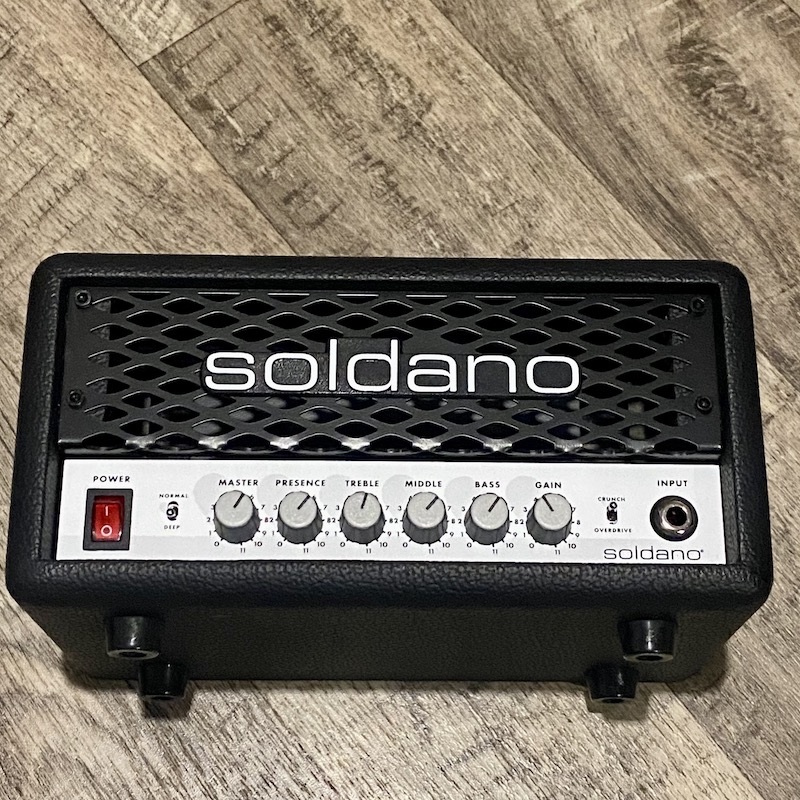 The Soldano SLO-Mini head is a miniature version of the famous SLO 100 amp. Taking the crunch and overdrive channel and packing it into a mini head format. The amp is a 30-watt solid-state amplifier.
On the front panel, you will find all the controls you expect to see on a Soldano Amp. Starting from the far left. You have the On/Off switch. Next to that, you have the Deep/Normal switch, which gives you two different voicing, one being the standard and the other being the "deep" switch, allowing for a bit extra low end and "rumble". Then we have the six knobs. Master, the master volume. Presence. Alongside that, we have a 3-band EQ with Treble, Middle and Bass. Then finally the gain control.
More on the Fender Deluxe Reverb Tone Master
After the Shared EQ section, you have a switch to go between Crunch and overdrive. Then the input Jack. On the back of the amp are the power Input, speaker output and an FX loop. You can use 8 or 16-ohm speakers with this amp with two speaker outputs.
The looks of the amp are based heavily around the SLO-100 that it is trying to mimic, With the Soldano logo, Replica cloth and similar knobs to the original. A very classy and well-done approach to a mini amp. The amp retails for around £280. Give it a take depending on where you buy it and if there is a sale. For the price, you get the amp head, Power cable and that is about it. The amp does not come with a Speaker cable.
For the sounds, I had to make an 80's inspired hard rock/metal song! Using both the overdrive and Crunch Channel! I also used some Chorus that was being run through the effects loop! For the track, I used my Gibson Les Paul with its stock Humbuckers.
After that, I walk through some sounds you can get from this amp using both humbuckers and Single Coils! To really show off the versatility of this amp! So now, let's talk about what I think of this amp!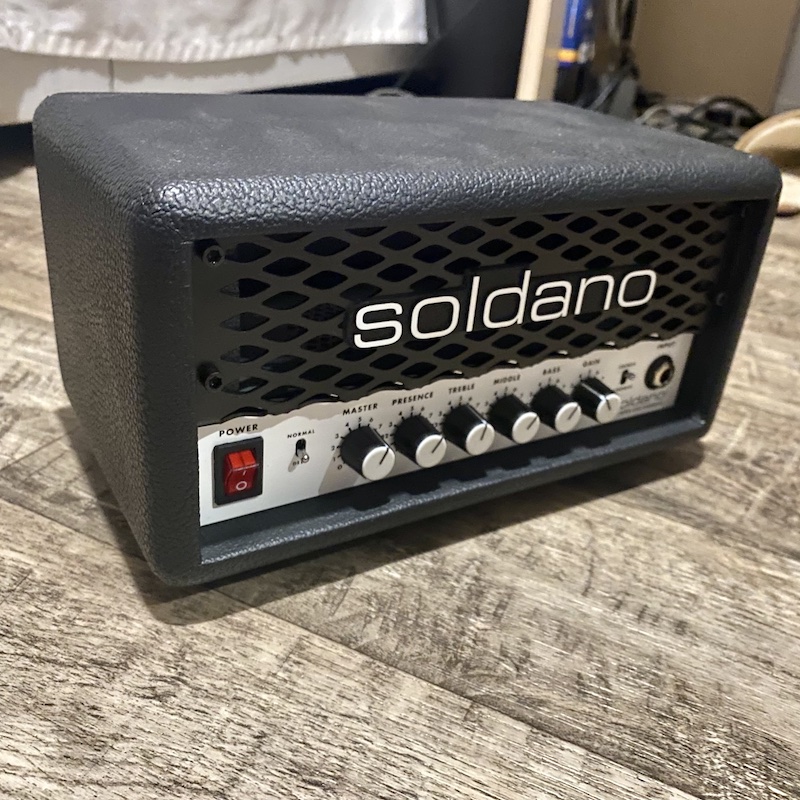 Looks wise this amp is spot on, it looks like a little Soldano! From the knobs to the logo to the grill! Everything is Soldano but smaller! Cool to look at and have on your desk! Build quality seems good as well, I would say this is going to hold up, being solid state there isn't any maintenance and very little to go wrong! The only thing that seems a bit fragile in the second half of the power supply, but you could replace that if needed!
What I was surprised by were the single coil sounds! Wasn't expecting much out of this amp using single coils but it is so good! You can turn the gain down on the crunch setting and get nice bluesy sounds, or turn it up and get a proper punk rock sound (think Green day or New found glory). Nice times with Single coils!
Plugging a guitar in with humbuckers you get thick and lush gain at the palm of your hands! It isn't flabby or thin gain. It is a useable gain and using the EQ section you get many usable tones. Setting everything to 6ish on the overdrive channel gives you instant 80's thrash and metal vibes. A joy and so much fun to play!
Continued
So who is this amp marketed at, I think it is mainly marketed at people who don't have the budget or can justify buying a full-fat Soldano! However, I think it has a second market, home recording! This is perfect for getting tasty gain sounds at home in a small form factor! It's small so doesn't take up much room, sounds better than most plug-ins and isn't that bad a price. Could you gig with this amp?
If you are playing to rely on just the cab I don't think you could. Don't think it has enough power to keep up with a loud band, however, if you were mic'ing your cab up, then 100%! I think you would sound great! You could even run It into a Two Notes Captor and cab sim and have a very small cabless rig, Perfect for smaller stages! (I might even try that for an experiment).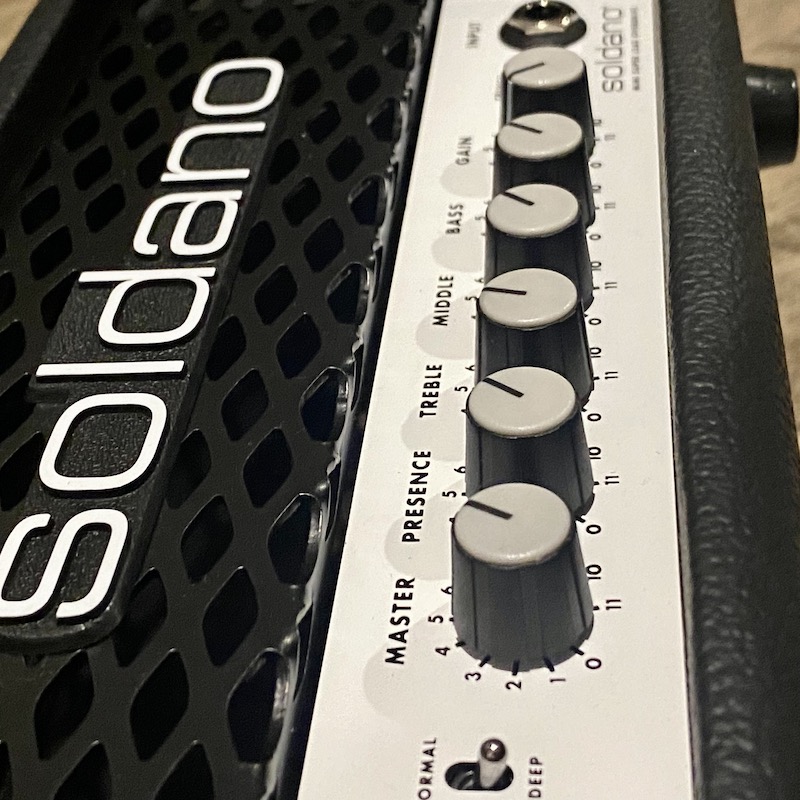 Anything Else?
The downside of this amp is that there isn't a "clean" sound. Using the crunch channel and the volume you can get a sort of clean sound but you won't be able to get the Soldano Clean from this sound. Also, as you may hear in the sound clips, once you get past 6 on the gain there isn't a difference between the crunch and overdrive settings. It's at the lower setting they are different. 
The big question is, is it worth the money? I think yes, depending on what you want out of it! If you do a lot of home playing or recording and are after a mid to high-gain amp, this is perfect! Sounds better than plugins, takes up next to no room and doesn't get hot or need maintenance, You can run it into a Two Notes Captor device and practise or jam out in silence. For the price, it is a great buy for this! However, if you are a gigging musician looking for your new live amp, this isn't for you. There are better-gigging amps you can get for the money! I would say, this is more than a toy but not a professional bit of gear.
Smaller Details
As I said above the look of this amp is amazing. It really is just a smaller version of the real thing! All the controls have a nice feel to them, however, they do seem a bit "loose", not in a build quality way but in an "if you knock them they will move easily" way. Not a huge issue if you have the amp out of the way. It is also worth mentioning that this amp doesn't have a headphone output so you won't be able to plug it in and have silent practice without extra gear. This is something I feel is a must in an amp this small, huge selling point for people buying these amps.
A quick note on the packaging, it is wonderful, you get the full Soldano experience, a lovely box with the amp well packaged inside. Instructions (Not that you are going to need them) and the power cables. No speaker cable comes with it.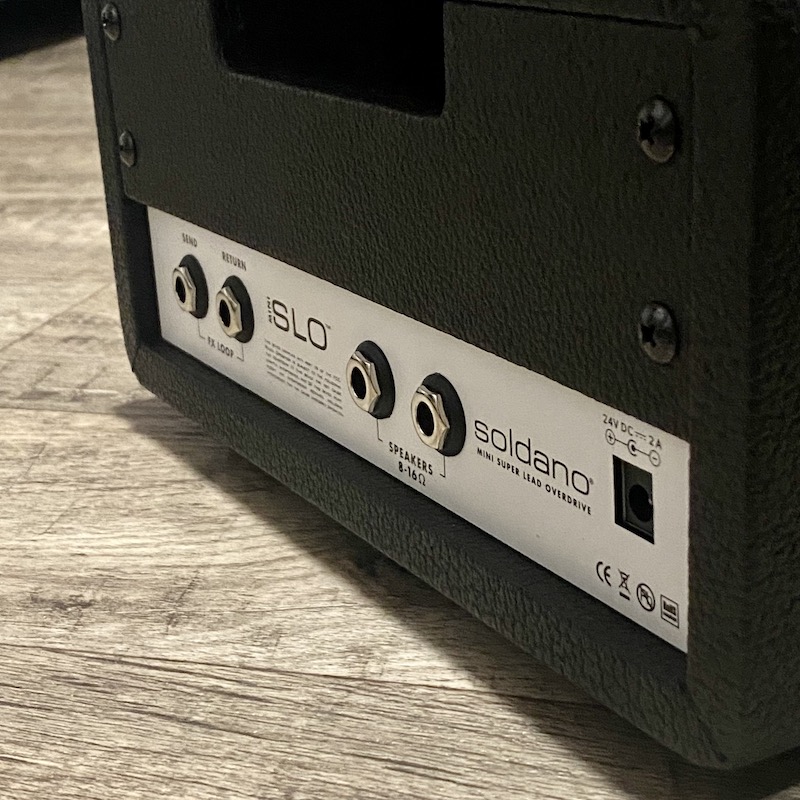 You have a few other options when looking for a small mini head like this. Luckily we have reviewed a few of them! Some are cheaper and some are more expensive, Check them out below and see if that one is the one for you!
So that is our review of the Soldano SLO-Mini Head. Another Amp review down! We have a few more lined up! Overall I was very impressed with this amp and so far it has been my favourite out of all the mini amps I have tried! I am on the hunt for the others in the lineup now! If you are looking to get close to that Soldano tone, but on a budget, then this is a perfect way.
Are there any amps you would like us to try out? Anything you think we would like? Well, let us know over on our Instagram! Do you make and build guitar gear? Want to get your gear on our site? Then head over to the contact page and get in touch!
Fender Links:
Check out our other Articles here