Ibanez Tube Screamer Mini Review – How does the cheaper version hold up?
In the list of most iconic pedals in history, somewhere near the top will be the Ibanez Tube Screamers! Used and loved by many! I would argue that most guitars players have at some point owned a tube screamer (or a clone). A few years ago, Ibanez released the Ibanez Tube Screamer Mini! A shrunken version of its big brothers, but how is it?
Although it's been out for a few years now, I thought it would be worth putting our two cents into the mix and letting you know what we think about the Ibanez Tube Screamer Mini. The more affordable and easier-to-come-by alternative.
Ibanez Tube Screamer Mini Pedal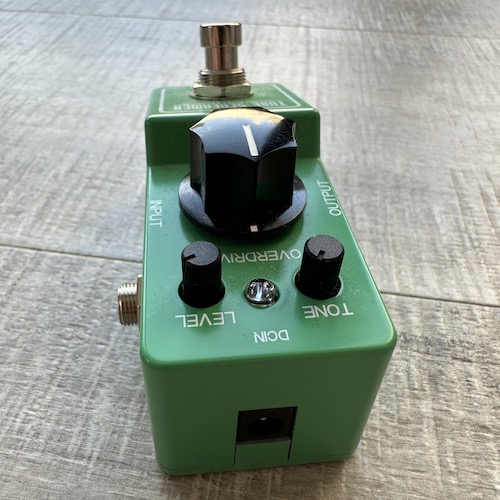 The Ibanez Tube Screamer Mini is the same as its much-loved bigger brothers, just smaller. The housing is the same size as all of those mini guitar pedals (The ones you can't get a battery in). It comes in a nice box with Ibanez branding, a walkthrough guide and your warranty card!
Looking at the pedal it has 3 simple controls. The top left (Small Knob) is the Tone knob, Affecting the high-frequency contour, which will affect the tone of the signal, to the right (Other Small knob) is the volume knob, Controlling the overall volume on the pedal. The biggest knob in the middle is the pedals gain knob. Use this to control the clipping of the pedal.
More on the Ibanez Tube Screamer Mini Pedal
You have a single-foot switch at the bottom of the pedal. On the left side of the pedal is the output and on the right is the input. At the top of the pedal is the 9v power in. This pedal draws hardly any current! So all power supplies will be able to run it. This pedal can not be run on a battery due to the size of the pedal.
For sounds, I didn't just want to do another blue, boost example. I wanted to try and show the Ibanez Tube Screamer what it can do, how much gain is in the pedal and how versatile it can be. So for the demo track, I got various sounds from the pedal for this track. Then, as normal, the sound samples I just run through the different sounds you can get from this pedal and how you can use it.
For the demo track, you will hear both Single Coils and Humbucker with the Ibanez Tube Screamer. Giving you sounds on both Humbucker and Single coils. The guitars used are a Gibson Les Paul Traditional and my LT Custom S-Type.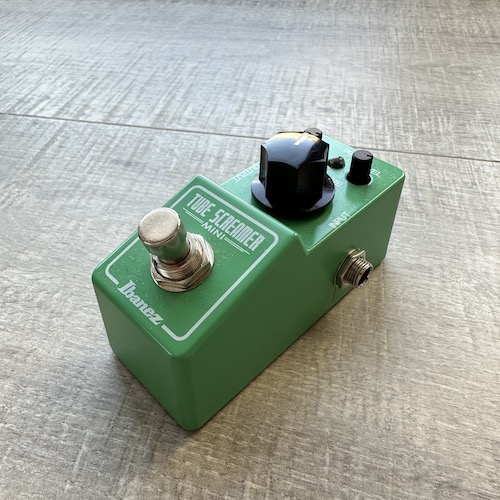 Sound-wise, this pedal is great, as you would have heard from the demo song, this pedal does a huge variety of sounds! Using it to add a light or heavy gain to your sound, or use it as a boost and push your amp into overdrive! Or you could even use it to be a solo boost. For the size, it packs a huge package. I would use this as a "backup" in case of a pedalboard meltdown, but due to the "no battery" issue, you wouldn't be able to!
If you are a transparent overdrive pedal, this isn't it as it does add a mid hump to your sound. Which the tube screamer is famous for! Also, to get your sounds you will have to play around with all other controls, want less gain? You will have to bring the gain and the Volume down.
Few More Thoughts
Of course, being Ibanez it is built like a tank! I am pretty sure you could throw this pedal out of a plane and after it hit the ground, plug it in and use it! No worries about the reliability of it at all! They can take a hammering! There is a reason that there are still loads of original Tube Screamers knocking around! Super well made and super reliable.
It is worth considering the price of this pedal. brand new this pedal cost around £75. Which is super affordable and can be purchased anywhere. However, look online! (eBay, Facebook Marketplace, Reverb) you will find these second-hand for an absolute steal! I have seen them as low as £30! Silly money for such a great pedal. Being built like they are, you would be super unlucky to get a unit that didn't work or malfunctioned as well.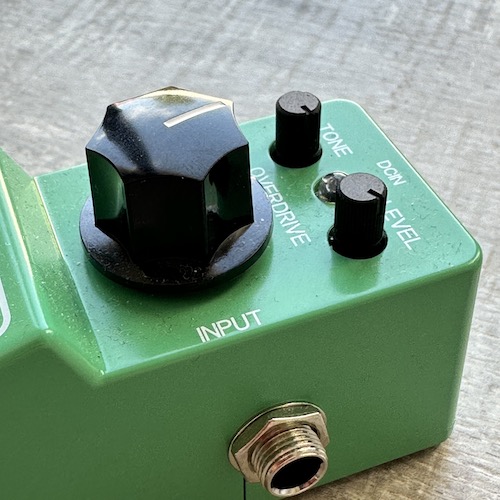 That is our full review of the Ibanez Tube Screamer Mini! I love this pedal and will always have it at arm's reach! The Ibanez Tube Screamer Mini has a certain sound that some people love and some people don't! However, if you are after an affordable alternative to the bigger pedals.
As always make sure to give us a follow over on our Instagram page and subscribe to our YouTube channel! Doing both helps the site out so much! We are approaching a milestone and will be doing a giveaway soon! If you want to purchase a Ibanez Tube Screamer Mini for yourself you can do so using the link below. The link is an affiliated link so we get a small kickback at no extra charge for you.
Ibanez Links:
Check out our other Articles here