Alchemy Pickups Review - Do they belong in the Ultimate Telecaster?

Alchemy Pickups Introduction
As you may have read here, my Squire Affinity Telecaster recently undertook a huge upgrade. Virtually everything on it got upgraded. Including the pickups! 
After speaking with Lewis from LT custom Guitars we decided to put some Alchemy Pickups inside. There would be a custom set of hand-wound telecaster pickups inside this Telecaster!
This is the first time I have heard of Alchemy Pickups, and also the first time I ever heard them! So, what do I think? Are they worth the price? Do they sound ok?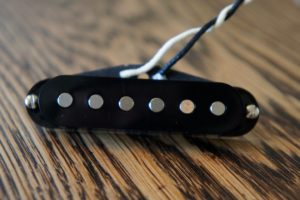 The sounds? The sound is like a telecaster but better! So much better! More bite and a full and warmer sound. These are higher output than your usual Tele pickups. However, this doesn't mean they can't do those "Tele sounds". Roll the volume off and you are back to a standard telecaster! Speaking of volume control.
I would say that these pickups are more versatile than any custom shop Fender set. For a lot less money as well! It is a Win, win case!
Below is a sound example of the Alchemy Pickups. The sample recorded below were all recorded with the same amp and setting, the only difference in the pickup selection and volume. This video demonstrates how clean they go when you roll off the volume.
Something I was massively surprised is how easy these pickups are to control, to coprolalia with just your volume! They clean right up! 
Setting my amp up to an overdriven setting and then rolling the volume back will clean it right up. The more you roll the volume back the cleaner it get. They are capable of going from an overdriven sound, to a crunch to a crystal clean using only the volume. 
Making these insanely versatile in any guitar for any situation! You will be able to get a huge array of sounds from these pickups. Allowing you to play various kind of music on one guitar (Which is why I built the Ultimate Telecaster).
Well, there aren't really. I can't moan about the price, the sound, the packaging or the build quality, even the support has been perfect. Honestly, I would recommend these pickups to anyone!
I haven't had any issues, no cut-outs or volume drops. They have been solid and perfect for almost everything I am playing at the moment. I am looking forwards to getting them out to gigs and putting them in some gigging scenarios.
I honestly struggle to think of something bad about these pickups! 
Need another reason to buy these pickups? What if I told you they are made to order? The pickups you make will be made for you, effectively making every set custom made! Hand-wound, hand-built and hand packed. Not only that but if you have any questions you can contact them directly for a fast response. What other brands can you think of that has that kind of service? What about that kind of service for this kind of price? Speaking of price, How much are they?
Now, you might be thinking "a pickup of this quality will be expensive". Well, you would be wrong, very wrong. They are very reasonable. For my Telecaster set, they were £100. For the full set. This comes with a capacitor for the tone control as well. This is an incredible value! Great price for some outstanding custom made pickups! 
When you look at the other brands and price up their pickups, you would be looking at £200-£300 per set. For, what I would argue, a lesser pickup, However that is just my opinion. 
Should you buy Alchemy Pickups pickups? Absolutely! If you are looking to upgrade any guitar these would make the perfect pickups! They sound amazing through anything, Tube Amp, Modeller or even an Amp Sim plugin! Would I put these guitars in another project? Well, funny you should ask that because I already have! If you check out my Custom Guitar build, I used Alchemy pickups for that guitar, and have another set in the works!
Just to let everyone know, I paid full price for these Alchemy Pickups, no discount or sponsorship here. This is my personal and unbiased opinion! Do they belong in the ultimate Telecaster? I couldn't think of a better pickup to put in! Check them out below.