Brelliott TODP Pedal – Every type of gain in one pedal!
Today we are checking out a tube overdrive/distortion pedal from a UK-based builder "Brelliott". Brelliott builds amps and pedals, and today I am checking out his tube-based "TODP" pedal. Being an amp builder Brelliott knows his way around a good overdrive circuit and knows what works and doesn't work. Being a tube-based pedal, you will sure that this pedal will deliver the sounds you are looking for.
Worth noting that Brelliott did send the pedal over however all thoughts are my own. So let's have a look over the pedal, found out what all the switches and knobs do and then jump into it and hear what it sounds likes.

The Brelliott TODP (or "Tube Overdrive Distortion Plus") pedal is a tube-based distortion/overdrive pedal, designed and made in the UK. The look and design of this pedal are very unique and eye-catching. The pedal is housed in a metal enclosure and comes in a branded box.
The Brelliott TODP has 8 controls! 4 Knobs and 4 switches! So let's run through them. Start with the knobs, On the top left you to have a red 'Filter" knob, As you bring this down, it will filter out the higher frequencies. Below that is a "Level" knob. This is just a volume control. To the right of that, we have the Distortion/clipping selection knob. This control has 6 types of distortion ranging from just the tube through to LED and more. Each gives its own characteristics and charm to your sound. To the right of that, we have the gain control. This is the same as most gain controls, more or less gain.
More on the Brelliott TODP Pedal
What are the options for the clipping controls? Starting on the right we have "N" which is just the tube on its own, and then you have 4 anti-blocking diodes on the tube. Then you have "2", which is two anti-block diodes on the tube, then it's an LED, Then you can have Silicon and finally a Germanium. That is a lot of options for overdrive and gain! Also worth remembering is that all the options still use the tube.
Then we have the 4 switches, On the far left, we have a Boost switch, which can add 0, 6 or 12db of boost. This is mainly used with Silicon and Germanium diodes as they can drop the signal. Next is a boost switch, with 3 options, a Bass Boost, a 200Hz boost or a 80Hz boost. The next one to the right is a load switch for 47k, 200k or 100k. The fourth switch is a bass cut, so the option to cut 200Hz. Great for cleaning up muddy low ends.
The pedal has an input and an output and will run on a 9v power supply. Speaking to Johnny, the builder, the TODP likes to be run a bit hot in regards to current, nothing too extreme but more than your average pedal. The pedal retails for £230 and can be purchased through their website, links below.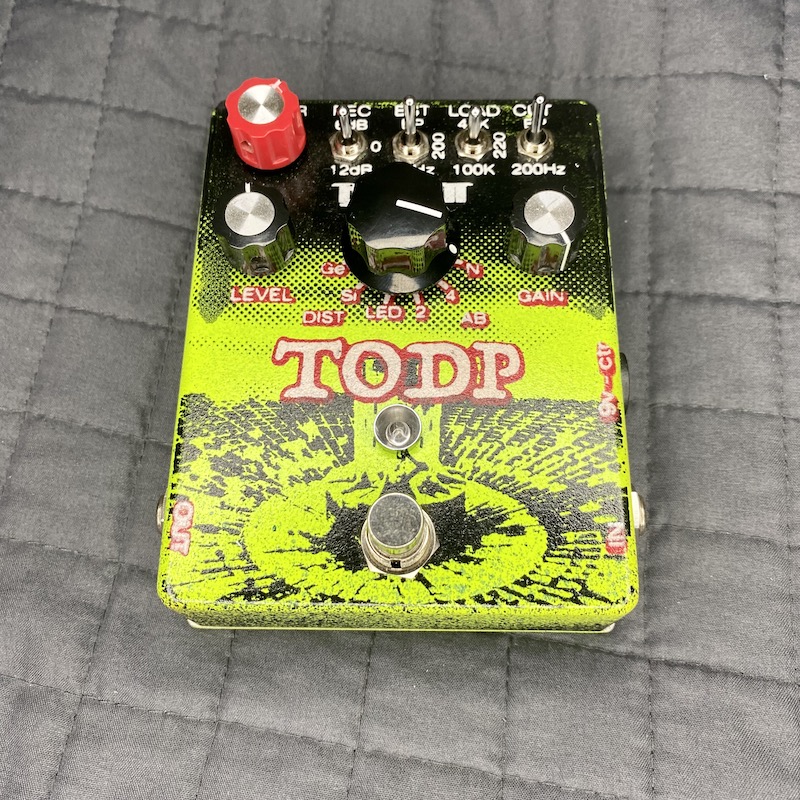 Although the Brelliott TODP can do a whole host of sounds. I drew inspiration from the design and look off the pedal and came up with a Metal/Doom demo track. This track shows off the amount of gain in this pedal. I also used the Filter control to clean the high gain sound up.
After the demo I run through some sound you can get from the pedal and what each option does and how it effects the sounds. Using the pedal to get low crunch tones, all the way through to monster high gain sounds.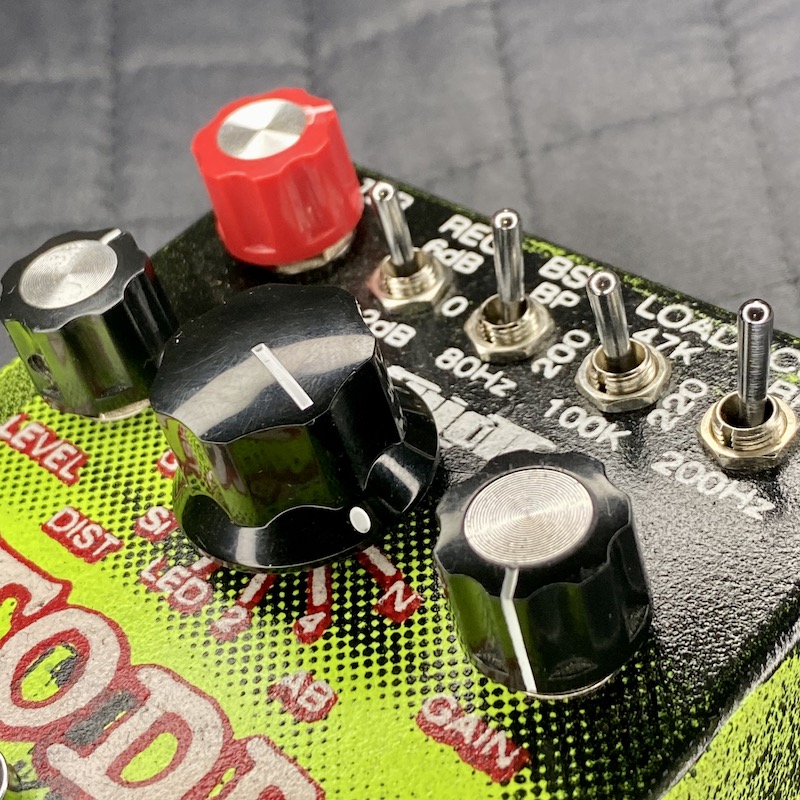 The pedal comes in a nice branded white box, wrapped up and safely ready for use. Taking the pedal out of the box you will first notice the look of the pedal. The look of this pedal is something else, I have what would be called the "standard" design, however, they're several versions of the TODP available all with different colours and uses. The one I have is a bright and vibrant green with a nice design on it (Won't say what it is but can you work it out?).
With all the options for clipping on this pedal, I think it is pretty clear that this pedal will have you covered for most sounds you want. Being able to go from smooth overdrive to crushing high gains in one pedal is super useful. Add to this the filter control which allows you to take off some high-end if you find the sound a bit harsh or just want a darker tone.
TODP Thoughts Continued.
The switches may seem confusing at first but once you find out and understand what they do they become really useful in creating tones. I have been using the Cut switch a lot to tidy up the bottom end when recording. Having the boost option there for the Germanium diode helps a lot to bring the volume back in. Also using the boost as a boost and just getting more saturation is a nice option on any of the gain options.
My favourite diode setting is Silicon with the 6db boost on and the filter control around 3 o clock. This makes for some lovely gain tones, both crunch and high gain! However, I do love all the options and each one has its place depending on what you need it for. Everyone will be familiar with the LED sound!
Anything Else?
Now the pedal is on the higher end of the scale but looks at what you get for that price. 6 gain options, several switches and a very useful Filter control (I can't express how much I found myself using this control). So, it may be on the higher end of the scale, price-wise, but I do think it is justified and worth it. Think about all the other pedals around in the same price bracket, they don't have nearly the same amount of options!
My only negative and this is a very personal thing is that for my pedal board the input and output jacks are in the wrong place, my pedal, the board works best with top-loaded jacks however these are low-side-mounted jacks. On any other board, they would be fine but on my current board, they are in the wrong place.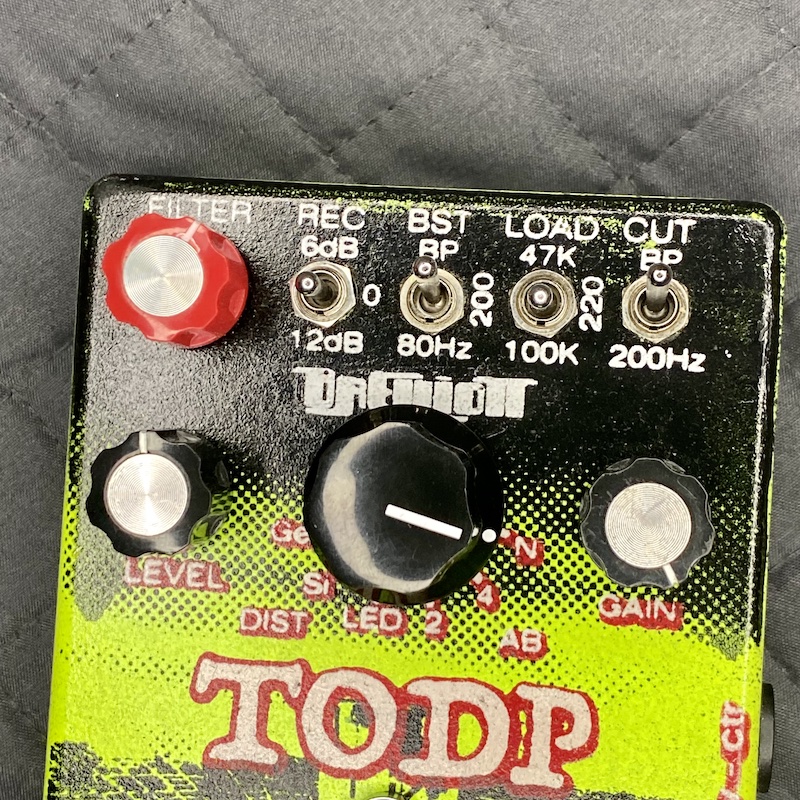 I want to thank Johnny from Brelliott Amps for sending the pedal over! If you want to grab one for yourself either head to his online shop to drop him a message on Instagram! He will be happy to help you out! I have had great fun playing this pedal through the Revv D20! It sounds beefy and insane!
Trying this pedal has really made me want to try out his amps now so that might be another article in the future with some amp reviews! Stay tuned for that! Plus we have more articles coming up for you, including a big pedalboard build! Very excited about that!
Brelliott Amp Links:
Check out our other Articles here