RD Amplification lunchbox amp Review – The New King of lunchbox Amps?
Whenever you get the chance to try something new and exclusive, then you have to snap it up! Lewis from LT custom Guitars sent me a message asking if I wanted to pick up and try out his new RD Amplification amp. As if I was going to say no! So, today we have an exclusive look at the RD Amplification Lunchbox Amp, which I think will be the best lunchbox amp around. This is a first from Rob from RD Amplification. I didn't have a lot of time with it but I have been playing it as much as I can and have put together my thoughts 
This is a lunchbox amp done right! A proper amp, full of sounds but maintaining a small footprint! I love Lunchbox amps, so jumped at the opportunity to try this out! So, let us run through the amp and tell you a bit about it then hear how it sounds and also what we think about it. So let us dive right in!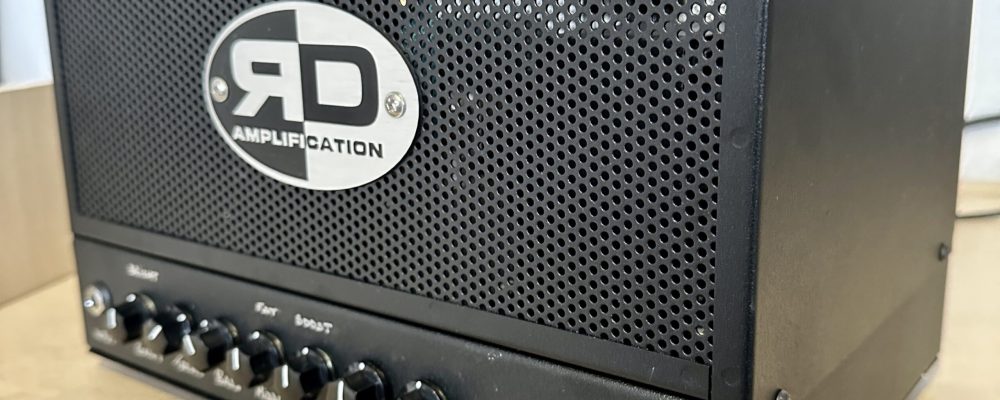 RD Amplification Lunchbox Amp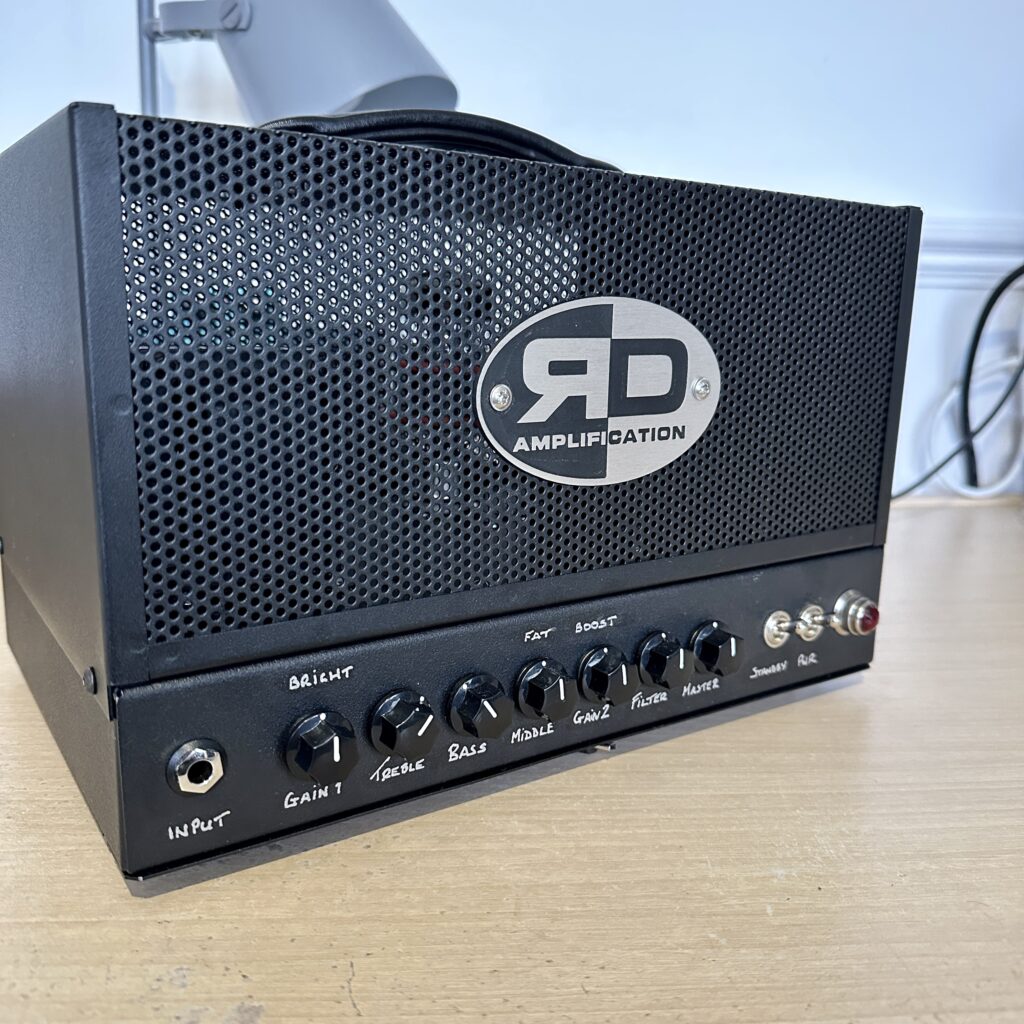 The Design
As we said this is a lunchbox amp. So smaller than your normal amp head! Absolutely perfect for home use but also great for transporting to gigs and carrying around! It measures XXX
This amp comes in a black case made fully of steel, However, Speaking to Rob, the case can be painted any colour you want. As this is still a prototype, the front panel is all hand written. On the front of the case is Rob's logo and on top of the amp is a lovely leather Handle on top.
The Controls
So let us go through the controls on this amp, We will start at the front on the far left you have the input then Gain 1. This control is also a push-pull knob to activate the "bright" section. After that we have the 3 bands EQ, we have Treble, Bass and Middle. The middle knob is also a push/pull knob to activate the "Fat" section. You then have the Gain 2 control, this is to add an extra amount of gain, you can also pull it out for a "boost" mode. Then we have a filter control to filter out some high-end if needed, and then the master volume knob. Finally, you have two switches, a power and standby switch. 
On the back of the amp Rob has decided to keep it simple, You have an FX loop, Power input, and two speaker options (4ohms and 8ohms). Lastly, you have a Foot switch input. The foot switch controls the boost option which is on the front of the amp. Great for those solo tones or to add extra gain to your sound on the fly.
The Insides
So what is powering this amp? Well, the amp is based on Rob's Dualist circuit in the Dual mode. The power stage of the amp is a single-ended class A with a tube rectifier (This one is putting out 15 watts, and can be tailored to your needs). It also has a tube-buffered FX loop in it as well. So, this amp is fully tube and analogue based!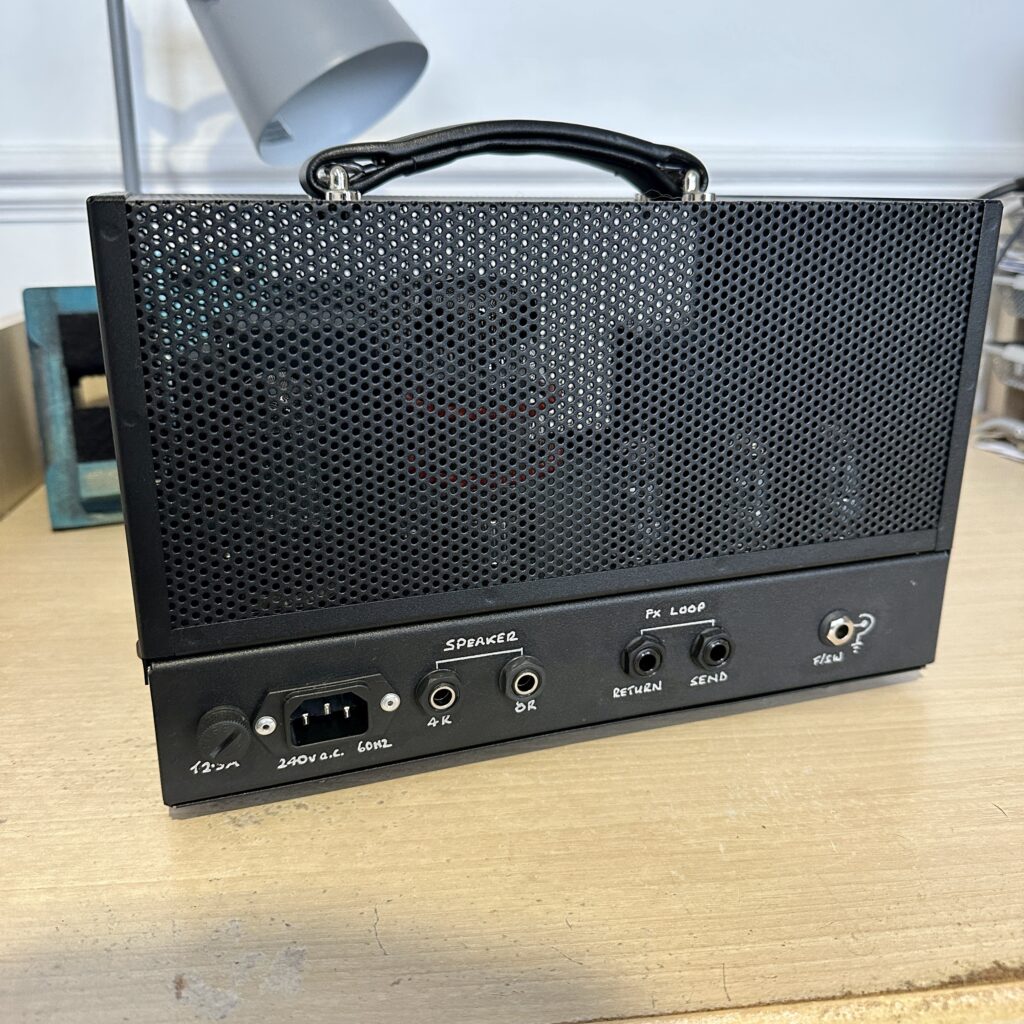 For the sounds, I have put together a demo track which is fairly heavy but also contains some clean and low-gain stuff as well as some solo tones. After I then go through the amp and the controls and what sounds you can get out of it. All the demo track was recorded with my Gibson Les Paul. For the run through I use both my Gibson Les Paul and my LT Custom Strat. All sounds were recorded with my two notes captor straight into my interface.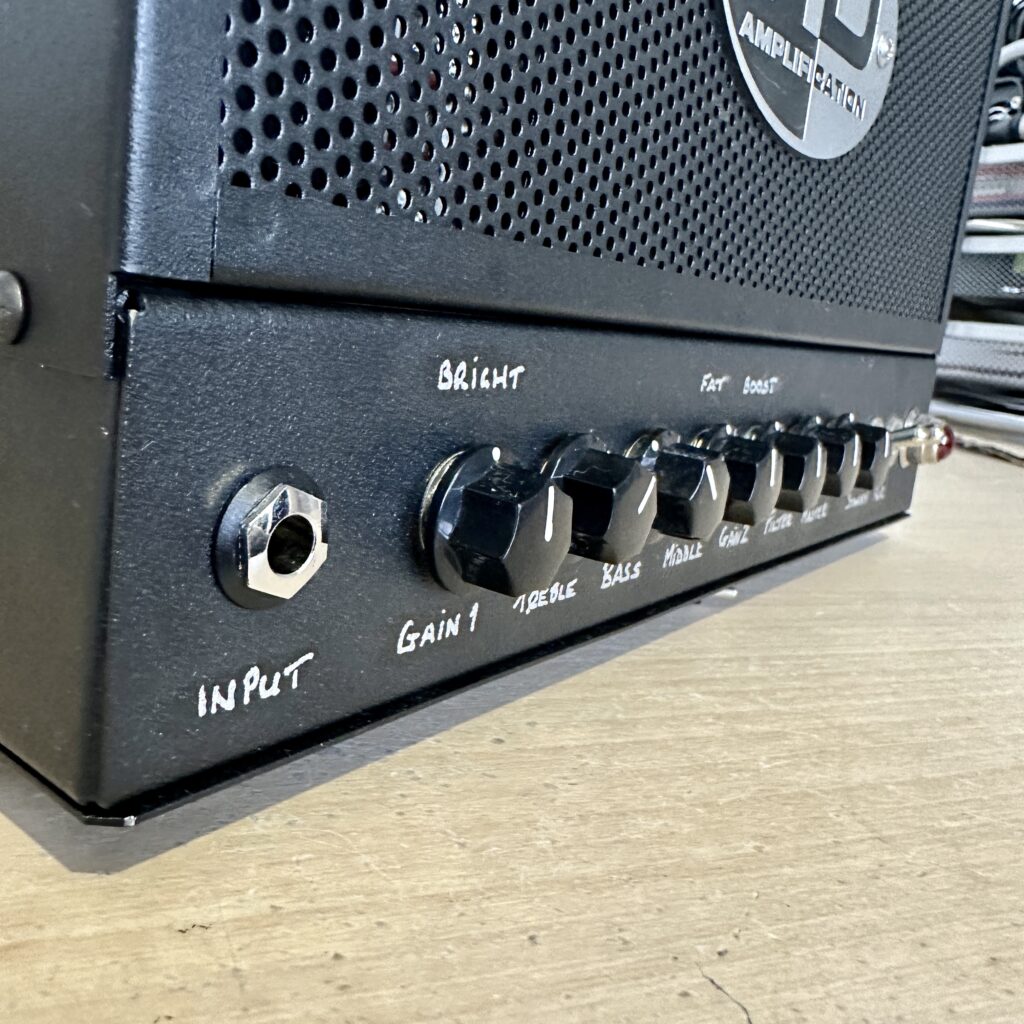 The Looks
This amp is not only one of the meanest-looking lunchbox amps I have seen, I think this is the meanest and best-looking amp ever! The design is simple and clean but very effective and memorable, all black with the RD amplification logo on the front. Being a first edition and almost a "test" amp the front panel is all handwritten! Speaking to Rob he does plan to get a front panel made if he sells more but personally I love the look of the handwritten panel on the front and the back. 
The top of the amp is a mesh/grill and looks incredible! When the tubes get nice and warm it looks insane! A proper good looking amp all around! Would look good in anyone's rig, bedroom or stage! Let us get into the controls of the amp and how it functions and what you can do with it! 
The Sounds
Dam! This amp not only sounds amazing but also does everything! When I first plugged it in, I was shocked! For its size, it packs a hell of a punch! for around 15 watts, this amp can do everything! Everything from cleans to heavy gain. This amp can do it all. I have to say my favourite sound is a medium to low gain sound! It's just sings! Plug in a single coil guitar and you won't be disappointed! I can guarantee that it will put a smile on your face!
The gain in this amp goes from a low, transparent and silky gain all the way up to a thick, in-your-face high gain and everything in between! Thanks to the two main sections and the boost knob you can get any gain sound from this amp! However, the amp has all this gain but it never feels forced or fake! Nothing but natural and lush gain. If you pull the boost out and push both gains then you get into a borderline fuzz sound! It is just glorious!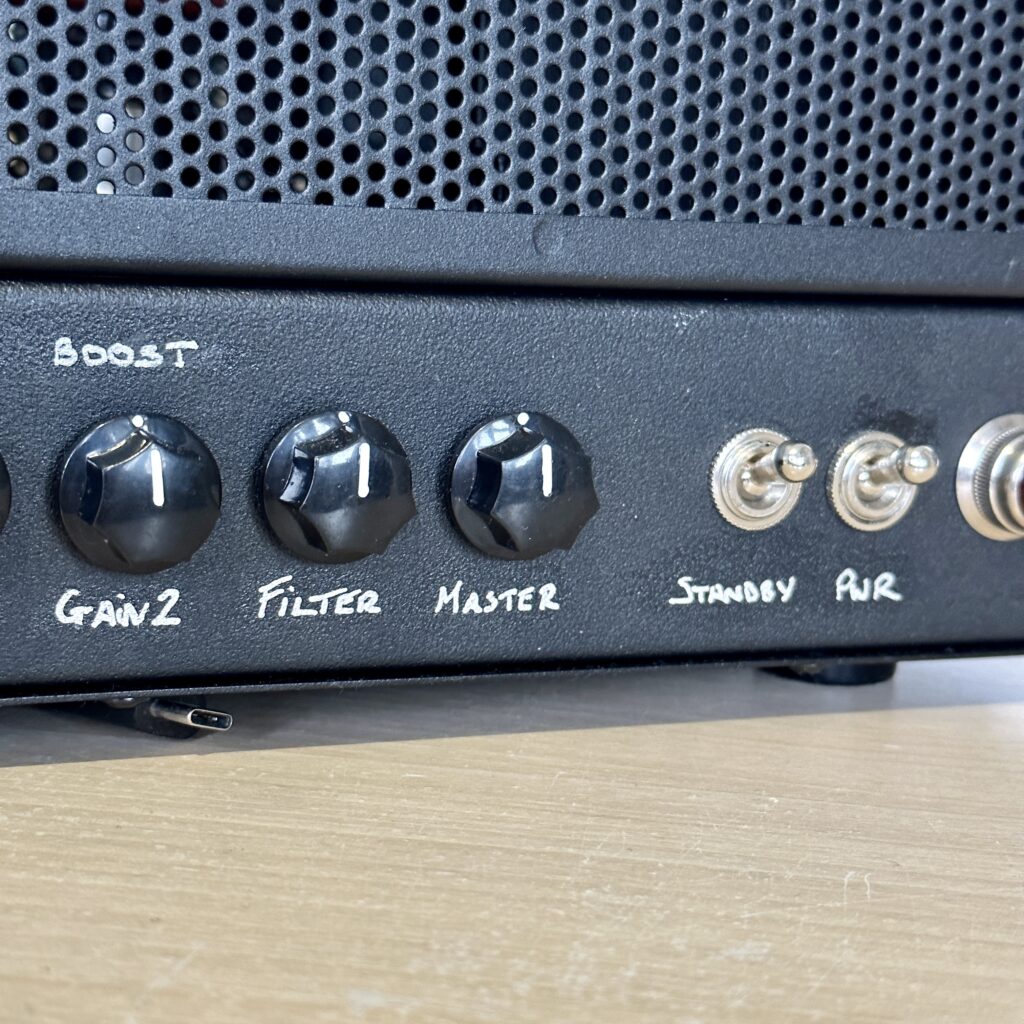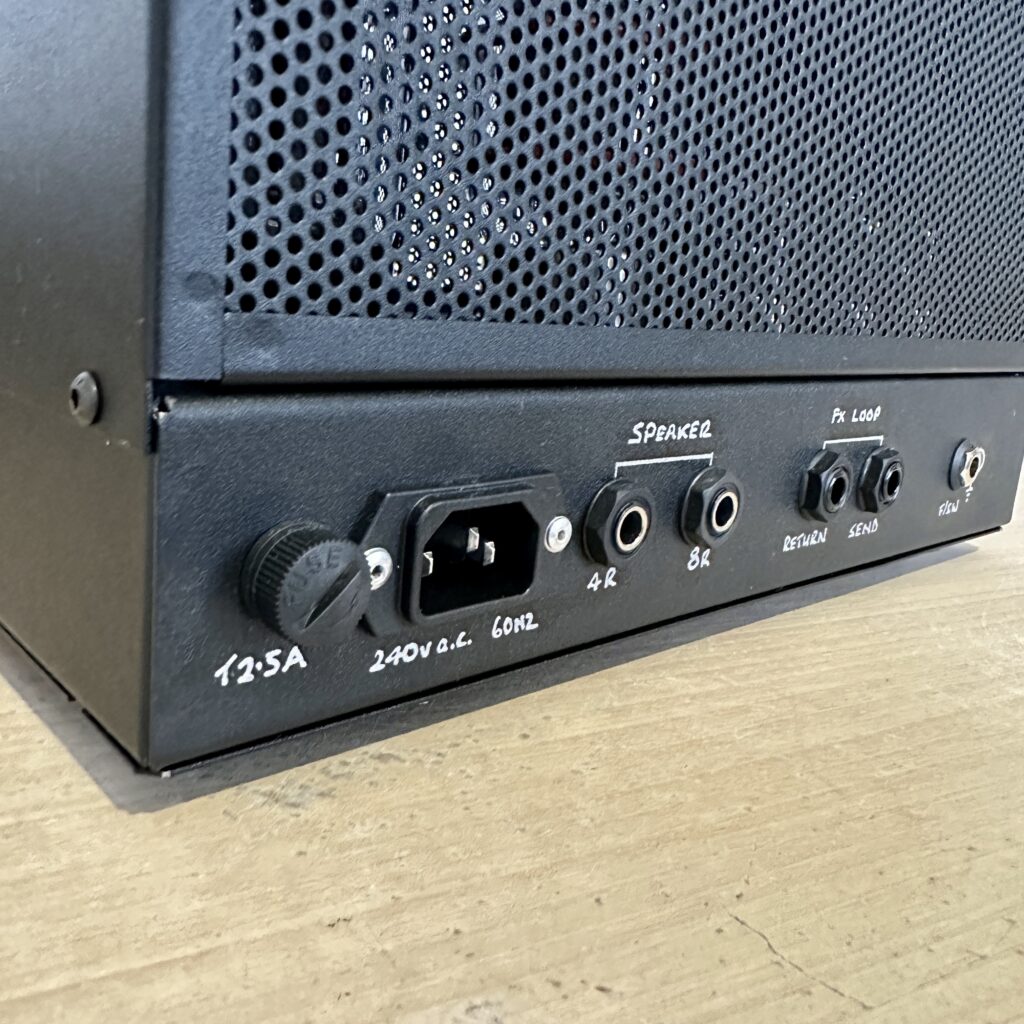 Any Negatives
There aren't a lot of negatives about this amp. The only one I can think of is that there is no "channel" switching so won't be able to go to clean to drive at the click of a switch. So if you want to go between clean and gain you will have to use your volume control.
Another note is that this is a Hand built, point-to-point amp. Meaning no PCB, no machine or anything. All were built by Rob in his studio. Meaning if you are after a cheap tube amp, this isn't the one. However, if you are after a high-quality, professional amp, then this is the perfect amp for you! For home and the stage!
Hope you all enjoyed this exclusive release! First of I want to thank Lewis from LT Custom Guitars for loaning up the amp. I got to play it before him. So massive thanks to him and Rob for that chance! Want to thank Rob (Who made the amp) for answering the questions I kept sending him, The guy is a wizard! If you want a high-quality, built custom order amp, then make sure you get in touch with him (links below).
We hope to do more RD amplification reviews, Maybe some more of his full-fat amps! Might be one coming to the channel! So make sure you are following our Instagram and YouTube channels for updates! Should we order an amp and document the build process? Let us know over on our Instagram!
Make sure to give us a follow us on Instagram as well, It helps!
RD Amplification Links:
Check out our other Articles here