Boss CE-2w Review – Is it the King of Chorus's?
I don't "crave" after gear that much, however, there are one or two pedals I have always wanted to at least try. At the top of this list is the Boss CE-2! Why? Maybe it's my love of Prince and love of 80's metal! However, the pedal has always called me! Looking at the prices of the original CE-2 I thought it wasn't ever going to happen! 
Well, it hasn't! I haven't got an original CE-2, what I have got is the CE-2w Waza edition! The Japanese Remake! So was the wait, and the price worth it? Let's find out, shall we? But first, what is the CE-2 pedal for anyone that might not have heard of it?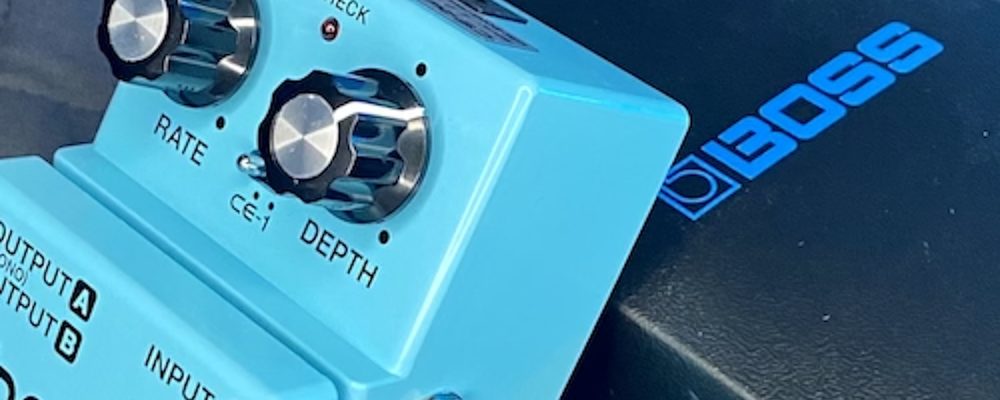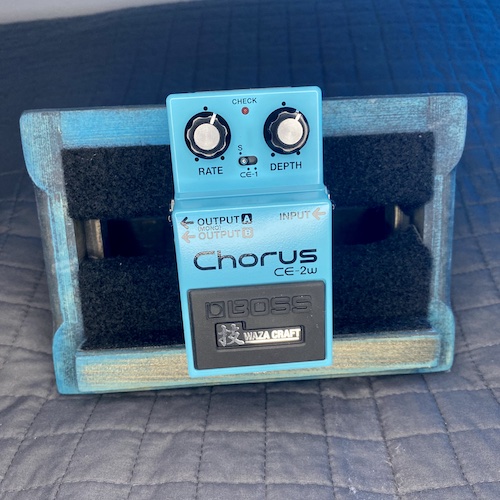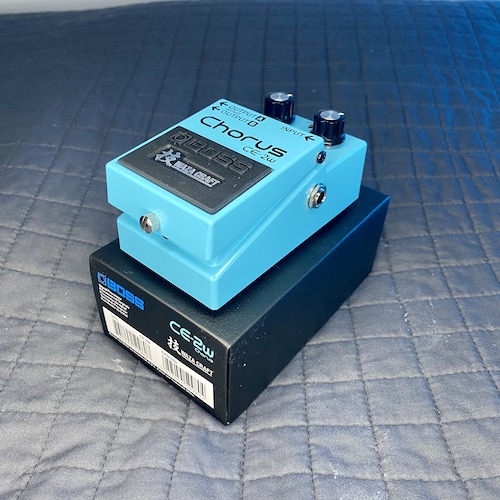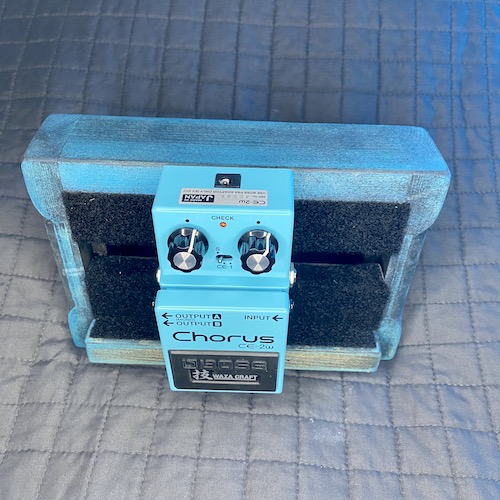 Back in 1976, Boss launched their first pedal, the CE-1 chorus! This wasn't just Boss's first pedal it was the first chorus pedal ever. They then redesigned and put it into the famous Boss stomp box housing and made the Boss CE-2. The CE-2w aims to recreate the sound of the famous Boss CE-2, while adding some more features, Like a CE-1 mode and a Stereo output, but more on those later.
The CE-2w pedal has two knobs and a switch, the knob on the left is the Rate control. This controls how fast the chorus goes, and the knob on the right is the depth control, this control how deep the chorus goes. In the middle is a Switch which if you set it to the far left, you get the CE-2 classic sound, Put the switch in the middle and you get the Boss CE-1 sound, then on the right you the CE-1 Vibrato only (So no Dry signal).
More on the Boss CE-2w Pedal
With this version of the pedal, you can run it in stereo output. You plug one cable in and you can have two cables out. Allowing you to run each output to its amps and have a thick, wide chorus sound. Perfect (if you have a big enough rig for it).
For the sounds, I am running the Boss CE-2w through a New RD Amplification Amp. More on this amp very soon with a full review. I am running the pedal into the FX loop of the amp and recording it using a Two notes Captor (Review Here). After that, I just go through the sounds using various settings on the amp, from clean to high gain. There isn't much to show as far as controls for the Boss CE-2w. This pedal is more about how you use it with other pedals and amp sounds.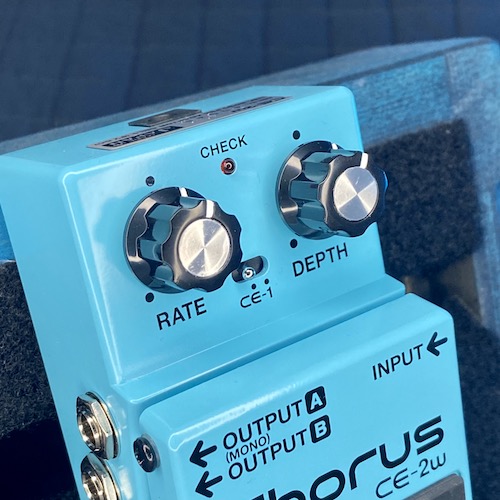 The Boss CE-2w comes in the standard Boss box, with some warranty information (has anyone ever used that for a Boss pedal?) and a link to the owner's manual. Getting the pedal out you can feel the build quality and see the nice blue colour of the pedal. I don't know if it is the Waza brand or the fact it is made in Japan, but the build quality is so good! The pedal feels solid and well-built. I know all Boss pedals are like that, it's kind of their thing, but this one takes it up another notch! Everything feels solid and secure!
The sounds? Well, I would happily say that this is the standard for chorus pedals! Lush, silky, thick chorus sounds! Easy to control and adjust with the two controls plus the switch. Running the chorus through an FX loop (like I did in my Soldano) just makes a wonderful sound! Mixing in a bit of gain just puts me in my happy place! One thing to note is this pedal isn't an extreme chorus pedal, it's a usable sound! If you are after that extreme chorus sound. This might not be the pedal!
Anything Else?
Well, it's worth talking about ease of use. This pedal is so easy to use, it has two controls and a switch. Nothing to worry about! The downside of this is you could argue it's limited in sounds, Like we said above, you can't do that wild crazy chorus Unless you leave it on Vibrato only. 
As nice as it is to have the switch, I have found myself leaving it on Boss CE-2w setting most of the time. However, that's a personal preference and others might like the other sounds! When recording I have found myself messing around with the vibrato-only option. For example, if you are double-tracking guitars record your standard left and right (Dry) takes, then in the middle record a version with Vibrato on. This will give the guitar a nice thick sound and allow you to bring the volume and mix up and down.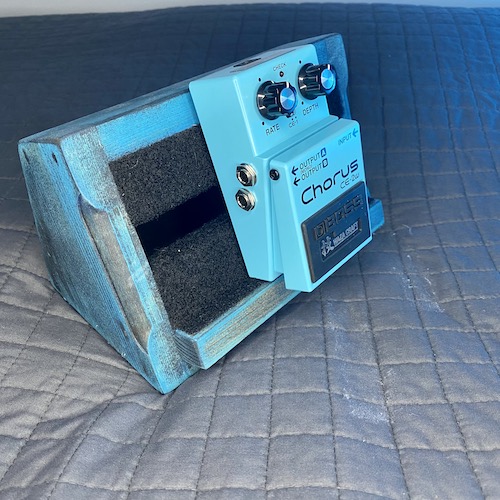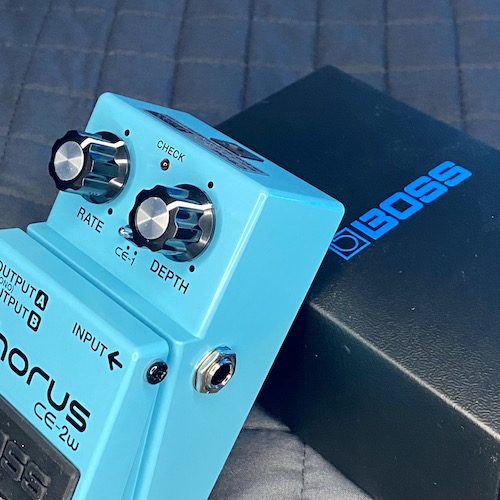 Final Thought on the Boss CE-2w
It is also worth noting that this pedal doesn't have a Mix control like many other Chorus pedals do. If I am 100% honest, I haven't found this an issue but I guess if you only wanted a subtle chorus sound then you can't turn down the effect.
So what do I think about value for money? Is it worth the price tag? Well, how much is it? I paid £190 on Amazon. But I have found there is about a £20 difference each way depending on the shop and location. Do I think it is worth £190? I do think it is worth the money and as everyone knows, boss pedals never break so you will be in good hands. however, saying this I will recommend that you shop around and see if you can pick up a second-hand one or even one on sale. Save yourself a bit! It is a lot of money for a guitar pedal so any saving is good news!
So that is our review of the Boss CE-2w. Overall, I am very pleased with the pedal and glad I have finally purchased it. The simple controls make it a breeze to use and simple to adjust on the fly, and you know with the Boss build quality that it will hold up to any kind of abuse! What did you think of the pedal? do you own the pedal? let us know over on our Instagram! Drop a comment on the post and let us know what you think!
We have a few more reviews lined up, as well as some amp reviews and maybe even some Guitar reviews. If you make, produce or have anything to do with musical gear and want it featured on the website, then please get in touch over on our Contact page, We would love to discuss how we can help you.
Make sure to give us a follow us on Instagram as well, It helps!
Boss Links:
Check out our other Articles here