SBC Omicron One Guitar Review – My first headless experience
We have another fantastic guitar review for you all! This time it's SBC guitars. A custom-made guitar brand run by Stewart. Today we will be reviewing the SBC Omicron One Guitar! Not only my first guitar from SBC guitars but also my first headless guitar experience! So am excited that I got this guitar in to try out!
Being that I'm not a super heavy player, I've never really gravitated towards the headless guitar scene, so I am super excited to see how I get in with one and how it performs I'm doing the things I do on guitar. We shall find out but First, let's talk about the guitar and go through the specs.

The SBC Omicron One Guitar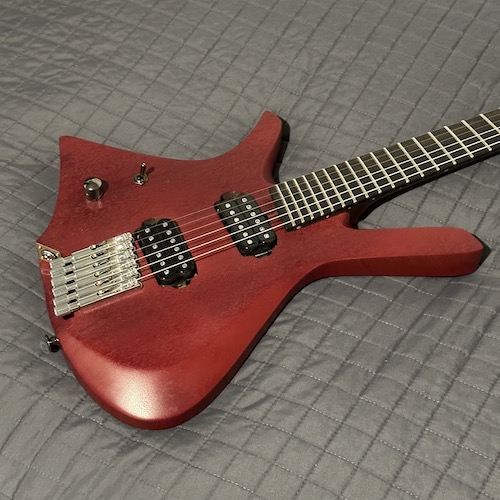 This guitar is part of the SBC Omicron headless lineup. A Standard but highly customisable guitar line. With almost every option being customisable and changeable for anything you want! Keeping in mind you can change almost everything about this guitar, let us go through the spec of this one I have currently.
The SBC Omicron One has an African Mahogany body (Although other options are available) which has been finished with Oil in a lovely Burgundy colour stain. The neck on the guitar is a Torridied Maple Neck which has been enforced with Carbon Fibre topped with Ebony Fretboard with a 25" scale length finished with Jumbo Stainless steel frets.
More on the SBC Omicron One Guitar
As far as electronics and controls this guitar is equipped with Sunbear Alnico Humbucker pickups that have been specifically designed by SBC guitars. They aim to have a high(ish) output (13 in the bridge and 8 in the Neck). It has all CTS and R/S Pro electronics and currently the hardware is ABM, but this is subject to change. Control-wise, it is very simple, The guitar only has a 3-way switch and a volume pot.
The elephant in the room is that this guitar is headless. Meaning it has no headstock and thus, has no tuning keys, or traditional tuners. The tuners are on the bridge, you use little thumb screws to tune the guitar and at the top of the guitar (where the tuners would traditionally be) is where you "lock" the strings in place. YOu have no control over the tuning of the guitar from here. We will discuss how I got on with this system later on in the article.
So, how does this guitar sound? Is it any good? Fun and easy to play? We will talk about all these points, but first, let us go over some sounds!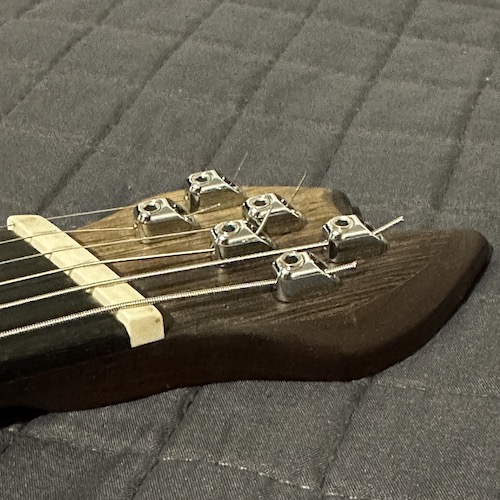 For the sounds of the SBC SBC Omicron One Guitar, we've created a quick demo song using the Revv D20 with the Brelliott Distortion pedal in the front end (review here). For the sound samples we, again, used the Revv D20 and my full pedalboard to get lots of different sounds.
We do have a full walk-through of the pedalboard coming very soon! So bare with us while we put that together.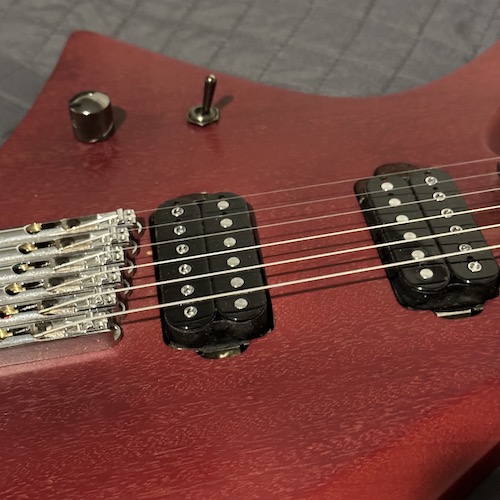 So what do I think about the SBC SBC Omicron One guitar? As I said in the beginning this is my first experience with a headless guitar. So I was excited to see not just how this guitar performed, but also how I got on with the headless experience. The first thing I noticed is the weight, not having a headstock and tuners (so to speak) the guitar I light and nimble, easy to hold and feels super comfortable. Not having those extra inches of headstock makes the guitar feel compact and fun to play!
The colour of the body and the colour of the neck complement each other beautifully add this with the colour of the hardware and I think you get a nice looking Guitar. I think it was a great choice to stain and oil this guitar as it keeps the grain and texture of the wood! Allowing for a lovely finish!
Anything Else?
How are the sounds? Well, for a guitar that has two humbuckers, a single volume and a 3-way switch, this guitar has a wide variety of tones. This guitar is capable of doing everything from heavy brutal sounds to smooth blues and crystal cleans. Very versatile! This guitar has a wonderful amount of sustain and can ring out for a while. Very useful for lead lines! The pickups are great, the bridge pickup has a nice bite and cutes through lovely, while the neck pickup is warm and smooth and great for rhythm tones. and together they have a very nice tone! As already mentioned, you will be able to get a huge amount of tones and sounds from this guitar.
How does it play? Wonderfully! Silky smooth and fast! The fan frets take almost no adjustment and feel natural to use! The controls are placed in a great location. The shape of the neck is very nice and the size of the neck is very comfortable for me.
Final Thoughts?
One thing I will note and that's not aimed at this Guitar but is aimed at headless Guitars in general is that it can be a bit awkward that tune due to the tuning mechanism being at the bridge of the guitar. It worked perfectly fine. It just takes a bit of adjustment and I found it not to be as fast as traditional tuners at first! 
That being said the SBC Headless Guitars tuning has been rock solid throughout all the recording and playing I've been doing with it. I've only had to tune it up occasionally, absolutely rock solid thanks to the reinforced neck! I would be happy to gig with this axe and trust its tuning and performance.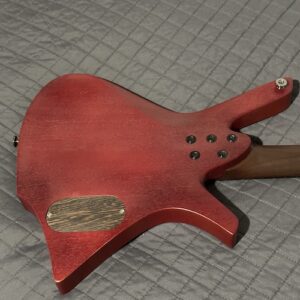 Huge thanks to Stew for loaning me the SBC Omicron One, should I get one? Do a Gig & Guitars build with him? Let us know! It's been a joy to play and record with this guitar! Thoroughly enjoyed my first headless guitar experience! I will be sad to see this guitar go'
If you are after a guitar from SBC or a headless/modern guitar in general, make sure you check out his lineup! He has some amazing builds and models available! You can check out his work using the links below! 
Also, make sure to give us a follow on Instagram and also subscribe to our YouTube channel! They help out the site so much.
SBC Guitar's Links:
Check out our other Articles here