10 Questions with Jamie Slays – Interview and Chat

We have another interview for you all today, This time with Metal Youtuber Jamie Slays. JamieSlay is the go-to place on YouTube for Metal riffs and now that he is partnering with various other channels he is slowly becoming the main metal guy on Youtube. 
We got the chance to catch up with Jamie Slays and ask if he was up for an interview and he was more than happy. So we sent him over 10 questions and put together this article for you all. So why don't we crack on with our 10 Questions with Jamie Slays?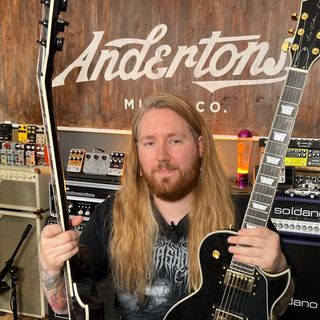 Q: When did you first pick up a guitar and what got you into playing?
I first picked up a guitar in 2004/05 when I was in my final few years of school. I got bought a Squier show master starter kit by my parents for Xmas I think. It came with a 15w amp which I actually kept for ages and even used at uni to practise with! Nu-metal was my gateway into metal! It still to this day is one of my favourite genres and I owe my love of all types of metal to bands like limp biz kit, Linkin park and slipknot. Watching slipknot on MTV in their video Left Behind made me WANT to learn that riff and here we are!
Q: What made you start a Youtube Channel and take that direction?
I started uploading videos to google video back in 2006. Just for the sake of being able to embed the HTML on myspace.com :') then when I came back to google video one day it was different as I think google then purchased Youtube and the video was available publicly for everyone to see! I would just post if and when I felt like it with no real plan to become a 'YouTuber' as it was still very much in its infancy. I then came back to it properly in 2016 as I felt there was a real niche for metal guitar lessons. How wrong was I?! Haha and I've been committed to posting at least once a week ever since!
Q: Most exciting piece of gear you have tried?
The Quad cortex by neural DSP is the most exciting piece of gear that I own and purchased myself but I think the most exciting piece of gear I've ever tried was probably in Japan when I visited in 2018. I went to the guitar district Ochanomizu and played the Ibanez jem777 and UV77. Both guitars I have heard of for a while but didn't fully understand the rarity or excitement until I played them! That started my swirly, rare Ibanez obsession!
Q: Any music on the horizon to be released?
I'm working on some Metallica covers at the moment as I love replicating the songs in the best way possible with the gear I have but yeah, I'm working on some original music also! I have snippets of songs I have had to make for gear demos that I would love to extend and turn into a full EP at some point but sometimes I think I should just put them out as is and move forward!
Q: Any guitar/Gear you regret selling?
I regret massively selling my LTD-MH1000 which I purchased in 2008 and used in my band through the abyss for a long time. I then sold it when I started doing YouTube and wanted to buy more Ibanez guitars. I recently got back in touch with fabian from the band polar who had the guitar and he was happy to sell it back to me. He is now endorsed by ESP and wanted to buy new models so I gladly took it back! I don't think I will sell it again. The BIGGEST REGRET ever is selling the peavey 5150 when the band stopped functioning as they are now worth a lot of money and it is my favourite metal amp ever!

Q: What did you struggle with learning guitar?
I've always struggled with theory or lead playing. I've predominantly been a riff-oriented player due to my love of music that traditionally lacked solos (nu-metal) but also due to having a fond love for rhythm players such as Mick Thomson, James Hetfield and Dimebag Darrell. I'm working on my Lead ability more now and it's very fun to learn all solos I've always wanted to play as a teenager!
Q: What is your Guitar controversial opinion?
There is no right or wrong way to do anything. Guitar playing isn't a sport. Lots of people in history either didn't know theory, played with different fingers or two fingers and a thumb the list goes on! There definitely is a way to do certain things but I think guitar is just about exploring the instrument yourself and playing what you enjoy. You don't have to be the best in the world to have fun and enjoy it. Let people live!
Q: What does the future hold for the Channel? Any plans?
 I want to do more interviews with other people and also be interviewed more! I am working with Marty Schwartz on his channel where I make metal riff lessons for him twice a month! I also want to travel more and see more places and companies Namm, guitar summit etc
Q: Tips for beginners learning metal?
Don't skip the fundamentals. Learn chords, song structure, power chords palm muting etc yes it is cool to learn sweep picking or play Polyphia. But having the groundwork will make those things so much easier. Also play for fun, if you Enjoy playing you'll want to do it more! You never want it to feel like a chore!
Q: How would you describe doing YouTube as a job? What challenges does it come with?
Youtube isn't my full-time job. I work in retail most of the time. The biggest challenge for me is just finding the time to make content consistently of a certain standard. Also, things like copyright strikes and being de-monetized are demotivating so that's a very big challenge! But ultimately if you have fun and you can do it as often as you can. Even once a week. Then do that consistently and it will grow with time!
I want to thank Jamie for giving us his time and answering these questions! I am hoping we can do some more content with Jamie Slays in the future! He is a brilliant guitarist and knows how to riff and shred! I believe he will soon be the top guy on Youtube for Metal, Now that he is teaming up with Marty Schwartz! So make sure you go subscribe to his channel as well!
Can you think of anyone else you would like to see do the 10 questions? Let us know over on our Instagram. While you are there make sure to give us a follow! If you want to see more about Jamie Slays then you can find all his links below. Be sure to give him a follow if you don't already! 
Jamie Slays Links:
Check out our other Articles here