Bleak District Electric Miraj – Our thoughts and Review
We have another pedal from Bleak District Electric! This time it is their modulation pedal the "Miraj". I spoke to Phil at the FXExpo about this pedal when it was in its early planning phase and have been keen to try it and review it when it is finished! Well, it is now finished and has been delivered and I have been using it and putting together this article.
In this article, we will go through what the pedal is, sounds like and also my thoughts on the pedal. This pedal has a lot of sounds, and a lot of features, so there is a fair amount to get through! So I think it would be best to first talk about the pedal and its features and layout. Believe me, when I say, this pedal does a lot!

So what is the Bleak District Electric Miraj? Well, it is a four-stage optical phase shifter. (Picture if you mixed chorus and phaser and added some extra magic). The pedal is housed in a metal enclosure with a lovely design (As all the Bleak District pedals do). For the size of the pedal, Phil has done well with the layout and fitting everything in and also making it useable and easy to adjust. As ever with Bleak District you get amazing service, quick delivery and any questions or issues, they are always quick to reply and respond. At the time of writing the pedal costs £149.99 from their website (Links at the bottom of the page).
More on the Bleak District Miraj Pedal
The pedal has 5 knobs, two switches and two foot switches. Going from the top right you have the Regen control, Rate, Volume and Depth. Then you have two switches, then another knob for controlling the waveform. The Regen control, on the top left, feeds some of the signal back into itself letting you get a more intense sound and also allowing it to feed into self-oscillation. The rate is how fast the oscillation is (This is the control the tap tempo adjusts). The volume is a master volume which goes from 0db, all the way up to an 8db boost. Then the depth controls how deep the modulation is. 
The two switches allow you to change the sounds. The first switch allows you to change between a Univibe sound and a Phase sound. While the second switch allows you to switch between the phase sound and a vibrato sound. In a nutshell, this just lifts the dry signal and leaves just the phase-shifted signal. It also had an expression control input, allowing you to plug a TRS expression pedal into it and control the Rate control. Allowing you to get some amazing ambient and whacky sounds. As far as foot switches go, you have two on this pedal. The far left foot switch is your standard on and off foot switch. The foot switch on the right is a Tap Tempo foot switch. Which is linked to the "Rate" control.
Alongside the footswitches, you have two LEDs, the one next to the on/off switch is to indicate if the pedal is on (lite up) or off (switch off). The LED next to the Tap Tempo foot switch is to display the rate. Does this by pulsing on and off at the tempo set by the rate, either manually using the control or using the tap tempo. Either one will adjust the Rate, and in turn, adjust the Rate LED.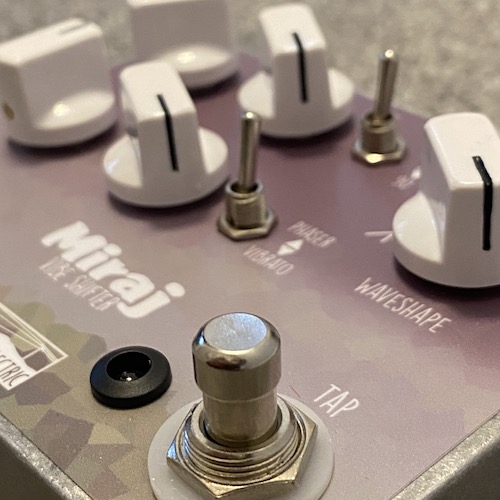 Now the Bleak District Electric Miraj has a lot of sounds in it, so I tried to go through as many as I possibly could. However, I ended up just spending a few minutes creating different sounds with different guitars. I also put the Landscraper and Tapescape in the mix so that you could see how this guitar pairs with other pedals. As always I put together a short demo song to see what it sounds like in the context of a song and mix. If you like the video we would appreciate it if you could head over to the channel and hit subscribe! Helps us out a lot!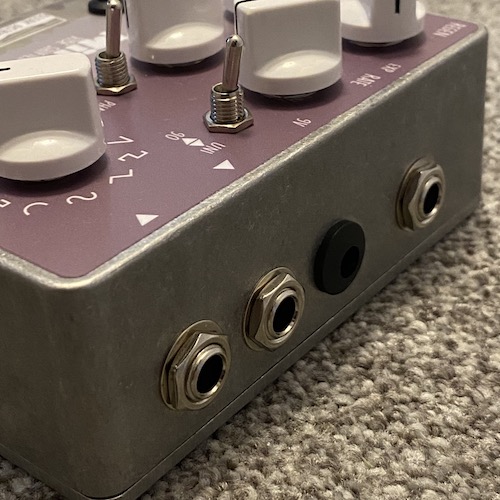 What do we think of the Bleak District Electric Miraj? Let us start off with the looks! As with every Bleak District pedal, The look of the pedal is very nicely done, thought out and executed very well! This pedal has a lovely green and purple colour scheme to it which looks really nice and "relaxing". The control layout is very nice and lends itself to ease of use and allowing you to fiddle with the pedal. 
The version that Phil sent me has the new white knobs he is trying out! I must say I love the look with these new knobs, they really contract the colour scheme well! Huge fan and I am now thinking about what would my Tapescape look like with them on! As mentioned it is housed in a Metal enclosure so would be sure to hold up to constant use and heavy-footed players! No need to worry about that!
Miraj Thoughts Continued.
Looking at this pedal, you would be forgiven for thinking that it is a fairly confusing pedal. However, after looking at the controls and having a play around it soon all makes sense and becomes really easy to use and adjust. Having the volume control there is really helpful because you are able to match this pedal to any signal in your chain. If you find that when you switch the effect on it might drop the volume you can increase the volume to match. Having 8db of boost also allows you to use the pedal to push an amp into saturation. Only slightly but is a nice effect.
The "Waves" control is really self-intuitive. It has diagrams of the waves and the flashing LED will back it up. This allows you to visually see what you are changing as well as hear it. So many waves and all so useable and fun to mess around with. My personal favourite is the Sine Wave (which is a more traditional sounding Wave) I also love the square wave for these harsh and sharp changes, and also the envelope waves for raises and falls in the modulation. However, they are all very useful and all have their place.
Anything Else?
Let us talk about the main thing! The sounds! How does this pedal sound? Well, Mega! This pedal has some truly wonderful sounds and some insanely sounds and some wacky and groovy sounds. At the twist of a knob, you can change the waveform and change a sound completely. Then using the other nobs dial it into something you want. If you are after a smooth deep chorus kind of sound you can easily achieve that. What about a fast and shallow phaser kind of sound with a lot of feedback? That is also easily done! 
Now, the key feature, and something I love about this pedal, Is the different waveforms, This isn't something you would normally notice on a modulation pedal as when you buy a modulation pedal it will come with a set waveform, however, in the Miraj, you have the option to select between several waveforms. Including your standard sine wave and saw waves then going into various different ones and some crazy ones! They are all good fun and allow you to sculpt the sound however you want. Pair this with the Depth control (which has a huge range and allows you to go very deep in sound, More than similar pedals allow), and the Regen control and you can create so many sounds! I would say this could be the only modulation pedal you need!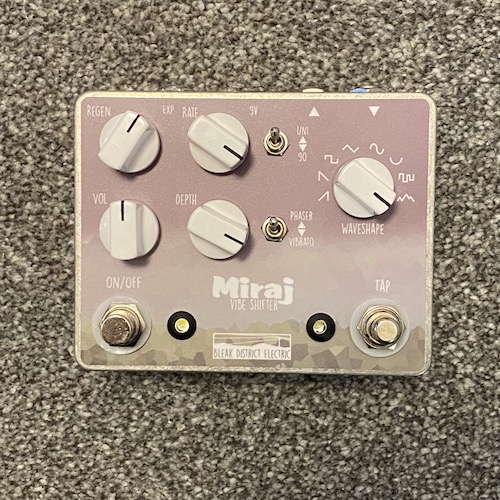 Final Thoughts?
Something I thought I would never use on a Univibe pedal is tap tempo. However, playing around with this one I am so glad it has one. Playing along to tracks and being able to tap in the tempo and have your modulation match up is so useful, add that in with the helping pulsing LED showing you your tempo and it is so useable live. Having the sound at the correct tempo is a sound all on its own and sometimes isn't needed, but if you feel you need the sound to lock into the grid then you can tap the tempo in and line it up! A super useful feature!
As always with Bleak district, the packaging is on point, a lovely printed box with the build number, logo and also a quality control checklist on the front so you know what test and QC have been done on the pedal and also by who. A very nice touch! You see it a lot on guitars and amps but not so much on Pedals. Well done Bleak District! 
Any Negatives?
My only negative, and it isn't really a negative, is that I wish you had the option to select what the expression pedal controlled. As I am not a pedal designer or creator I don't know if this is possible but would be nice to have a switch which allowed you to switch the expression pedal and what it controls. However, this is minor and doesn't affect the pedal at all, having the expression pedal where it is, is great fun and super useful. 
Now, do I think the pedal is worth the price? Yes! I think every Bleak District pedal is worth the price! They are all amazing value and great for not only beginners but also touring and session musicians who are after a pedal. I would say if you are after a Modulation pedal, and you like the sound of this one, then buy it! You might find that it is cheaper than any of the bigger brands!
So that is my review of the Bleak District Electric Miraj pedal! Huge fan of this pedal. In fairness, I am a big fan of everything Bleak District! Their pedals just look and sound amazing, and will always be a staple on my board! This pedal isn't an exception! It sounds amazing, I might even have to get in touch with Phil and see if it can be a permanent pedal on my board!
I can't say too much but I know of a few other pedals in the work from bleak District, and am so excited about what they have planned! You bet any new releases will be featured on this site! If you want to keep up to date with everything Bleak District Electric, or even purchase a Miraj yourself you can check them out at the links below.
Bleak District Electric Links:
Check out our other Articles here