Bispell Audio Gleam Pedal Review – 3 for the Price of 1!
Fuzz pedals can be hard work to use sometimes. Every fuzz pedal will sound different in every amp. So finding the perfect fuzz pedal for your amp might take some doing as you may have to try several. How about a fuzz pedal with several sounds in it? Well, look no further! Today we will be looking at the Bispell Audio Gleam pedal. A fuzz pedal with 3 main fuzz sounds.
We recently reviewed the Saxon by Bispell Audio, which was a Marshall JTM amp in a box pedal! I loved it! So when the chance to review another one of their pedals came up, I jumped at the chance! This time a fuzz pedal! So let's first talk about the pedal, then go into some sounds and then what I think.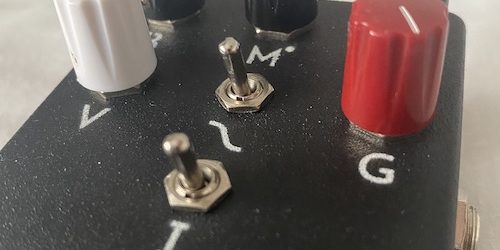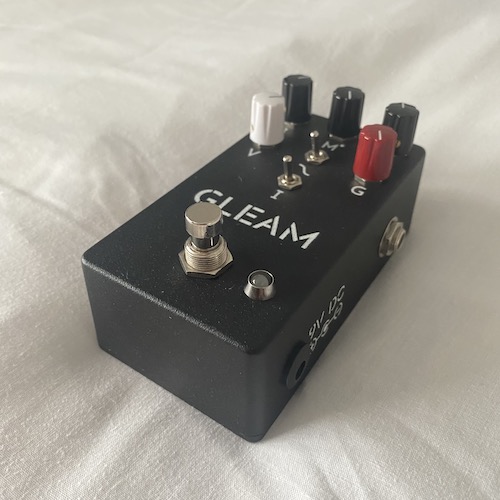 The Bispell Audio Gleam pedal is a Silicon-based Fuzz pedal which aims to precisely recreate the sound of several vintage fuzz pedals. Those are Tone Bender, The Fuzz Face and the Maestro MFZ-1. 4 very well-known fuzz pedals! Being that it has so many pedals in one (or so many sounds) you might think that the pedal is complicated to use. However, If you are after a specific sound, they include a handy card to help you set up that specific pedal.
The pedal itself runs on your standard 9v power supply. Inside the pedal there is a 9v to 30v conversion circuit allowing for excellent distortion characteristics, Meaning that it responds to the volume very well! Allowing you to go from full Fuzz down to sparkly cleans, only on the volume!
More on the Gleam Pedal
Looking at the pedal it has 5 knobs and 2 switches. Going from the top right you have a Bass, Miss, Treble, then the row below you have a Volume (white knob) and a gain (Red Knob). There are two switches, The top switch is a tone switch which adds a capacitor on the input to replicate the high-frequency roll-off on the Tone Benders. The other switch is an impedance switch, which gives you access to the higher input impedance tones of the MK I and FZ-1.
Also worth noting that the pedal is true bypass so won't act as a buffer in your signal chain. Bispell Audio recommend that it is best to plug your guitar straight into the pedal. Making it the first in your signal chain. As with all Bispell Audio pedals, they are hand built in the UK and if you have any questions or issues very easy to contact and responsive.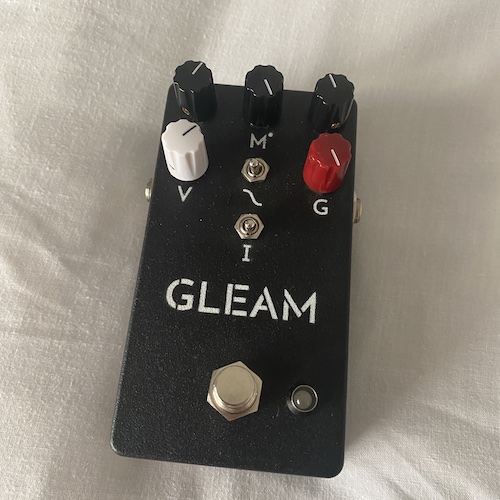 The Bispell Audio Gleam has a nice bright LED when switched on and all the controls and knobs have a lovely feel making it a breeze to dial in sounds. The enclosure is made out of metal and has a nice texture and rugged feel to it, this pedal can take a beating and would hold up just fine to touring. So how much is the Gleam fuzz pedal if you wanted to buy it? Well, from the Bispell website it is £179.99. 
Below is the YouTube video of the sound demo (Be amazing if you went over and clicked like and subscribe). The demo song uses a mixture of sounds, using both the LT Custom Strat and also my Epiphone 335. After the demo song, you will hear me run through the control on both a Humbucker and a Single Coil. Messing around with the controls and trying out the different pedal types.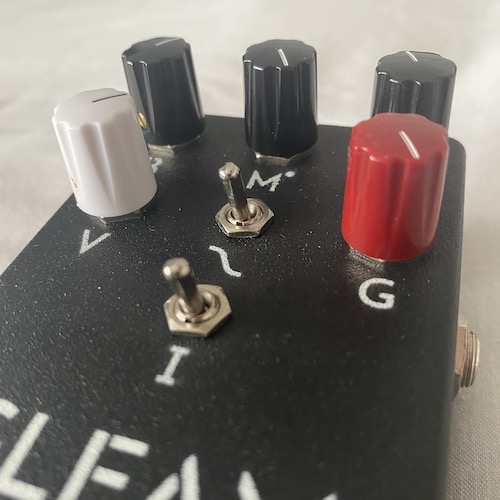 First of all, The Bispell Audio Gleam pedal is so much fun to play! Very inspiring and very different to what I would normally turn to. I wouldn't say I am a huge Fuzz user, however, playing around with this pedal has made me want to use it more! Every time I use this pedal I find a new sound that I love and end up writing new riffs or songs! Coming up with the demo song, I had and went through so many different riffs.
Thanks to the 30 conversions inside, The pedal reacts amazingly to the volume! If you have the pedal set up, rolling back the volume cleans up the sound lovely, Roll it back and you get sparkly, glassy cleans, then slowly bring it up gives you a little bit of break up then back to full fuzz! So many sounds in this pedal only having to use the volume knob on your guitar!
Anything Else?
As I said in our Bispell Saxon review. The Gain control is a red knob making it easy for quick adjustments on stage, as is the volume. Being white, it's great for on-the-fly adjustments. Pair this with the super bright LED and the white stamped military graphics, you won't be making any mistakes with this pedal anytime soon. Each knob on the pedal has a great feel and response, meaning when you move a knob or flick a switch the sound will audibly change! Nothing on this pedal is a waste or useless. Giving the pedal a little shake there is no rattling and nothing came out of the box lose! This pedal is rock solid and super well built.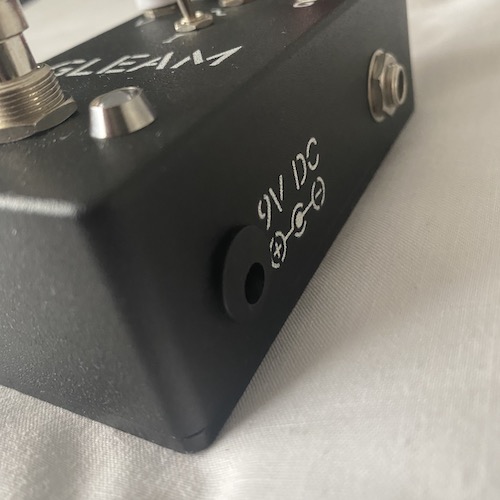 Overall I think this is a great fuzz pedal, when you consider you are getting 3 fuzz sounds in one pedal, it makes the price seem like a bargain! Considering each of the pedals this pedal replicates retail for two or three times this one. Having tried out the Saxon I knew I was going to be impressed with this pedal and it lived up to expectations!
You can read out full review of the Saxon pedal here. His take on an amp in a box. Not to spoil to much but I loved it! Bispell are making some amazing pedals and we will be getting some more in very shortly for review so keep your eyes peeled!
Thanks to Bispell Audio for sending this pedal out to me, It has been great fun using this pedal for this review. I have learnt a lot about fuzz using this pedal. Mainly the different sounds and uses, I hope to review some more Bispell pedals shortly. Did you enjoy the review? if so please let us know over on our Instagram, Give us a follow if you want as we have plenty more reviews incoming!
If you want to purchase the Bispell Audio Gleam for yourself or check out his other pedals (Review of the Saxon Pedal here), you can find his socials and website link below. Go give him a follow! He makes some amazing pedals for a great price!
Bispell Audio Links:
Check out our other Articles here