Lekato Looper Pedal Review – The Affordable pedal punching above the competition!
Here at Gigs & Guitars we love an affordable pedal! Even better when they are great! Well, the guys over at Lekato sent over a pedal! The Lekato Looper Pedal! They sent over one of their looper pedals for me to try and put together my thoughts and review! We have reviewed a few Lekato products previously, you can check out the IEM system review here so great to do another!
I love looper pedals, not only are they great fun to mess around with and use live, but they are a fantastic practice tool! Allowing you to practice solos and chord changes! As well as helping you improve your timing and tempo. Looper pedals tend to be on the higher price due to their functionality and complexity. So be interesting to see how this affordable version holds up!
The Lekato Looper pedal is exactly as it seems! Lekato's take on the classic Looper pedal! A small form factor looper pedal built to help you loop, improvise or simply bring another dimension to your performances live. Built into a small form factor pedal allowing you to carry it easily and also fit it on almost any pedalboard
The looper contains 9 banks which are capable of recording up to 40 minutes of uncompressed audio! With the ability to add unlimited overdubs on top of the original loop. Giving you plenty of time and space for recording and looping. With the help of the Sync function, it allows you to record perfectly timed loops with minimal thought! Using the built-in tuner it can make sure you stay bang in tune!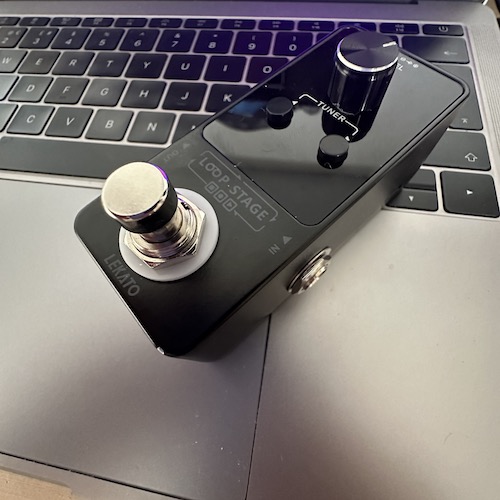 You can also connect your Looper to your computer to import and export recordings. This means you can use it to record ideas, and then bring them into your computer to expand on. Super useful feature and with the help of the 9 banks, you will have plenty of space to store your ideas! The Lekato looper also features a built-in tuner which can be activated while a loop is running and will help you keep in tune while recording your loops. While the tuner is in action, the direct sound from your pedal is muted
The pedal runs on 9v power only. The Lekato Looper peal won't run on a battery due to the size of the pedal (As is the case with all pedals of this size). USB and Power are mounted on the top and the input and output are on the sides.
As you can imagine, for a Looper pedal there is only one thing we can do! Perform some loops! No demo songs, no sound clips. Just a selection of loops made on the spot. So ignore all the flaws! I also run through some of the features and extras that this pedal could do.
If you enjoy what you see in the video below, please consider going over to our YouTube channel and subscribing. It really helps out the channel and the website! We have plenty of videos lined up including some very exciting things!
This pedal is in one of the "mini pedals" form factors. Meaning it is very small and compact, being able to fit on any board! However, don't think its small size makes it hard to use! The LED screen is super bright, clear and easy to read! So even though it's small it does its job beautifully! The build quality of this pedal is incredible! For the price, it is definitely the highest build quality I have seen on a pedal this affordable. Not just the pedal itself, the packaging and presentation are also really nice and look and feel way above the price range.
With 9 banks holding up to 40 minutes of recording you have so much space to record loops! One way I would use a looper pedal with this capacity is to hit record as you start a show or rehearsal, then you can record an entire set, then swap to another bank for the second set. You can then bring these recordings into your computer and listen back and find areas you need to improve on, or even licks you played that you liked! It is a cheap and simple Recording device!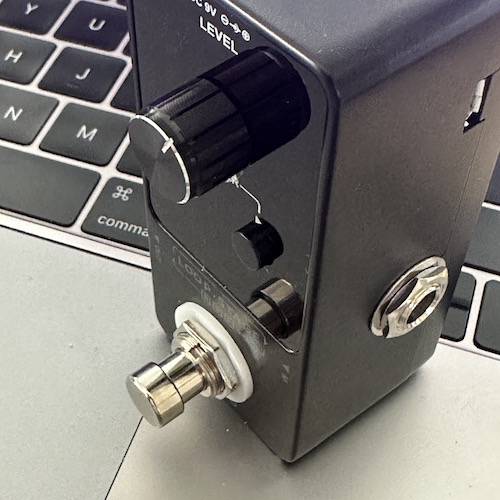 Anything Else?
The Lekato Looper Pedal also included a sync feature. Where you arm the pedal then as soon as you start playing it starts recording! Meaning you don't have to worry about timing or pressing to start recording! I found this a super useful feature! The only drawback is you have to make sure you don't accidentally set it off!
The Lekato Looper pedal has a lot of volume! Thankfully the Volume control is super responsive but it can get loud and if you aren't careful, as you build up loops it can overdrive your amp! However, the Audio coming from the pedal is clean and crisp and an exact copy of what was recorded! (Mistakes and all). Super nice pedal!
The Lekato Looper Pedal has a super helpful built-in tuner! Mega is useful as it saves a pedal on your pedal board! Very nice touch! It means you can remove the tuning pedal from your board and replace it with this one! The downside is I don't think you can activate it using the foot switch. You have to press the two "loop preset" buttons together. Not ideal in a live situation, however, having a tuner in your looper is mega useful! You can purchase a wireless pedal that can connect and activate the tuner hands-free, so there is a workaround!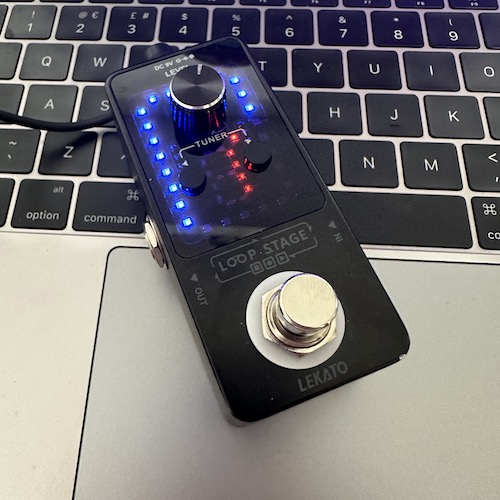 Final Thoughts?
Think the biggest selling point of the Lekato Looper Pedal is the price point! Being that it is around £50 on Amazon means that it is obtainable for a lot of people! That could be for home use or even gigging and live uses! This pedal price bracket puts it with a lot of big-named pedals! Add on that it has a super useful LED screen and tuner and you could argue it puts it above other brands in the same category. 
Overall I am very happy with this pedal and have been super impressed with its build quality (at this price point). I can't think of many bad points, to be honest, If I had to think of one I would have liked the "sync mode" to be more obvious, currently, it's only a single LED letting you know. I would also like a way to be able to activate the tuner handsfree. Apart from that you can't go from with this pedal!
Want to thank Lekato for sending the pedal to me! Was very kind of them! Although they sent the pedal, all the thoughts are my own and Lekato has no effect on any of what I said above. I really enjoyed using a looper again! I used to use a looper a lot a few years ago and was great to pick one back up and give it a go! Nothing gets you practising your timing like a looper! Hearing your mistake over and over again sharpens you up! 
Having tried a few Lekato products, I really like them and love some of the products they are putting out! I hope I can work with them again on another review! Anything of there's you would like to see? Like we said we have Reviewed their IEM System (Review here) and their Wireless Guitar System (Review Here).
If you want to check out our other articles you can head over to our blog page and view them all! We have so many articles in the works! Reviews, Advice and maybe even a few gig articles coming up. If you want to keep up to date with us then give us a follow over on our Instagram here.
You can purchase the Lekato Looper Pedal here: https://www.amazon.co.uk/dp/B07TXTNWTY
Check out our other Articles here