Baby Audio "BA-1" Plugin Review – Ain't nothing but retro Baby!
I have tried a few of the Baby Audio plugins over the years. However, I saw their BA-1 plugin and it instantly got my attention. So I reached out to them and we arranged a copy for review. I have been messing with this synth plugin for a while now and have fallen in love with it and its sounds! The Baby Audio BA-1 plugin is a combination of simple and "toy" UI but with killer and professional sounds!
As with our reviews, we will walk you through the plugin, and go over its features, Performance, ease of use and cost. After which we will hear some sounds and some examples of how and where to use this synth. So let us dive right into our first section. Let us go over the plugin and what you can expect to get out of the Baby Audio BA-1 Plugin and the features and functions within the plugin itself.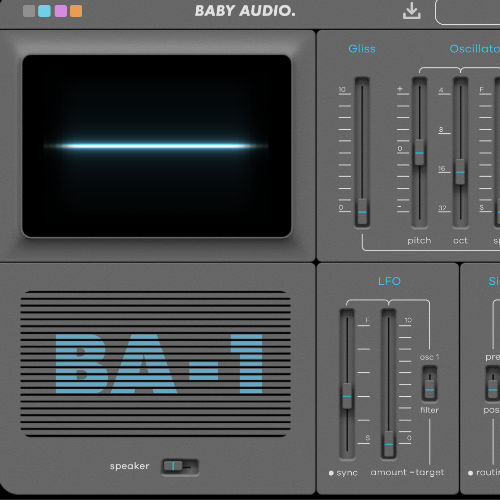 The Baby Audio BA-1 is based on the CS01 synth from the 80's. A toy-like synth with amazing sounds! Also, a synth that hasn't been made Into a plugin format. Baby Audio has taken the CS01 and recreated it into a plugin for everyone to enjoy. However, this is not just a straight copy of the original. Baby Audio have also done a few upgrades and added a few new features to expand the synth even further. A second analogue-modelled oscillator, FM, polyphony, and more
Additionally, BA-1 lets you drain the battery, bend the circuits, and use the built-in speaker – for an authentic lo-fi aesthetic that you could normally only get with hardware. Bringing true analogue sounds to your PC but with modern features and functionality. The original was powered by Batteries and as they died this gave the sound a nice pitch fluctuation and distortion sounds, Which has been replicated here. As well as a Speaker mode. Which simulates how sounds change when it is running through a speaker and moving air. Replicating the low-quality speaker in the original synth.
More on the Baby Audio BA-1 Plugin
If you are new to synth programming and just want to fire up a preset, this plugin has loads of them. However, Baby Audio have also put a "Re-Gen" button which allows you to create a random preset and go from there. Clicking this button will give you a fresh and new sound each time. Allowing you to go in and further modify or generate another one.
The plugin itself features a few different colours to add to that retro feel and also a very retro look overall. The BA-1 Plugin is available to purchase from the Baby Audio website for $49. It comes in a download format with the Installer. If you want to find out more then you can use the links at the bottom of the page to find out more or purchase a copy for yourself.
For the sounds, we couldn't help but to go full 80's! For this demo all the sounds you are hearing are presets that come with the plugin, I had done little to no adjustments on any of them! The presets I used are full-on retro 80s sounds from the synth wave pack that comes with the plugin when you purchase it. It was only right to go full vintage with the video as well!
After the demo song, I run through a few plugins presets and adjust a few of the controls. Showing you what can be done with this plugin and how easy and functional it is to use and giving you a rough idea of what each of the controls do and how simple it is to manipulate the synth to get the sounds you want from it! If you like the video below, please be sure to hit subscribe on our YouTube channel to see more demos! It massively helps the site!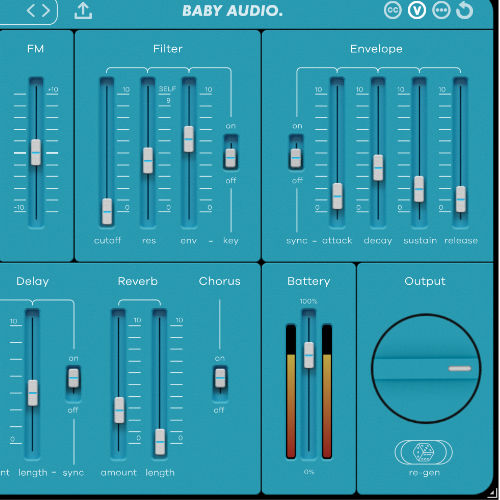 So what do we think about the Baby Audio BA-1 Plugin? Well, We love it! Of course, the sounds that you get out of this plugin are crazy nice! From modern rave and dance sounds to retro and vintage synth wave sounds. The Baby Audio BA-1 also features various effects (Chorus, Delay and Reverb) all three of these sound great. However, For me, I loved the sound of the built-in delay. Was just very vintage and warm sounding! I am going to try to see if you can run other audio through it, just for the delay and maybe even the reverb sounds. The fact that these effects are built in means you don't have to add many extra plugins to get sounds.
Anything Else?
The UI for this plugin is so nice! Very nice retro feel, but still very useable! They have spent a lot of time making the UI look nice but haven't sacrificed usability in the process. All the controls are easy to read and use and the plugin has several colours you can select. Very nice little touch! I also love that when you hover over a control it tells you what it is on the left-hand side, plus what the value of the control is on. Super useful!
We need to take a moment to talk about the presets. Now, not everyone in the world is a sound designer and doesn't want to be a sound designer. Which is ok, the presets in the Baby Audio BA-1 plugin are incredible! Every sound I needed or thought of was preset! Neatly organised and easy to find! If you can't find what you want from within the plugins, you can use the Re-Gen button to generate a random preset! Using this feature I was able to get some very nice and cool sounds. Which were also useable! Perfect if you don't want to spend hours programming in sounds!
So, what are my thoughts on this plugin? Well, I love it! I love it for several reasons, the main one is the sounds! Without pulling out every phrase from the book, They sound so lush and warm! The presets are super useful. The other point I love is because of how simple it is to use! The UI is intuitive and easy to find your way around, meaning even if you are making your patches, you can do so super quickly and easily!
Final Words
Although I have used this plugin for vintage and retro sounds, don't think that is all the BA-1 does. It does the retro thing very, very well. However, it is also very capable of doing more modern sounds! What I mean is, you don't only have to use this plugin in "Retro" songs or productions! It would be just at home in a modern dance song!
My final point is the price of this plugin. It sells for $49. For the sounds you can get out of this, this plugin is a steal! So many plugins, plus you get a few extra presets when you download the Baby Audio BA-1 plugin. Meaning you will have more than enough sounds to create music with.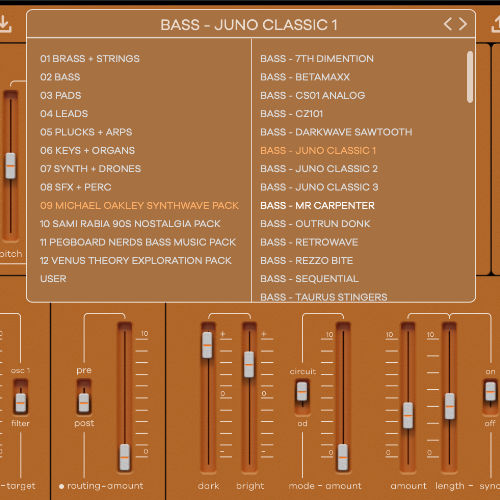 I want to thank Baby Audio for sending me a copy of the BA-1 Plugin to try out. They supplied the synth, however, all the thoughts in this review have been my own! I have been using it so much in not only this review but also in an EP project I am working on. Which you will hear more about very soon. This plugin will be all over it and will definitely be added to a lot of emo tracks in the future as well!
If you want to grab a copy of the BA-1 Plugin for yourself, then you can head over to the links below to find out more information, and also check out their other plugins (They make a wide variety of plugins). Make sure to give them a follow on Instagram for future updates as well. While you are there make sure to hit follow and subscribe on our Instagram and YouTube channels. Helps out the channel and website massively!
We hope to review more plugins soon, we have a few lined up and In Testing so if you can think of any you want us to try please let us know over on our Instagram!
Baby Audio Links:
Check out our other Articles here