Lekato MS-1 Wireless IEM Review – Do cheap IEM systems have a Drawback?
We love a bargain here at Gigs & Guitars! Today we have an incredible bargain for you! The Lekato MS-1 Wireless IEM system. A cheap IEM system that will cost you less than a restring on your guitar! In this article we will be reviewing the Lekato MS-1 system, answering all the questions I had before I purchased it! The big /question is how they perform. Is it the best out of all the cheap IEM systems
If you have ever looked Into IEM systems, you will know how expensive they can be. £400-£900 for an IEM unit. Not to even mention the headphones themselves! So when I saw these I thought "could they really be any good", also, after trying out the Lekato Wireless Guitar system which we reviewed. Their IEM system really caught my attention! Well, I have found out and now it's time to share my thoughts with you!
As far as the packaging goes, it was nice. Wasn't expecting insane quality but for the price, it was nice! The transmitter and receiver we securely in there and the cables were tucked away in the bottom. Nice box design as well. Overall, happy with the way it got delivered.
Delivery was fairly quick, once it arrived in the UK only took a few days to show up at my house. Can't complain about the delivery at all! I would say all in all it took around 2 weeks to be delivered. Which considering where it came from is not bad. Of course, this will depend on where you order from and get it delivered to.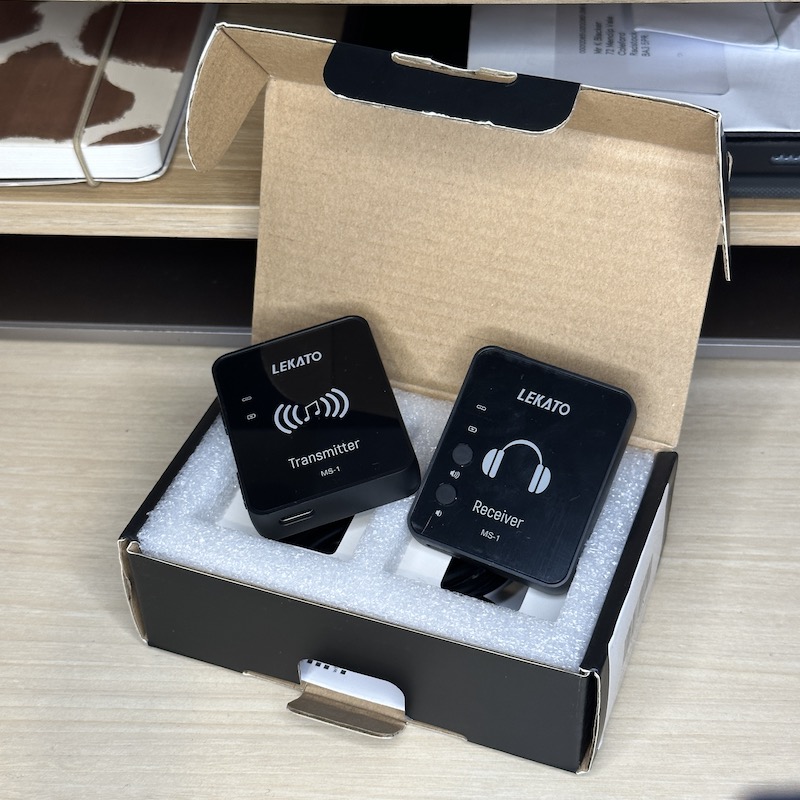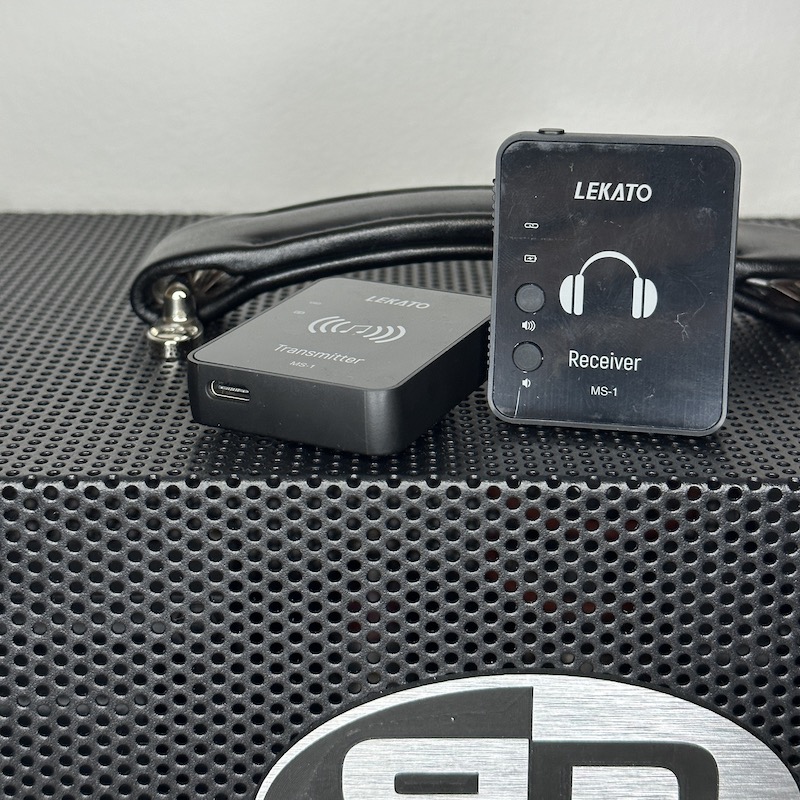 Lekato MS-1 – The First impressions
Opening the box and getting the MS-1 system out I noticed that the system weighs absolutely nothing! Like, I had to think if anything was even in these! The polystyrene they came wrapped up in weighed more than the devices themselves! The upside of this is that you won't notice them on your body while playing or performing at all! They weigh less than a guitar cable Jack!
One thing to note is that the MS-1 IEM system doesn't come with monitors/headphones. Meaning, you will have to purchase some separately. I got some from Amazon for £18. Still keeping this IEM system under £50. So still cheap but something you will have to consider when purchasing this system.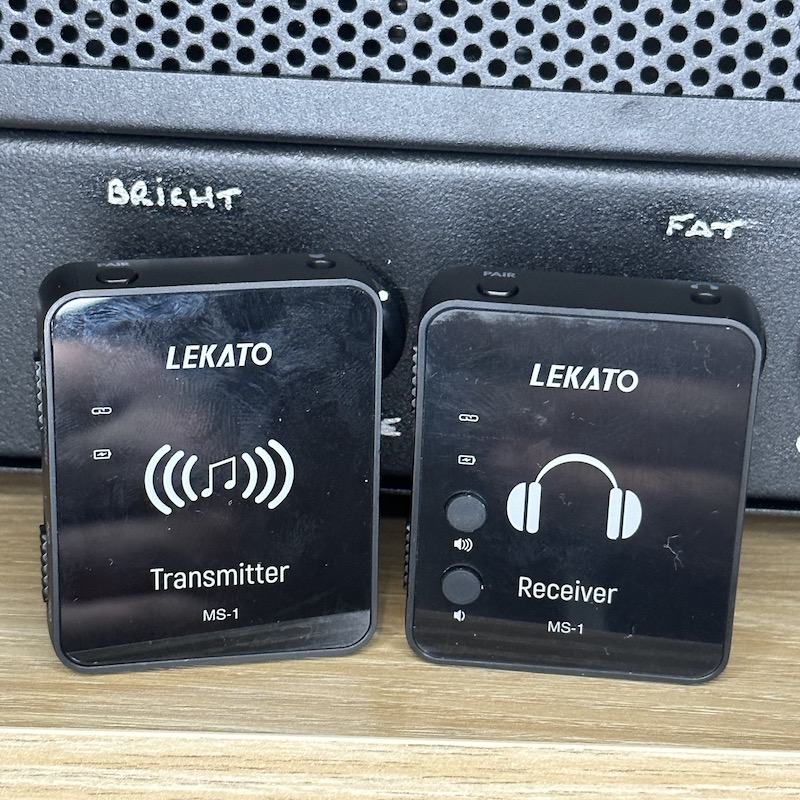 Build quality at first glance seems ok. It's not incredible but isn't rubbish. When I peeled off the protective film it did take the front cover with it, but it snapped back in with no issues and hasn't been an issue since. Everything else seems good and average built. Be interesting to see how it holds up after time.
Plugging the system into my Audi interface to do a bit of fully wireless recording I did notice there is a slight hiss when no sound is being played. Nothing loud and annoying but it isn't silent when you aren't playing.
There is much to talk about with set up, Set up was a breeze! Took them out of the box, switched them both on and they synced together without any issues! All I had to do was plug my headphones in, plug an audio source in and I was away! You can adjust the volume from the receiver and clip the receiver on yourself with the handy slip on the back of the pack! So simple and easy! Across all the cheap IEM systems, I feel the set up is the same, due to the low price the features will be lacking, however, this makes setup a breeze.
This system runs on 2.4g wireless. A reliable (we will touch on this shortly) was to do wireless audio. On the side of the transmitter, you have a switch to go from Mono to Stereo and an on/off switch. On the top of the transmitter you have the audio and a pairing button (didn't have to use it once). Lastly, on the bottom, you have a USB-C charging port.
On the receiver, it is pretty much the same, with power and Mono/stereo in the same place. A pair button up top, but where the audio was on the receiver, this is the headphone port (a standard 3.5mm).
How loud are they? There is plenty of volume in this system, one thing I never thought was I wish I had more volume! In my "sensible" tests, I didn't get any audible distortion when Cranking the volume either. Everything stayed clear and usable.
So I think the price is where the Lekato MS-1 smashes it! I ordered my system from Ali Express and it cost me a total of £32. Like I said above I had to buy some IEM headphones, which were around £18, so around £50 for the whole package. Of course, the great thing about IEM systems is you can upgrade the system but keep your headphones, so if you were to purchase a high-end set of IE headphones, then they will serve you well as you upgrade and improve your Monitoring system.
It's hard not to talk about the Xvive U4 system when talking about cheap IEM systems. The Xvive U4 system is around £100 more expensive than this option. However, I can't comment on if it is worth it or not because I haven't tried it. I think we should get one in to try!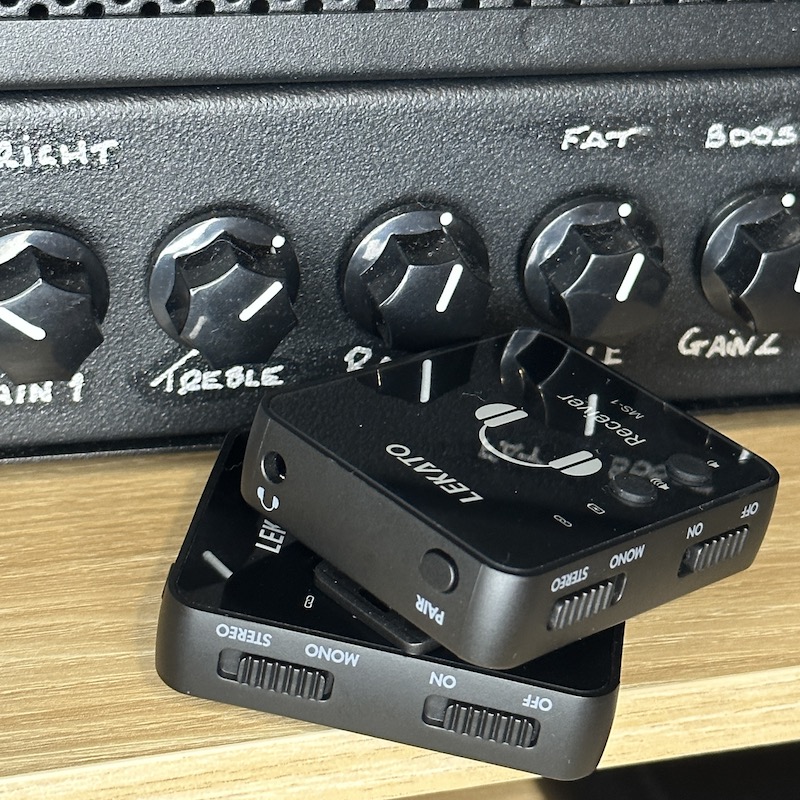 Would I recommend the Lekato system?
Overall I am impressed with the Lekato MS-1 system. Does it do anything fancy and elaborate? Not at all! But it does what it needs to do! Which is what you want out of these cheap IEM systems. Battery life is good and you can get a good few hours out of them, however, I would still recommend charging them before every use. The box came with everything I needed (Except an XLR adaptor).
Sounds wise, I wasn't expecting anything great, and let us just say it beat my expectations but they don't sound jaw-dropping! Would they be usable for the majority of people? Of course! In fact, if you splash a bit of cash on some better headphones they would do just fine. For the average performer doing small gigs and pub shows, they will sound more than good enough!
One thing I did notice is that there is no option to change the channel. So if you end up with a lot of interference, there isn't anything you can do about it, and keeping in mind that most affordable wireless things run on 2.4g, you could find yourself with interference.
Another big thing that bothered me is the volume is controlled by two buttons and not a traditional knob. Meaning if you are performing or playing and need the adjust the volume you have to make sure you press the right button. A knob (or slider) would have been better.
So, saying all that, who is the Lekato MS-1 designed for? Well, if you are a smaller band or a solo act doing local small gigs, then this could be perfect for you! It's an affordable way to get to the IEM game. If you were a solo act playing along to backing tracks, this system would be perfect! However, if you are a larger group playing bigger venues or using a lot of 2.4g equipment this might not be the best option. I definitely wouldn't do a tour or big venue gig with it!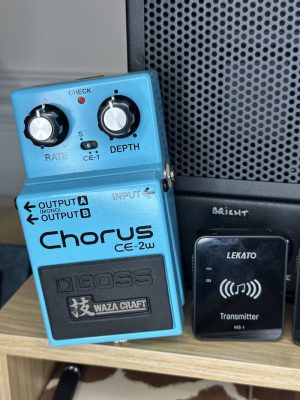 I found myself using them in all of my reviews. When recording the sound sections of my demo videos, It is easier to use the Lekato IEM system for monitoring. Why? Saves massively on cables! I have been recording a few Acoustic guitar reviews recently, and having microphones and Instrument cables running everywhere can make a room untidy and also dangerous. So adding a headphone cable to that isn't the best idea. Using the IEM system, I can remove one cable from the process, also keep the IEMs in while I walk around, sound check etc. Makes recording a lot smoother!
As far as cheap IEM systems go, the Lekato MS-1 is about as cheap as you can get. However, they perform pretty well and will do just fine for small gigs and local venues. However, there are still plenty more cheap IEM systems to try out and I will be reviewing as many as I can over the next few months! So keep your eyes peeled!
We have plenty more of these budget music gadgets and accessories lined up! Can't wait to share them all with you! If there is a gadget you think we should check out please let us know over on our Instagram or drop us an email. Be sure to check out our other reviews here as well! We are building up quite the selection! Including out review of the Lekato Wireless Guitar System.
If you want to check out our other articles you can head over to our blog page and view them all! We have so many articles in the works! Reviews, Advice and maybe even a few gig articles coming up. If you want to keep up to date with us then give us a follow over on our Instagram here.
Check out our other Articles here