Bleak District Electric Landscraper – Our thoughts and Review
We have another pedal from Bleak District Electric. This time it is their overdrive pedal. The Bleak District Electric Landscraper is a two-channel overdrive pedal, after hearing some clips of it online and at shows I wanted to get my hands on one and give it a go. So this article will be a full review and sounds demo of this amazing pedal.
So why don't we dive straight into and discuss what the pedal is and what the pedal is about before we get onto what I think of the pedal and also the most important part, The sounds!

So what is the Bleak district Electric Landscraper pedal? Well, it is a two-channel overdrive pedal that can go from a light drive or even a boost up to a high gain almost fuzz sound. With simple controls and a great price this is an amazing pedal for everyone, from people looking for their first pedal to touring musicians looking for another sound!
Looking at the pedal you will see that it is fairly simple, just a gain and volume for each channel, very simple and easy to use. You then have an on/off foot switch and a channel foot switch and of course input and output and 9v power.
More on the Bleak District Landscraper Pedal
As with the Tapescape (read our review here) the look of the pedal is very nice, with a nice landscape (See what they have done) design on the front of the pedal, made in the same size housing as the other pedal! And if we are all honest, half the reason we buy a pedal is because of the look. The packaging is very nice, all recyclable with some nice extras like stickers and rubber feet for the pedal. Great for those home users that might not have a pedal board. Well, your next question is "what does it sound like", well why don't we dive into the sounds!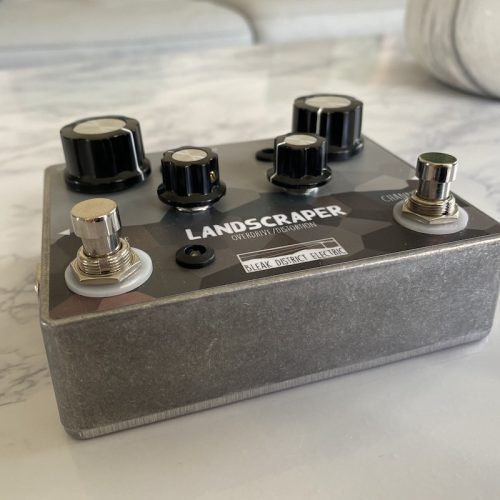 Below is a demo song followed by a walkthrough of the sounds you can get from the Bleak District Electric Landscraper. As you can hear from the sound clips you can get a wide variety of sounds from this pedal! From a nice clear and crisp clean boost to a lovely overdriven boost to high drive!
For the sound clips I use my Strat and also my Les Paul. So you will hear sounds from both a Humbucker loaded guitar as well as a single coil guitar. Running the guitar into the pedal and then into the front of my Revv D20 using the direct out to capture the Sounds. I absolute the sound of this pedal! My favourite sound is using the pedal to push the cleans a little bit! Little bit of gain and volume! Sounds so good!
This pedal is so much fun, as with the Tapescape, it is very inspiring! Running into the clean Revv D20, you can get pushed cleans or use it as a lush solo boost. The same sound as I used at the start of the demo above. Or you can crank the gain up and get more saturation until you are at full gain where the pedal almost goes into a fuzz-like sound. Pull the boost out on the D20 and push the amp and this pedal sounds amazing! Lush blues sounds!
I love the dual-channel because I can set up one channel as a clean boost kind of sound and then the other side as a lead tone. Since owning this pedal and using it more, I have started using one side as an always-on "bluesy" kind of sound. Then using the other channel as a heavier gain choice. Also, using this pedal into a crunchy amp, or an amp on the edge of breakup will push it into more overdrive and smooth sounds.
Anything Else?
If I had one complaint, I would like the ability to run one channel into the next channel. This goes off the point above! It would be good to have two gain stages in one pedal. However, this is a minor issue and doesn't take anything away from this pedal.
Another feature I love is the super bright LED's. Something that gets forgot about on pedals, but for live gigs on a dark stage a nice clear LED to show the channel and the on off state is so useful! This pedal has both!
You may notice that the Landscraper doesn't have a tone control but it isn't an issue! Lends itself to being a "simple" pedal, get your gain and volume set and that's it! No option paralysis here! Big win for me! This is a very simple pedal to use and easy to get good sounds from, and as we always say simple pedals lead to high creativity! This pedal most certainly does that, and does it well!
My last comment to make is that if you were after an affordable overdrive pedal and have a few tricks up its sleeve, then this pedal is the perfect pedal for you! The Bleak District Electric Landscraper is a super affordable pedal which contains so many sounds and uses! Even though Phil has tried to keep the cost off the pedal down, don't expect the build quality to suffer. This pedal is well built and would hold up to touring! (More on that to come).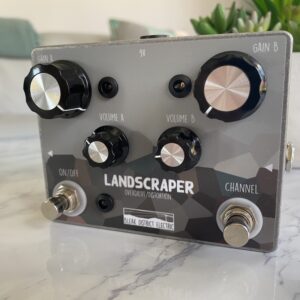 If you want to see more on this pedal then you can check out the Bleak District Electric website below for all the details plus their other pedals. They produce amazing pedal and a great, super friendly bunch. Make sure to give them a follow on Instagram as they have a few more pedals being released!
If you haven't already, make sure to check out our review of the Bleak District Electric Tapescape. A wonderful Tape Delay at an Incredibly low price! You can check out the review here. We also have more coming from Bleak District Electric in the future! So watch out for those reviews!
While you are over there make sure to follow us on Instagram as well, It helps!
Bleak District Electric Links:
Check out our other Articles here