UJam Vice Drum Machine Review – Absolute 80's Vibes!
Today we are going to look at a plugin, it is a plugin I have been using a lot and they were kind enough to supply a license so I could give it a full review. The plugin in question is the BM Vice Drum machine. This is an incredible plugin and if you are into making any kind of retro or futuristic music then you need to check it out.
I have been using this plugin in a few songs and also in a few previous reviews (check out the demo song I made for The Tapescape pedal review). It is so creative and inspiring and can be used for so many genres but stands out in two main ones. So why don't we dive straight in and talk a bit about the plugin's features and usability?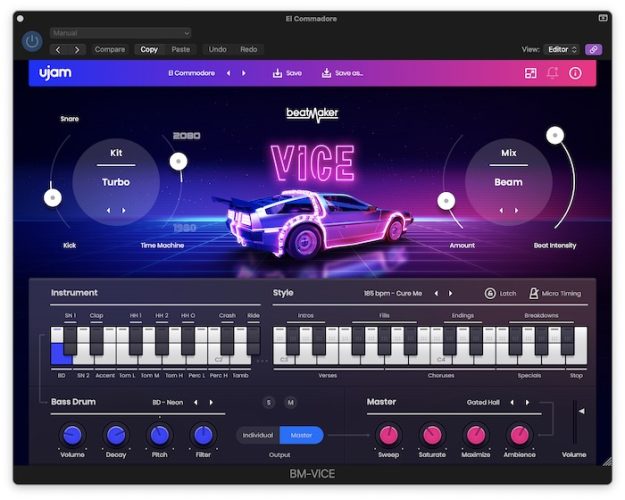 So what is BM Vice? Well, it is a drum machine plugin aimed to give you either retro vibes or futuristic sounds. Everything. From classic '80s to cyberpunk and everything in between! It has a crazy easy interface to use that is not only good to look at but also simple and quick to navigate to change things on the fly!
As we have mentioned this plugin can either do retro or futuristic. Meaning you can go from deep '80s to Cyberpunk. The way they have done this is so simple and well done. It is just a simple slider. Sliding the slider to the top gives you an 80's vibe but sliding it down will give you a cyberpunk vibe. The sound changes notably, however, you can also put the slider anywhere in between meaning you can get in between sounds!
More on the UJam Vice Drum Machine Plugin
The plugin contains some amazing presets! You can make your kits using their samples however if you need to just get started using one of their presets is amazing! They have a wide array of presets that all sounds amazing and can be used to create a whole host of sounds and songs! Need some inspiration? The plugin comes with a handy drum loop feature containing intro, Fills and chorus drum loops. I must say, they sound amazing! I have used a few and have not changed them in any way! So useable and production-ready! You will select a present And find yourself thinking of a particular song or sound.
If you want to have even more control over the plugin and sounds you can route the plugin and use multi-out so you can run each sample to its channel and mix how you want. Very useful feature. Worth mentioning that I didn't do this for the sounds below. I also haven't noticed any power usage increase when using this plugin! My computer doesn't panic and I have even run multiple instances of it without any freezing or lagging. So it seems fairly light on processing power! Which is good for anyone starting with a budget computer.
As you will be able to hear from the example below, This drum machine is production-ready and contains high-quality samples. It's a very nice but easy-to-use interface that makes it a breeze to put together some sounds and start making music and programming MIDI using it.
In the example below I run through a demo song I created using a custom preset I put together, and then I show some examples of pre-made sounds and beats that come out of the box. You will be able to hear a few examples of the retro kits and the experimental kits.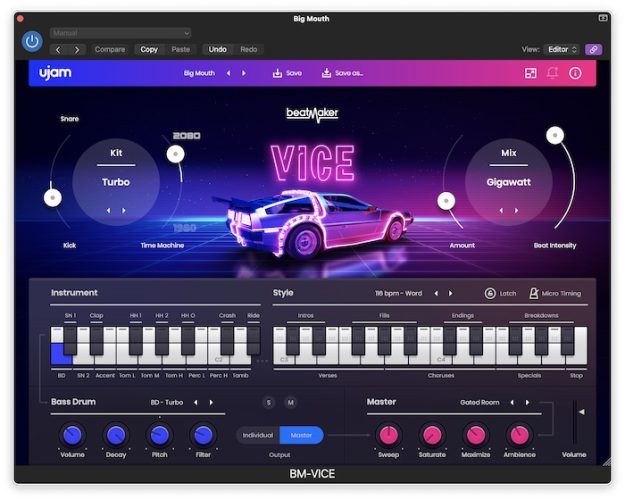 So what do I think? Well, I love it! This plugin is inspiring and fun to use, the looks and feel of it make it just a joy to use. I mentioned above the presets are good. Each one is a certain kind of drum kit sound that will instantly be familiar. However, you can go in and change the samples if needed and make your kit. Which of course you can save as your own preset.
Using the slider you can get some amazing sounds and combine this with automation and you can create a song that starts retro and goes all the way to the future. Using the sample editor below you can edit and adjust the samples and effects to customise the sounds even more.
Anything Else?
Now, the preset retails for £58, which I think is a great deal, for all the sounds you can get out of this I think that is a fair price. However, UJam has the odd sale and then so the likely hood that you can pick it up cheaper is high. If you do want it, check if there is a sale on. I do think it is well worth the £58 at full price.
UJam has been not only kind enough to send me a copy of this plugin, but also to hook me up with an affiliate link. So if you want to purchase the plugin and help support the website then click the link here or the one below and purchase it through there. Helps the site out a tonne.
Once again, thanks to UJam for sending me a copy of this plugin. I was using the demo for a while before I reach out to them asking about a review. This is our first plugin review but we hope to do a lot more like this. We have done a few more review from UJam, you can check them out below. We plan to bring you ever more reviews from this company! 
If you want to purchase or check out any of the UJam plugins you can do so at the link below, you can also find them on Instagram along with our Instagram link as well. If you can think of any plugins you want us to check out then please let us know over on our Instagram.
UJam Links:
Check out our other Articles here