JST Maximizer Plugin Review – Is this the ONLY mastering plugin you need?
As part of doing my reviews, I need a fast and quick workflow so to help in this and my demo songs I like to mix and master my demo songs as quickly as possible. I've been using CLA Mixdown from Waves for a little while. Now I thought about trying something new recently and came across the JST Maximizer, and I've been a big fan of Joey for a long time now since his Asking Alexandria "Scream Aim Fire" days. I wanted to check out his plug-ins for a while.
I purchased this plugin with my own money and didn't receive any kind of a deal, as mentioned above I was looking for a similar product, so tried this.
So I have been using this plug-in for a while and I've used it to master a few of the demo songs that I've done so I thought I'll put together a review on it. Is it as easy to use as they make it on the website? Is it worth the price? Can you get good results from it? So for those who don't know about the plug-in why don't we dive in and talk about the JST maximiser now?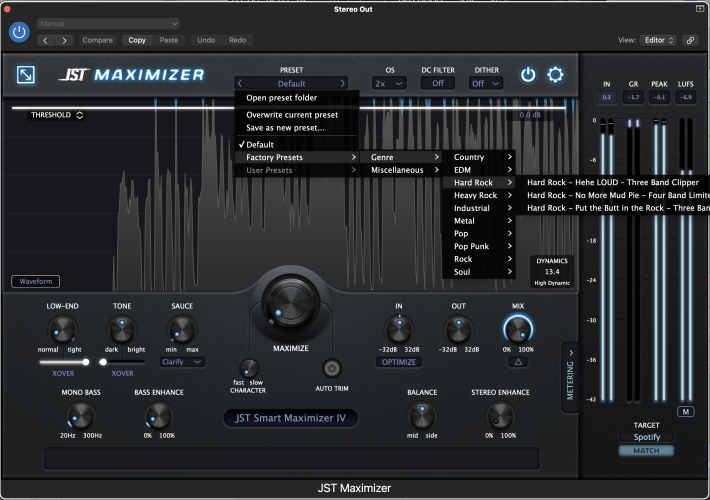 So what is the JST Maximizer plugin? Well, to put it simply it is a Mastering chain that has been put into one plugin and made simple. However, you don't just have to use it on your mix bus, you can also use it on any other bus you want to get various sounds and effects. JST has taken out all the controls that some people might not understand, and broken it down into a simple UI with simple controls. It is packed with many features so we will just go through the main ones and maybe touch on some little features as well.
With a variety of maximization modes, bass-specific processing, and controls for mid-side/stereo manipulation. From setting your low end and bass to mono, to using the "Sauce" control to add a bit of jazz to your sound. You have a "Low-End" control which added compression to your low end, no need to worry about compressor settings, just more or less. Very nice and simple. The Balance and Stereo Enhancer allows you to manipulate the Width and feel of your track. Make it wider and more spacious or bring it in and more focused. It is up to you.
More on the JST Maximizer Plugin
So the plug-in contains several ways of "limiting" your song. It contains a clipper, a Limiters and a Maximizers. However, within those 3 there are other options and modes. From standard to Multi-band options. This gives you a versatile tool set to get the most out of your track.
A few other features that the Plugin has is LUF comparison tools, an Auto-Trim option, oversampling and Dithering options. So the plugin might be simple to use but you can get a lot out of it if you want to dive deeper into it. Don't think this is a plugin for beginners. It will grow with you. So, that is what the JST Maximizer is and what it is meant to do, but what does it sound like and what Do we think of it
For the sounds, we could only really put together a demo song and show you the difference between the plug-in being on and off, but also, the volume matches it. So kind of bypass the limiter so you can hear what the other parts of the plug-in are doing! Very good for understanding the other options in the plug-in.
We wanted to do this because we always perceive louder as better. So if we match the volume you can hear how it tightens the low end and how the various effects help.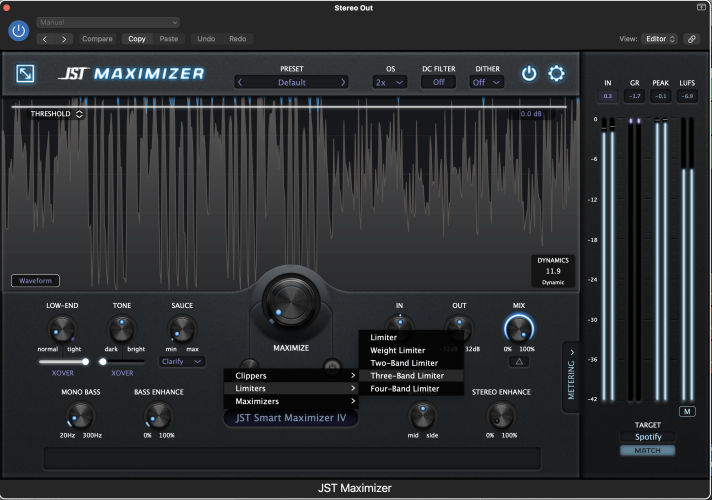 First, let's talk about the looks and layout! JST has smashed it with this plugin! The design and layout are very nice, they have given it the JST style but it is still very easy to use and read! All the labels are easy to make out, they are easy to understand and the names are very nice.
The click-and-drag option to set your threshold is very useful with the EQ display in the background, it shows you roughly how much is getting limited or clipped. Very useful! Set your threshold and then bring up the output. Simple as that.
I must say for what I want it is perfect! I can get good sounds quickly and effortlessly for my demo videos! Compared to the Waves CLA Mixdown, you could argue it is harder to use but that is only because there is more at hand. However, I do feel that you get a better final product from this plugin. Plus with the Waves CLA Mixdown, I still had to put a limiter after it anyway. This has a built-in limiter.
Anything Else?
The multi-band option is very useful in controlling your signal however, I found myself not using it. I was happy with the standard "single band" mode. I guess if you were making bass-heavy music (dance, EDM or DnB) then you might find the low end triggering the limiter. So you can restrict and adjust if needed!
I think we should take a moment to talk about computer stats and things like that, for those that are interested. Using the plugin I haven't noticed any increase in computer power. I have been using it alongside other plugins like Kontakt Player and other plugins. So I haven't just been using it on its own. No logic crashes, no freezes, and nothing negative to report as far as performance is concerned.
Final Words
The JST Maximizer is also a plugin where the presets are very useful! Granted they might not be set up 100% to your song, however, using the controls (which we have already are very simple) you can adjust the preset to your suiting and save a lot of time. They have helpfully organised them into genres, so no matter what genre you are mixing, you will find a useable preset that you can use.
€129 but often on sale and you can get it for around $79. I think what it does is incredible value and if you are in the market for this kind of plugin, is something you should check out. I would highly recommend it to anyone looking to get into mixing or just wants a simple plugin to allow them to make better-sounding demos or songs. As we said above, this plugin is straightforward to use but is very powerful and will mature with you as you become a better mixer.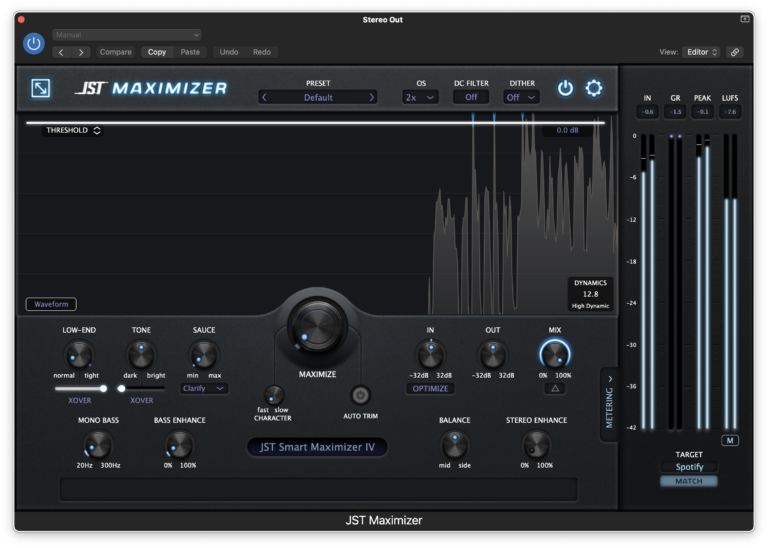 So that is our review of the JST Maximizer plugin. As we said at the start, we paid for this plugin, due to needing one! However, we have been speaking to the JST team about some reviews. So make sure to let us know which plugins you would like us to review. Or even maybe an Interview with Joey himself? 
If you want to purchase the plugin for yourself you can click the link below, If you are still unsure then you can grab yourself a 14-day trial. You can also find JST socials below.
We hope to review more plugins soon, we have a few lined up and In Testing so if you can think of any you want us to try please let us know over on our Instagram!
JST Links Links:
Check out our other Articles here