Bleak District Electric Tapescape – The Super affordable Tape Delay!
Are you after a great sounding, great looking tape delay at an insane price? Well, look no further! I am looking at the Bleak District Electric Tapescape delay pedal. A tape delay pedal hand made in the UK.
Phil wanted to create a range of pedals that are affordable and that younger players can purchase to put on their boards and gig with. I think he has smashed this, The features and the sounds are much higher than the price point, however, we will touch on that shortly! For now, let us talk a bit about the pedal itself.

So what is the Bleak District Electric Tapescape , This pedal is an all analogue delay pedal filled with those classic analogue and tape delay sounds that we all love. Capable of everything from clear and snappy slapjack delays to lush thick ambient sounds. The pedal runs on a 9v power supply, the jack for this is placed at the top of the pedal, which is fine for a pedal of this size.
This pedal looks amazing, Phil has thought about the looks! The front label is designed to look like a tape machine but with a pixilated landscape in the background (Which ties in with the name of the pedal). The tape design goes around all the knobs and almost makes the pedal look like a bit of old school hardware. The knobs look lovely and all the labels and the text is legible and easy to read. Also worth noting is that the packaging is top-notch! Paper packaging, and cardboard box, all of which can be recycled! So another win!
More on the Bleak District Tapescape Pedal
The pedal has the standard features you would expect on a delay pedal and an extra one you don't see a lot. You have your Mix, Feedback and time control. These will control how loud the repeats are, How long the repeats go on and the time between repeats. He has also included a Rate and Depth control which will control the modulation of the repeats. These allow you to go from a super clean delay to adding in some tape flutter, all the way up to a chorus effect. Super nice to have!
There is also a second switch which is labelled "Rise". Pressing and holding this will ramp up the feedback causing the delays to saturate, get louder and modulate. Great for use in a live show for build-ups. The rise pedal is so much fun to play with, especially if you are messing around with ambient sounds. Being analogue you can also get some awesome effects by playing with the Feedback and time knobs to send it into a self-oscillation, which is always fun to mess around with.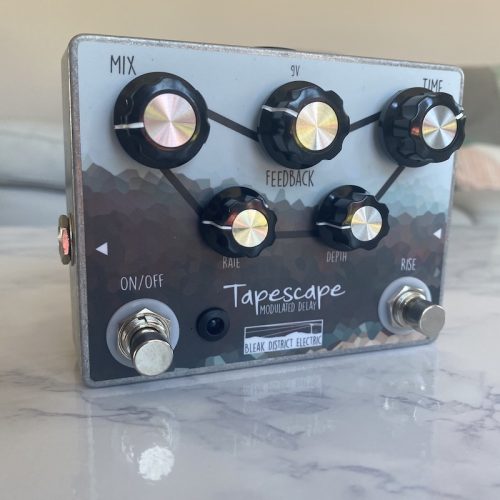 No other way to say it, the sounds are simply amazing from this pedal. They sound like an all analogue pedal should sound! Lush, Warm and "Tapey". The big thing about using this pedal is how easy it is to get a sound out of it. All the controls have a very useable range (It can get a bit wild with the Rate and depth) but even then it is still very useable. You have a wide array of delay times to choose from, ranging from short slapback up to long ambient delays.
Below is a video with a short demo song and after a section where I just mess around and get some sounds out of the pedal. For the demo song, I had the depth and Rate quite high giving it that wobble and Chorus/out of tune effect. I also had the Time and feedback up high and was going for a very ambient and soundscapes vibe.
As you can hear from the sound clips above, the Bleak District Electric Tapescape has a wide array of sounds, however, they are also easy to get to. Although this pedal has 5 knobs, it never feels overwhelming or hard to use. The Tapescape pedal is such a joy to use, and so easy to make sounds with, Wherever you set the controls you will get a useable sound, making this pedal an extremely versatile and fun pedal to use!
I have to say I think this pedal is crazy for the price! it costs £119 which is cheap! Considering this is a handmade pedal with these kinds of sounds and controls. It is a super affordable pedal and if you are looking for a delay pedal then I would highly recommend this one as I don't think you will find a better pedal for the money.
Anything Else?
I would say that I would have loved to see a tap tempo button on the pedal, however, it isn't a deal-breaker and as soon as you plug in a start playing you soon forget about the tap tempo.
As we mentioned at the start, Phil aimed to create an affordable pedal that people can purchase and use live. I think he has smashed it out of the park. He has managed to do this will making a high-quality pedal that felt sturdy and robust. To keep the cost down he has used a label for the front design instead of paint or engraving, however, I think this gives its a very unique and lovely look. Speaking to Phil he said it gives it a "craft beer can" kind of look. Which I agree with.
I will also touch on the packaging, The pedal is packaged very well! As we mentioned above it is all made from cardboard so it is easy to recycle, you get some free stickers in the box (Always a bonus) and they also include some rubber feet to stick onto the bottom. This is a very nice touch!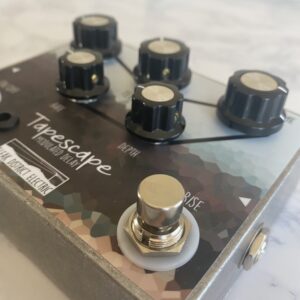 So that is the Bleak District Electric Tapescape . An amazing all-analogue delay pedal! I have thoroughly enjoyed playing around on this pedal and look forwards to using it more and more in the future. For the money, I can't think of a better analogue, hand-built pedal than this!
If you want to grab one yourself or check out the other pedal Bleak District Electric has to offer, then you can head over to the links below. Give them a follow on Instagram and check out their website! While you are over there make sure to follow us on Instagram as well, It helps!
Bleak District Electric Links:
Check out our other Articles here