UJam Slap Bass Plugin Review – Time to bring the funk!
Need that extra slap of bass on a track? Don't know a good Slap bassist? Well, UJam have another plugin that can help! UJam Slap Bass Plugin is their Slap Bass virtual instrument plugin, Designed to imitate a slap bassist and bring the funk to your tracks! In this article, I am going to take a look at the plugin, talk about its features and look and then discuss how it sounds! Letting you know what it is like to use and record with!
So why don't we start by getting to know the plugin? Find out what it is, what it does and what it looks like! So, What is Slap?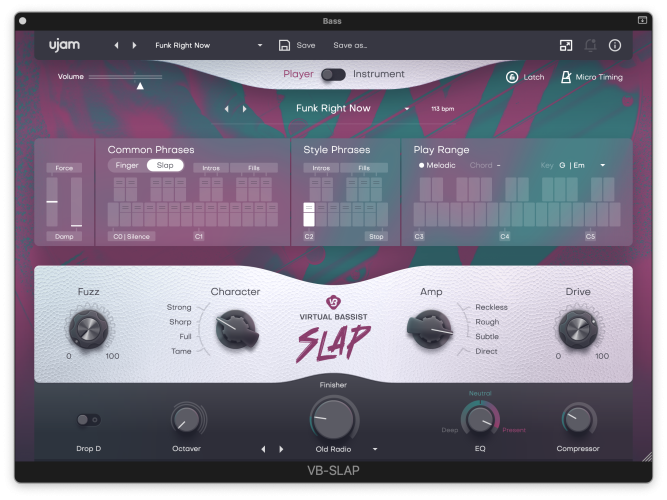 UJam Slap plugin is a bass plugin. Designed to give you the sounds of funky slapping bass lines. The plugin has several features for not only getting the bass sounds that you want but also the bass riffs and patterns you are after.
Slap contains 30 playing styles with over 350 phrases! Containing both Slap and finger-style playing techniques, mix this with more than 100 presets and 30 finisher effects and you have a plugin that delivers incredible bass performances at the click of a button! Each preset is useable in its own right but also allows you to create and expand on your sound.
More on the UJam Slap Bass Plugin
The Plugin features two modes. "Instrument" and "Player". Instrument mode allows you to use the plugin like any other software instrument. Plug a MIDI keyboard in a play away. However, "Player" mode is where this plugin shines. Allowing you to select a note and the plugin creates a bass line for you! Using the different sounds and styles you can create the perfect bass line!
UJam has a section on all their plugins called "Finisher Effects". These are effects that you can add to the end of the signal chain and use a simple knob to control them. Allowing you to create some amazing and wild sounds. As well as all the features you can also automate this giving your bass sound some life and soul. These effects range from Chorus to Grit and distortion to many others.
The bass sound itself is based on a Stingray bass with active pickups, this delivers a balanced yet character-driven performance, suited to almost any genre! With the simple yet effective tone shaping options, it allows you to create a bass sound perfect for your song.
This plugin at the time of writing will cost £109.00. Or you can pick it up in one of UJam's many bundles.
Below is a quick video going over some of the sounds you can get using the SLAP plugin. We have also put together a demo song showing what you can use the plugin in a mix. All the Bass sounds have had no mixing done, the sounds are straight out of the box and what you get from the plugin after installing!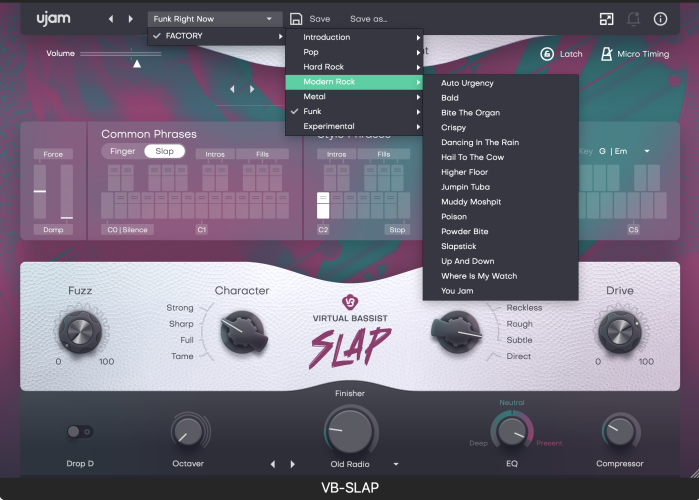 If you are after slapping bass and some amazing bass sounds then this is the plugin for you! I have fallen in love with this plugin and it has helped create so many tracks for demos (Now you will know, you will hear it creeping up in other songs!). 
What ready makes this plugin stand out is the "autoplay" option. Draw in your Midi, only drawing in the route note. Then select the pattern you want it to play (Also in Midi) and then the auto-play will do the rest. Creating funky, slapping and human-sounding bass lines, and with loads of presets and patterns to choose from, you will find something for your song. They have simple one-note patterns, Basic slap patterns, fills and then special, wild patterns! So many options!
Anything Else?
It is hard to talk about a bass plugin without talking about the sounds and bass presets. This plugin contains loads of bass sounds with lots of options to fiddle around with and dial in a great sound! As with all of UJam's plugins, find a preset you like the sound of and then dial in the details. It is so easy to find a great tone. The plugin comes with a few effects in the form of effect pedals. This can be switched on and off and even automated. Great for adding that extra pop to your track.
As with all the UJam plugins, the interface is a breeze to use and simple to find good sounds from. I would say there is no learning curve to using this plugin. Installing the plugin, getting a sound and getting a usable pattern from it, can all be done very quickly.
I will finish up by saying that if the slap plugin is this good, The price might seem a bit high, but if you hold off buying it and wait for a sale or a coupon code, then you can get it at an amazing deal. I have to try out some of their other Bass plugins and other virtual instruments they do! Would be keen to try them out! Maybe we will have more to come!
Thanks to UJam for hooking me up with a copy of Slap to try and review! Definitely a great product and if you are in that genre of music definitely worth the money! 
We hope to review more plugins soon, we have a few lined up and In Testing so if you can think of any you want us to try please let us know over on our Instagram!
If you do want to give this plugin a go you can get a free trial of it or you can purchase it using the link below. The link is an affiliate link so we get a little kickback when you purchase! Helps support the site! You can also find them on Instagram along with our Instagram link as well. If you can think of any plugins you want us to check out then please let us know over on our Instagram.
UJam Links:
Check out our other Articles here