UJam Hot Drum Machine Review – Do you Need Radio Ready Drums?
We have another fantastic plugin from the people over at UJam today. Today we are looking at their "Hot" Drum plugin. This is a fairly new plugin they have released and I was very keen to try it, and after trying it had to just review it. Being based in a room in a house, Drums are a difficult one when it comes to recording, so I have become very familiar with a lot of drum plugins. So got a little excited when I read over the features of this one.
We will go over the plugin, some sounds you can get from it and also I think and would I recommend it to you. So why don't we start with going over what the plugin is, because the name doesn't give too much away does it?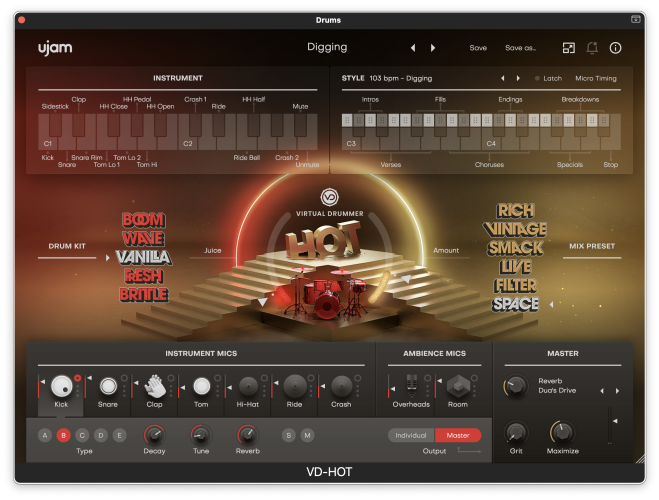 UJam describes this plugin as "Radio Ready drums". What I think this means is the sounds you will get from this plugin is sounds you are familiar with hearing on the radio. In Pop, Rock and Indie songs. Very polished and detailed drums. Once you hear the sounds you will recognise what they are talking about.
The plugin has 6 mix presets, 5 drum kits and 30 different styles, this gives you a whole host of sounds and creative options when creating your songs. The mixer allows you to fine-tune your kits and control the individual microphones on each part of the kit. As well as add in more or less room and overhead. Pair this with the ability to change the tuning and decay of Individual drums, you have a host of sounds to choose from.
More on the UJam Hot Drum Machine Plugin
Looking at the layout and UI you can see you have two main options. On the left, you have the option to select between 5 drum kits, and on the right, you have the option to select between 6 Mix Presets. From here you can then go into the mixer and adjust the parameters as required for your song.
There is also a control called "Juice". This is a slider control, and it controls the mix between Natural live drums to a sample, drum machine aesthetic. Allowing you to alter the sound from a full natural live kit to a full Drum machine kit and anything in between. Combine this with real drum performances, you get very punch and mix-ready drum sounds, and a very real drum performance! Allowing your track to groove and have a pulse. All this within a few clicks.
The Plugin give you the option to either program your drums using Midi (Drawing it in or using a MIDI controller), or you can use the pre-programmed drum loops. UJam Hot, allows you to hold a key down to play a drum pattern then press another key (Say for a drum fill) and the plugin will sync it up to tempo. A great feature allowing you to create music very quickly, but also gives you the freedom to input your MIDI patterns.
Is there anything I don't like? Well, sounds small and mealiness but I am not a fan of the preset names. I feel they could be named better. They are organised well, by Genre, but I feel the name doesn't give you an idea of what they will sound like. So you can find yourself looking through various presets to find a starting point. This is a minor thing and doesn't affect the sounds or main use of the plugin at all.
To purchase the Hot plugin, at the time of writing it will cost £83. It is also available in their drum bundle for £322, which contains various drum plugins.
For this one, we put together a quick demo song. I use a few drum presets and some of the patterns! Showing you what the plug-in is capable of. After are just a few samples of the Presets that come in the plugin. These are all stock and haven't been messed with.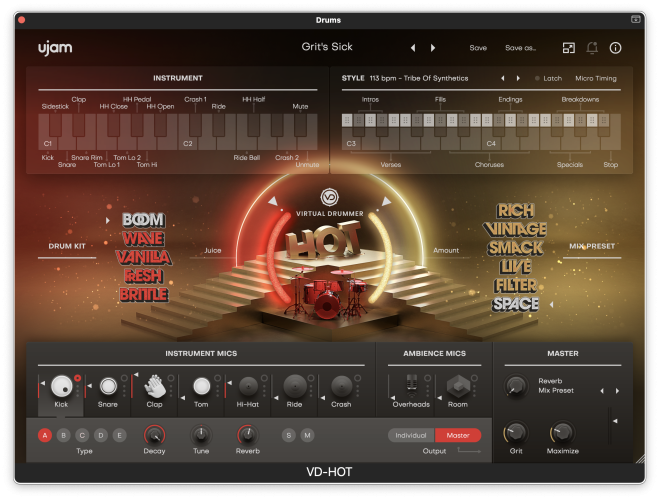 As with every UJam plugin I have used, installation and registration were a breeze and so simple! Just sign into the plugin with your account and if you have purchased the plugin it will pick it up, if not you will have the option for a free trial. The trail is an all-access trail for 30 days! Meaning you can sample the full plugin without any restrictions. Allowing you to get a good experience of it before deciding to purchase it or not.
The drum sounds of this plugin are amazing! Not just how they sound but how many there are! As with the Vice review (Read Review here), all the presets are useable and with a little messing around and adjusting you can get your sound without too much work. This leads me nicely to my next point, the UI and Interface. As with every UJam plugin I have used, their UI is second to none! Easy to use, clear to read and a joy to mess around with, however, also very easy to get good sounds and understand what does what!
Anything Else?
The juice control is so good for bringing a new sound to your song. Creating a natural, live drum sound and then bringing up the juice allows you to bring in a more Drum machine sound and blend the two. Meaning you can create a very unique and punch drum sound.
What do I think of the price? Is it worth the money? Well, I think it is! Not just for the sounds but also for the drum patterns and the library it's worth it alone. You do get radio-ready drums from this plugin!
A word of warning is that being a drum library it is fairly heavy on disc space. It requires 6.10GB of free space to install. This is pretty standard with drum libraries but something to consider when purchasing this plugin. On a similar note, I haven't noticed the plugin being too heavy on the CPU and think it should run on most machines. It does take a while when opening a project to load in the sample and get itself ready but most plugins now do.
That is our look at and review of the new UJam Hot drum plugin! Once again, thanks to UJam for sending me a copy of this plugin. I was using the demo for a while before I reach out to them asking about a review. I like it and will be using it when I need a more Pop or indie kind of drum feel. For the money I think it has some great features, easy to use but most importantly, contains some very useable sounds!
We have also reviewed the UJam Vice drum plugin, so if you are after something a bit more drum machine and 80s then make sure you check out that review and plugin. You can read the review here.
If you do want to give this plugin a go you can get a free trial of it or you can purchase it using the link below. The link is an affiliate link so we get a little kickback when you purchase! Helps support the site! You can also find them on Instagram along with our Instagram link as well. If you can think of any plugins you want us to check out then please let us know over on our Instagram.
UJam Links:
Check out our other Articles here