Munson Tempest Guitar Review – A guitar fit for battle!
It's time for another guitar review! Today we have the Munson Tempest guitar from Munson Guitars! We have known the guys over at Munson for a while now and I finally got the chance to check out one of the guitars from their lineup! They were kind enough to load me their Tempest guitar after the Brighton show. Safe to say I have been playing the Munson Tempest heavily for a while now! You may have seen a few reviews featuring the guitar, Mainly the Redbeard Hairy Squid Review (Check it out here).
In this article, we will go over the guitar itself, and its feature, discuss what I like and dislike and also go over prices! Munson does a really good thing with their pricing! We will also touch on the company as they are doing great things. So as always, I think we should talk about the guitar itself and go over the specs,! We can then move on to our thoughts and sounds!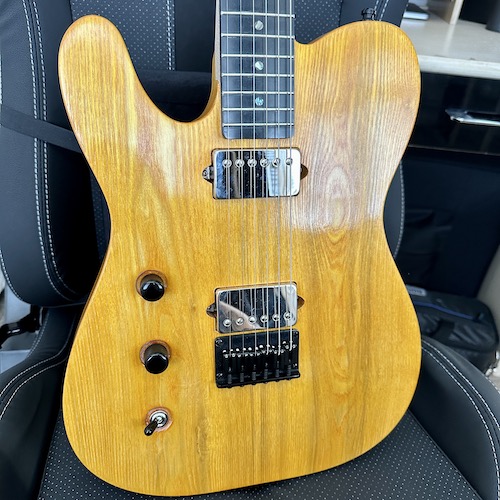 So let us go through the guitar itself, this is a beast of a guitar! Talk about the features, the specs and everything I know about the Munson Tempest! Each one of the Munson guitars is named after a Fighter plane! This one is the "Tempest" and the other guitars in their lineup are the "Mosquito" and the "Marauder". 
The reason for this is due to the family's tie-in with the RAF. I think first of all we should go through the woods on the Munson Tempest. The body (and the back cover) is a two-piece bit of English ash in a lovely "Mango" colour with a nitro finish. The neck is a piece of North American Maple with a Richlite Black Diamond Fretboard with a radius of 9.5″ and a scale length of 25.5".
More on the Munson Tempest Guitar
As far as electronics goes, we have a pair of Bare Knuckle "True Grit" Humbucker pickups. Hooked up to a Master Tone and a Master Volume. Both of these are push/pull to split the coil so you are able to get single coil tones. This is all linked to a 3-way switch which is wired in the standard way, Bridge, Both, Neck. A nice simple layout with huge potential! All the electronics are CTS and Switchcraft components.
As for the hardware this guitar is kitted out with all Gotoh black hardware, including locking tuners and a hardtail bridge. Strap pins and metal Volume and tone Knobs. The guitar also comes with a Liteflite Hard Case! 
The price for a Munson Tempest model starts at £1,781.00, however, the guitar I have here, in this spec, is priced at £1,870.00. Of course, when talking about custom guitars many things can alter the price. We shall talk about the price shortly as there is some amazing news for us left-handed players!
For sounds, we had to do a demo song! Running through various sounds! The main guitar sounds are recorded with the Revv D20 and using a Thorpy Heavy Water to boost the front end! And that is it! We then used a mixture of pickup combinations for various sounds throughout the demo song.
After the demo song, we plugged the guitar into the Revv D20 and ran through a few sounds. Added in my Mini board for some extra flavours and textures. The signal chain is in the YouTube video but in case you are wondering it's Guitar, Thorpy Heavy Water, Boss CE-2w, JSA Stratos Delay (Custom Made, Article coming soon), Revv D20 and then using the direct output to record it all. As with all our reviews, we don't do any post-processing except for a little reverb and a high pass filter in the demo song so it doesn't sound too muddy in the mix.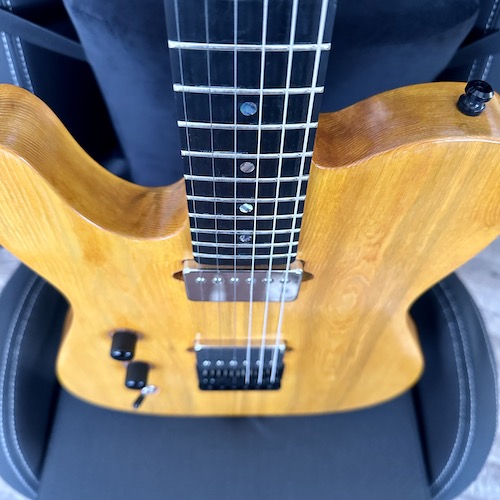 Let us start with how the Tempest Guitar looks. It is obvious it has drawn inspiration from a certain T-shaped guitar, however, Munson has put a few twists on it and some could say "improved" it a bit. They have added some belly carves so that It is more comfy to play both sat down and stood up. The finish of this guitar is a wonderful colour that really pops in sunlight and in person! Pair this with a lovely choice of woods for both the body and the neck! I look good and hard around this guitar and have yet to see any flaws with the woodwork or the finishing! The carving, Fixing and finishing are all of the highest quality. Really impressed with this!
I love the control layout! The master tone and master Volume with push/pull really makes it so you can get a huge variety of tones! However, keeps it very simple to get to them. Doesn't take long to memorise where all your tones are and how to get to them. Very nice layout indeed! Also to pair with that, the controls are at a nice location on the body! Not too far away where it is an effort to reach them, but not close enough that you knock them.
Few More Thoughts
So how does the Munson Tempest Guitar sound? Well, due to the electronics and layout of this guitar electronics, this axe has a whole variety of sounds available. Thanks to the coil splitting you can get those nice Strat, single tones however, you can easily switch back for full-fat humbucker tones and thick meaty distortion tones. The Bare Knuckle "True Grit" pickups are wonderful! The Bridge Pickups is cutting and harsh (in a good way) however the neck is warm and welcoming, I am definitely a big fan of this pickup set!
Playing this guitar is a dream, the fretwork and neck carve make the guitar silky smooth! There is no fret buzz, flat spots or sharp fret edges, everything is finished and set up perfectly as you would expect for a custom-built guitar! Tuning! Let's talk about tuning! This guitar is rock solid! Barely have had to tune this guitar, and when I have it's due to me beating the crap out of it rather than it "falling" out of tune. This would make a reliable and trustworthy guitar for Gigging!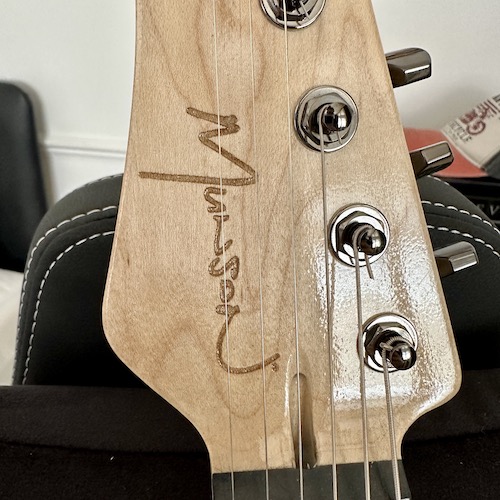 My Final Munson Tempest Guitar Thoughts
Any bad points about this guitar? Well, not really, the only negatives I can think of could be resolved very easily! For example, the action is a little higher than I would personally have it, but also 10-minute set-up would fix that. Now, as with all custom-made guitars, it isn't cheap! This one I have here goes for around £1.8k, which isn't cheap, but on the flip side, for a custom-made, left-handed guitar is a very good price! I think Munson has priced their whole line up very well!
Also worth noting is that the case this guitar came in is utterly wonderful! Lightweight, padded beautiful! Super nice! One more thing is that Munson as a company offer a discount to left-handed players! You heard that right! Lefties get a discount! This means that if you put an order in with Munson and you are left-handed they will do you a discount! This could be a first of its kind for this kind of thing! Great to see lefty love and left-handed players finally getting amazing guitars and good prices!
So that is our review of the Munson Tempest guitar! Huge thanks to Munson for letting me borrow this guitar and giving me full thoughts! I am very sad to be giving this guitar back to them! There will be another Munson on the channel in one way or another soon! They are nice guys and make amazing guitars! After trying out this guitar, I definitely need to check out their other model! The Munson Marauder!
If you want to check out this guitar or check out more of their guitars, you can visit the links below. Give them a follow on Instagram to see some amazing guitars being built! They also have an incredible line of custom made guitar stands, again, we will be trying to get on in to show off on the site as well!
Make sure to give our Instagram and YouTube a follow. It helps out the website massively and allows use to continue making content and bringing you reviews!
Munson Guitar Links:
Check out our other Articles here