Bastard Artfach Guitar Picks – Our Thoughts and Review

We have another guitar plectrum review for you. We have a collection of picks from a builder called Bastard Artfach. He is based in Slovakia. I came across his Instagram page and saw the picks he was making so I got In touch.
I ended up purchasing a few picks from Bastard Artfach, it was a pleasure to deal and chat with him, a really friendly person. One thing that drew me to his picks is his choice of materials! He has a range of materials that he builds his guitar picks out of all with different uses and looks. I have received a few examples! Specifically, 3 that interested me. So why don't we dive straight into the first pick shall we?
Let us first just talk about the look of this pick, The blue is just such a deep and rich colour! When I first took it out I was putting it under all kinds of lights and just staring at it. I know this is a bit cliche but pictures do not do this guitar plectrum any justice! It is such a rich and deep blue.
It is a fairly large pick, not in thickness but actual size, however after a few minutes of playing with it, it feels comfortable and perfect under the fingers! The thickness is nice, the right line between jumbo thickness and easy to hold and slim and not too overwhelming. If you are a fan of the Jazz III plectrum but wish it was a bit bigger then this is the perfect guitar pick for you. I find myself using this plectrum if I am doing some heavy chug riffs, If I am getting my James Hetfield on then this is the pick I am reaching for!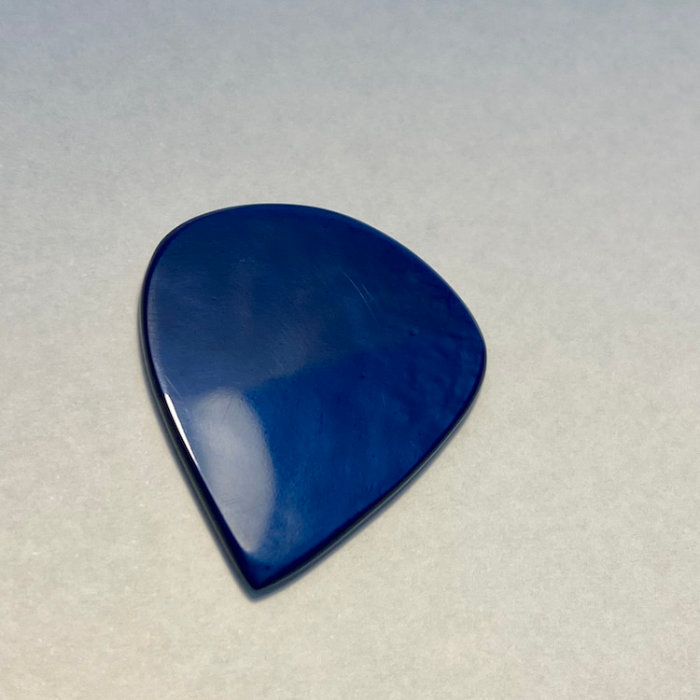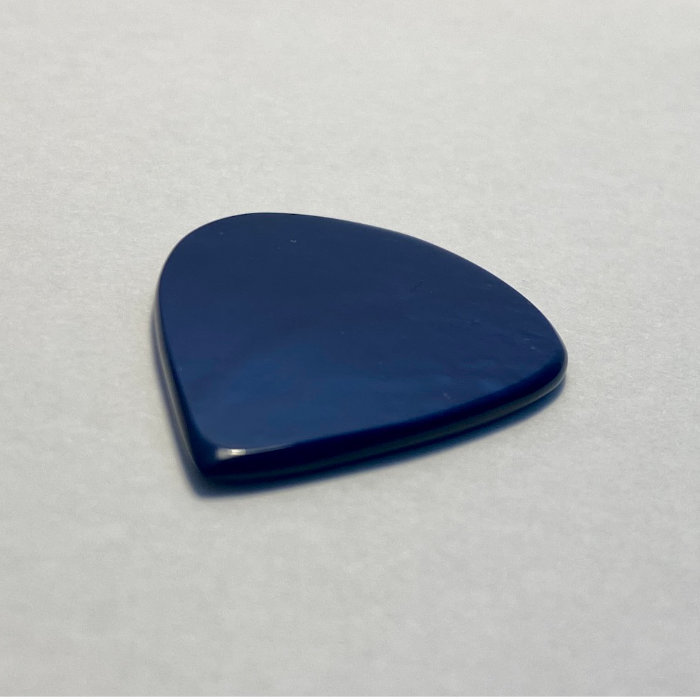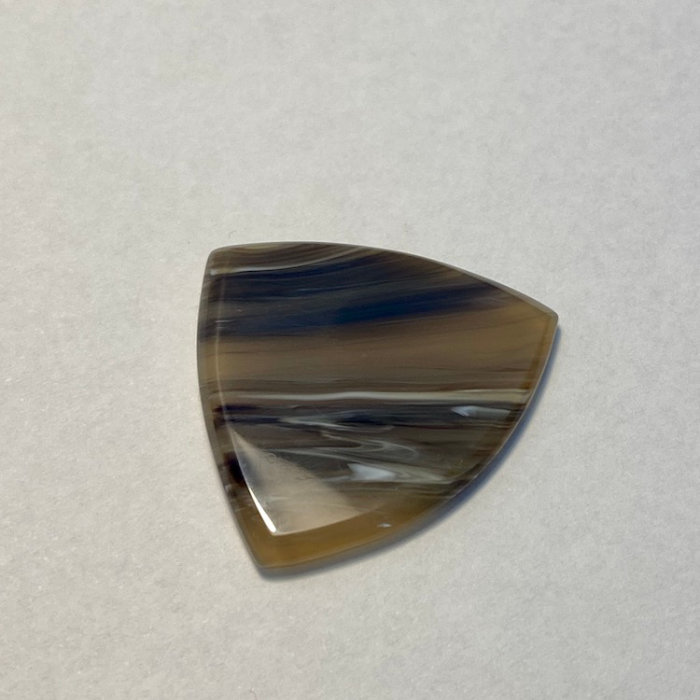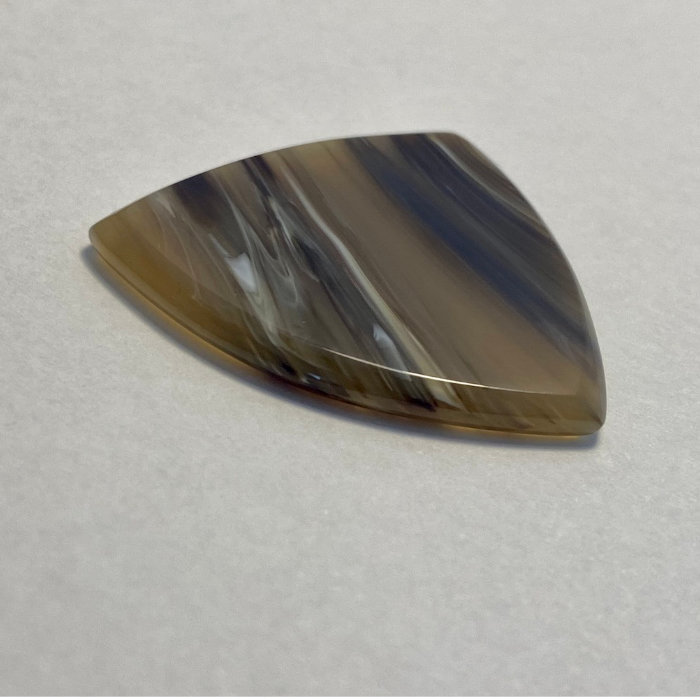 This one is really interesting because when I first opened it and looked at it I thought I wouldn't like it because of its size and shape. It is a very different shape and a larger size for a guitar. However, Playing with it, I have started to like it.
The main advantage of the pick is that you can use all three edges to pick with and each one has its own benefit and feel. So you could say that it is 3 picks in one, giving you a multitude of options while playing meaning you don't have to put it down and pick another pick up if you want a different feel. This is another incredible looking pick, the material has an amazing pattern to it and a wonderful colour. Bastard Artfach has absolutely smashed it with his choice of materials and patterns!
Peter asked me what wood I wanted this pick to be made out of and I saw that Purple Heart was on the list! So I jumped at the chance to have a Purple Heart guitar pick! Now, this is my first time playing and using a wooden guitar pick so I didn't know what to expect. I can say that from playing this one, I love them!
The feel is so different to any other plectrum I have used, It almost feels soft under your fingers, like you could squish it, however, being wood you can't! This, for me anyway, is a very nice and comfortable feeling. The Purple Heart wooden guitar pick is also a lot lighter than other picks (of the same shape and size). Some people might not like this but for me, I like the feeling and love playing with this guitar pick!
Not that this helps you play in any way but this wooden guitar pick smells amazing! Peter said it is the oil he uses to finish the pick, it almost makes it smell like a sweet and makes me want to eat it! Overall, I am a huge fan of this guitar pick and might look into other guitar picks made of wood and compare wood types!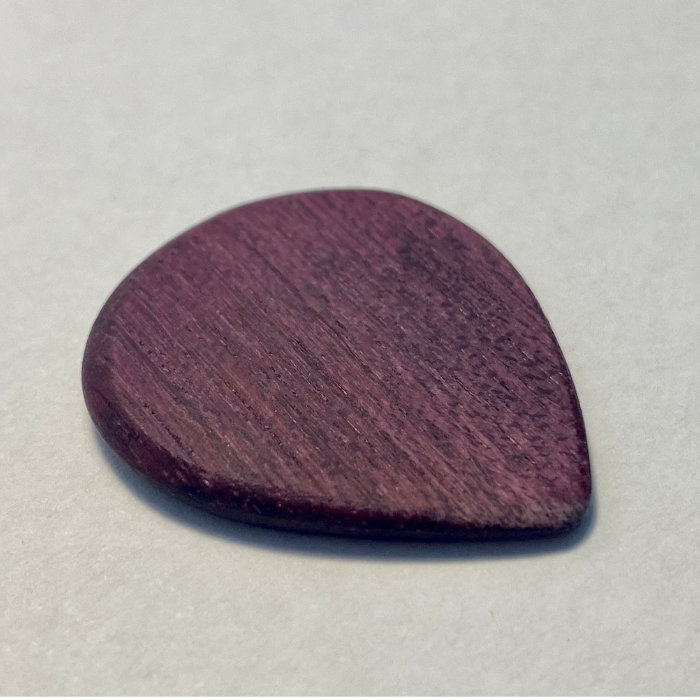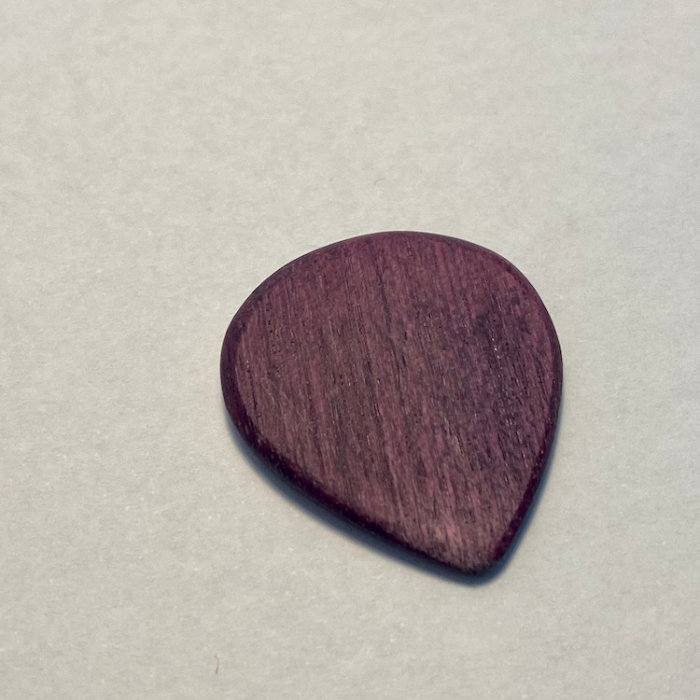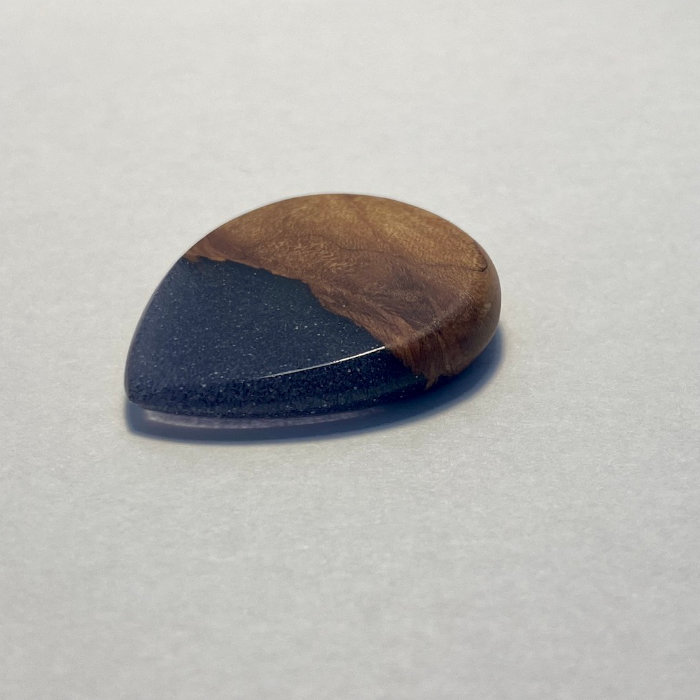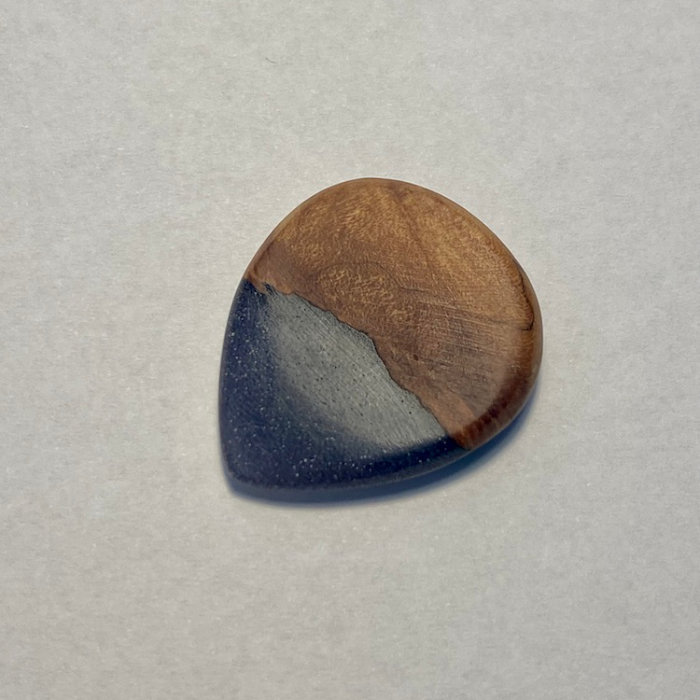 The first thing you might notice with this guitar pick is how beautiful it is! The resin and the woodwork together so nicely! The guitar pick has a very unique looked and each side of the guitar pick looks different, meaning I spend a lot of time looking at this guitar pick! The wood is Appletree which came from where Peter lives, Slovakia. It looks amazing!
Holding this pick is a pleasure, It grips so nicely and the feel of the two textures under your fingers is nice. Being on the thicker side this pick is very unlikely to fall out of your hand and doesn't require a lot of pressure to hold! It makes for an amazing pick for fast and precise playing! So if you play that kind of melodic shred metal kind of guitar this would be the perfect guitar for you.
My only negative with this pick is that I wish the point was a bit more pointy. it isn't a huge deal and I adjusted to it very quickly, however, I think being more familiar with thinner picks I expect a thin point to picks. As I said, I got use to it and after a few minutes of playing I completely forget about it. On the flip side to this, the thicker point, as we mentioned earlier, makes it easier to play faster licks and riffs.
Now, the next three picks are all fairly similar but different. They are similar in that they are all made out of the same material and are all of the same thickness but are different shapes. The next three picks are all made out of old vinyl, which has been recycled and made into various guitar picks!
This first shape is a very different and unusual shape, to look at it may not make sense however, I have found that it can be used in two ways. The pointy end is great for strumming and chord work but if you rotate it 180 and you have a smaller point perfect for lead and riff work. Again, another pick that does 2 jobs so you don't need to swap picks. This won't be a guitar pick that I turn to a lot, I feel the other 2 vinyl picks are better suited for me, However, this doesn't mean that I won't ever use it. As with most new guitar picks shapes they take a bit of adjusting. So I am sure I will find a use for this one the more I play with it.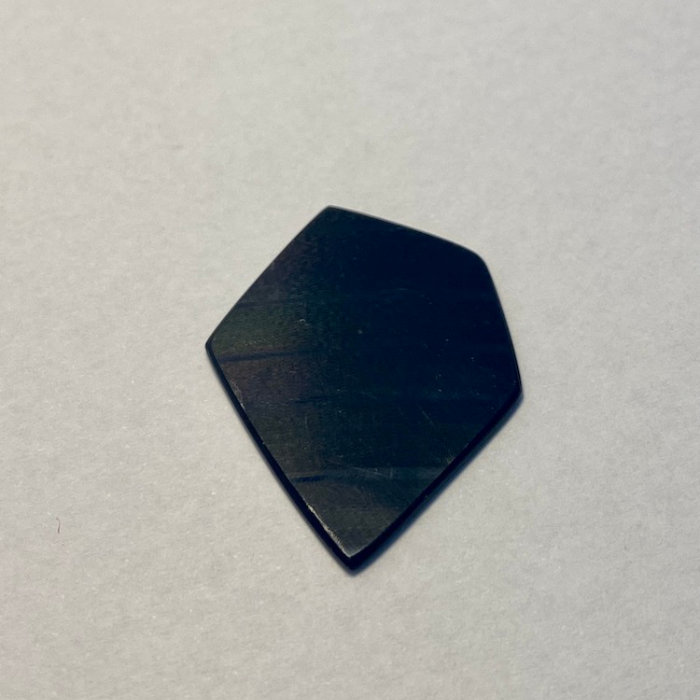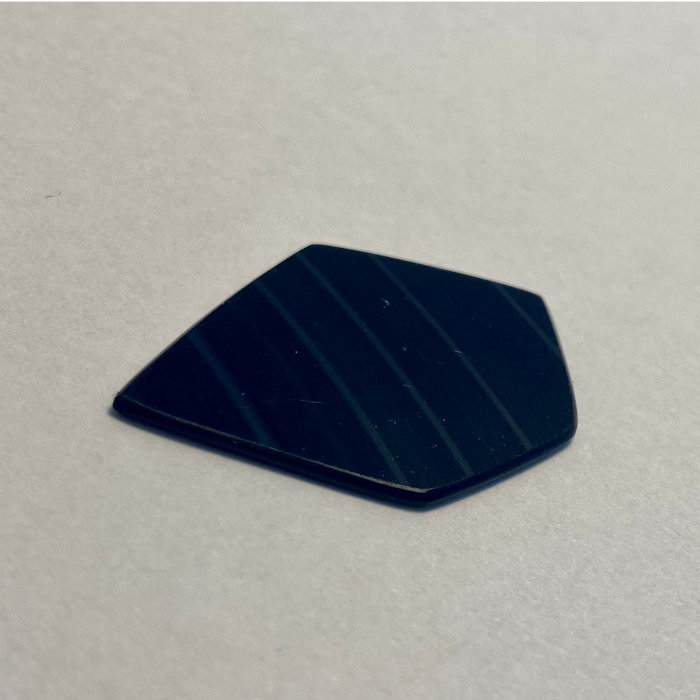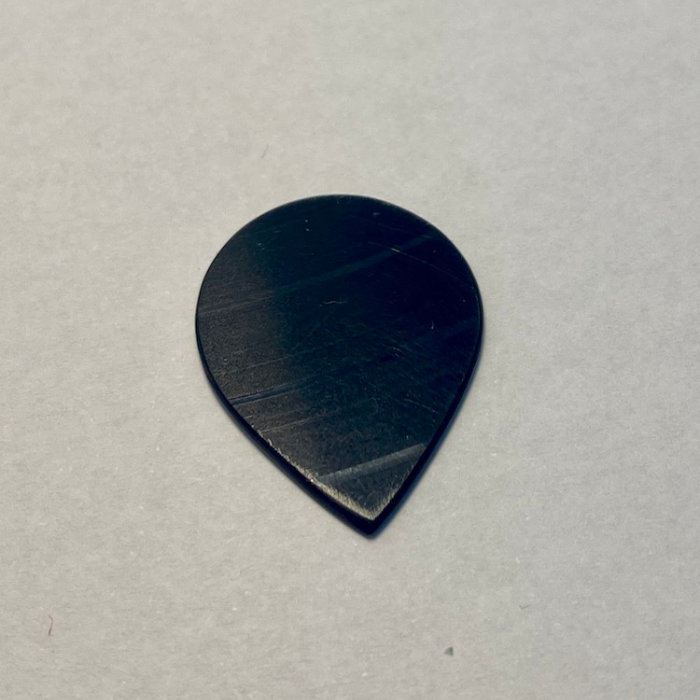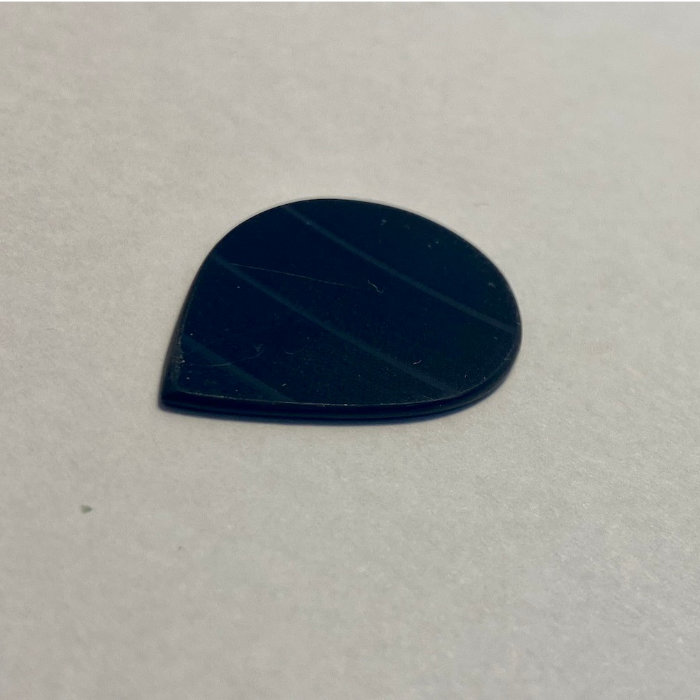 This Bastard Artfach pick is by far my new favourite acoustic guitar pick! The moment I saw it I knew it was going to be perfect for acoustic guitars, and I was right! This is a more rounded guitar pick and feels lovely to use to strum. Being a thicker guitar pick than most (that you would use for an acoustic guitar), it is heavier when used for strumming, however, that is something I like and aim for.
Being made of a material that I haven't ever used before I was interested in hearing what this pick sounded like on an acoustic guitar (We will be posting some sound samples over on our Instagram), however, it does sound different, It has its own sound to it which I really like, I think the texture, material and thickness helps with this!
Out of the 3 vinyl picks, this is definitely my favourite! I mean I love them all but this one is just perfect in shape, thickness and texture. I have been using this a lot in both my lead and rhythm playing as it suits both very well! The shape of the guitar pick just connects with me so well and feels so comfy under my fingers! There is plenty of material to hold on to with the pick feeling too bulky.
Do I think that making guitar picks from old vinyl is a good idea? Of course! It is a great material to make guitar picks from, there is plenty of it around and plus, as I have mentioned above, the grooves in the records make for great grip and texture for the picks. I would love to know what vinyl these guitar picks came from!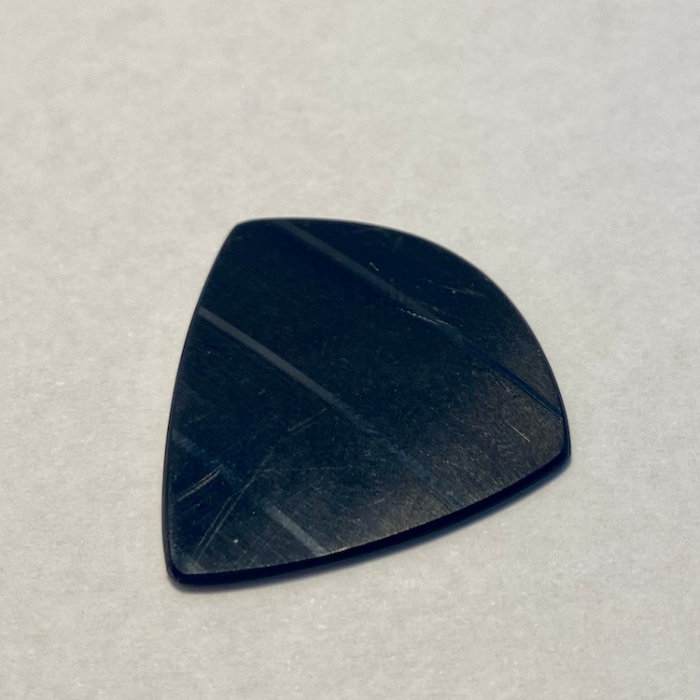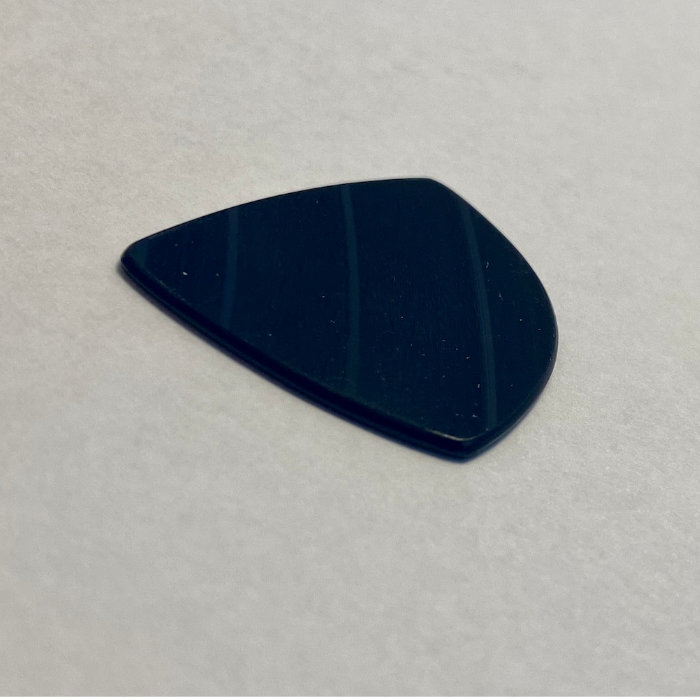 So that is our review of Bastard Artfach Guitar picks! Overall I love these guitar picks, The mixture of material and shapes is nice to see, Can't wait to see what else he makes and put out. Might even have to order some more acrylic and Wood picks but different sizes and shapes. You might have noticed there isn't a lot of negatives about these picks, That is because I genuinely think they are great picks and are great quality and well built and well finished! His choice of modern materials and creative shapes is always nice to see!
I want to thank Peter for sending the picks over. I did pay for the picks however, he did throw in a few extras! If you want to purchase some of your own (I highly suggest you do), you can check out the Bastard Artfach Instagram page (link below), send them a DM with your ideas and I am sure he will be able to bring them to life!
Bastard Artfach Links:
Check out our other Articles here