Redbeard "Hairy Squid" Fuzz Review – Is this A useable extreme Fuzz?
Fuzz is all you need! Especially when it is a Colossal, 3 in one Fuzz! In this article, we are reviewing the Redbeard Hairy Squid Fuzz Pedal! A 3 in 1 fuzz pedal designed to give you a huge fuzz sound covering all fuzz sounds you might need.
In this article, we will go over the Redbeard Hairy Squid pedal itself. Talk about the pedal, listen to some sounds and then discuss what we think about it! We will also talk about the designer Mike, because some of you may recognise him. So as always, let us go through the Hairy Squid and what it is all about, and then we can move on to our thoughts and the sounds!
Ibanez Tube Screamer Mini Pedal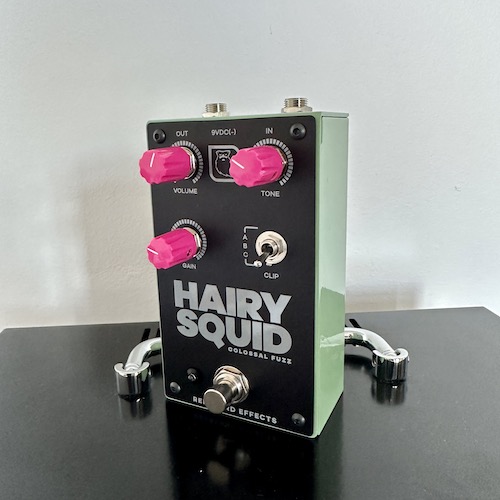 The Redbeard Hairy Squid is a Fuzz pedal designed by Mike Demus from Skindred. It is a colossal fuzz containing 3 different fuzz tones and is 100% Analogue. With a Full metal enclosure, amazing graphics and colours for the controls and fully recyclable packaging with a full cardboard outer box with a coffee sleeve inner sleeve! The pedal is top-loaded with the input and output and the 9v power is on the top! The Hairy Squid (And all the Redbeard Pedals) are designed, built, tested and packaged from the UK by hand.
The main selling point of the pedal is its "Three Fuzz Sounds". The pedal contains 3 clipping diodes which cover all fuzz sounds! Using the "Clip" switch on the right-hand side of the pedal you can switch between the different diodes. With the switch in the upright position, you have a Silicon Diode (Smooth and Liquid Response), in the middle position you will have an LED diode (Crisp and Louder Response) and in the down position you will have a Germanium Diode (Woolly and Saggy Response). Using this switch you can cover all fuzz sounds!
More on the Ibanez Tube Screamer Mini Pedal
The other controls on the pedal are your standard Fuzz controls. You have a volume, controlling the overall volume of the pedal. A Gain control, which controls how much clipping/gain you have. And finally, a Tone control, which works slightly differently than most tone controls. 12 o'clock is neutral and then the more to the left you go the brighter the sound and the more to the right you go the darker the sound.
The pedal sells directly from Redbeard Effects through their website for £199.99 with free shipping and some goodies inside the box! We will put all of Redbeard's links below if you want to check out more about the pedals! As well as their Instagram!
For sounds, I wanted to show a few sounds this pedal can use, and also go to the extremes! So the demo song features some pretty spitty and heavy fuzz sounds! If you break the demo song down it contains 4 or 5 different fuzz sounds! Was so much fun making this demo track and playing around with all the different fuzz sounds!
After the demo song, We then run through some sounds and all the controls on this pedal! Showing you the huge variety of fuzz sounds you can get from this pedal! Running through the knobs and switches and showing what they do. Plus how the Tone control works because it isn't as you expect!
First of all the design of this pedal is incredible. I love the way it looks and the way it's laid out. The design and packaging of the hairy squid pedal is superb. I think Mike's absolutely smashed it with the Hairy Squid. First of all, the design and build quality are amazing, you would have no issue taking this on tour, I think it would hold up well to touring and you would struggle to break it! The pedal feels robust and well-built as well as all the knobs having a nice feel and resistance to them! (You know I like my knobs!) Second, the packaging is really nice. All of it is fully recyclable! The pedal itself coming in a Coffee bag is a cool little touch! Also the manual being a QR code on the front of the box. Saving on paper! Super nice touch!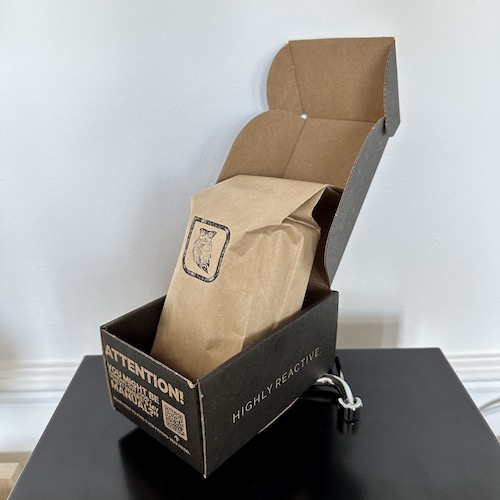 Shall we talk about sounds? Well, where do we start? This pedal has every kind of fuzz sound I would need! Fuzz is a tricky effect as it can sound different through every rig, however, I believe that this pedal will sound good through any rig! 
The Redbeard Hairy Squid can do everything from thick, meaty fuzz to thin spitty harsh fuzz tones! With the help of that tone control, it is so simple to dial in the sound you are after! Worried about gain? Don't worry, the Hairy Squid's gain control is super responsive and can be dialled back for a "cleaner" sound or cranked for some heavy fuzz goodness!
Few More Thoughts
I found this pedal really inspiring, bringing out some super heavy riffs! The demo song you heard above was written and recorded in about 2 or 3 hours in total! It all happened very quickly! Very inspired! So easy to get lost in the controls and find yourself making some wild fuzz sounds!
Now, I love everything about this pedal! I think it is a great pedal and the sounds you can get out of it are wild! However, there is one thing missing. An Octave! Now, Redbeard Effects does an Octave Fuzz called "The Honey Badger". So it begs the question, which one should you go for? That is a question we can't currently answer because I haven't had enough time with the Honey Badger to decide. Maybe we should ask Mike to borrow one! What do you think?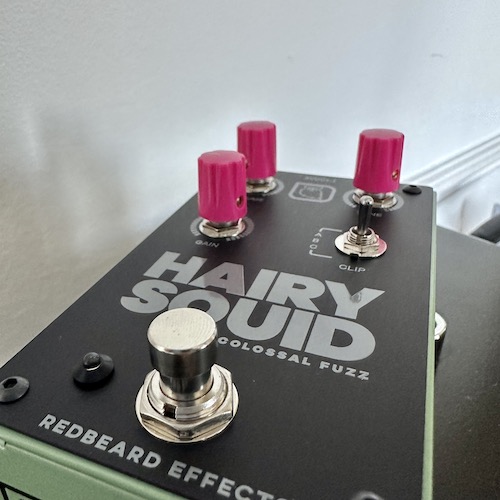 So that was our review of the Redbeard Hairy Squid! I hope you enjoyed reading about it as much as I have enjoyed playing it. If you want to read some more on the pedal, or even purchase one for yourself, you can check out all of Redbeard's links below! Make sure to give them a follow on Instagram! It was a joy to meet Mike and talk about all things pedals, Guitars and music! He is also a left-handed player so I got to try out his guitar as well! Maybe we should get him on for an Interview in the future!
If you liked what you saw in this review then please check out some of our other pedal reviews here! If you want to, you can head over to our Instagram and give us a follow and also subscribe to our YouTube channel here. It helps the site out massively!
Redbeard's Links:
Check out our other Articles here