£20 Mosky Golden Horse Review – Is this Clone worth the hype?
Today we have another budget pedal for you! Now this one has amassed a following amongst budget pedal enthusiasts. The Mosky Golden Horse has been on a few of my friend's boards for a while now, and they have all said that it is amazing and I need to try it. So I thought why not! 
The last Klon Clone we did was the Ai Express clone and that was £40 (Read Review here), Well, this one is even cheaper! The Mosky Golden Horse comes in at around £20 (depending on deals and place of purchase) it is a steal, so I grabbed myself one, opened it up and gave it a spin. So the question is, do you need to fork out hundreds if not thousands of pounds on Klon? Can you just buy this one? Well, let us find out, shall we?

The Mosky Golden Horse Pedal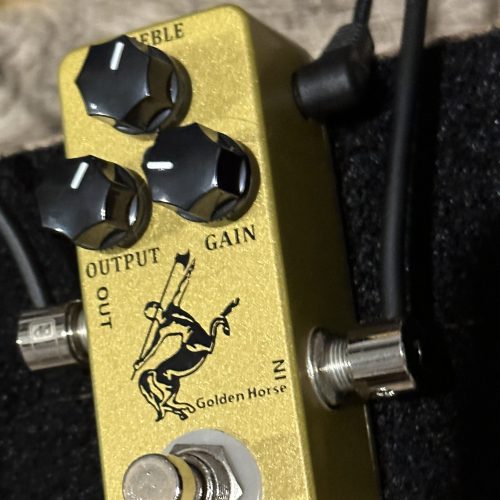 The golden Horse is a pedal from Mosky, a budget pedal aimed at replicating the famous Klon pedal, giving you smooth "transparent" overdrive. Or use it to colour and push your amp into natural overdrive. It comes in a smaller form factor than most Klon pedals but contains all the same features. As with all Klon-type pedals, you have a Gain knob, tone control and level control. An input and an output, both of which are on the side of the pedal. The power of the pedal is on the side, and due to the size, this pedal won't run on a battery. It will only run on a 9v power supply. 
More on the Mosky Golden Horse Pedal
When activated the pedal lights up with a bright blue LED to let you know that the pedal is on. To keep with the Klon theme the pedal has a Horse printed onto the front of the pedal. Pair this with the golden colour of the pedal and it is very close to a Klon, in colour scheme anyway. The case is made of full metal with plastic knobs for the controls. Now, of course this pedal isn't very big at all. It is a Miniature pedal, meaning it's size is very small, this comes with some drawbacks and some bonus's, which we will get onto shortly!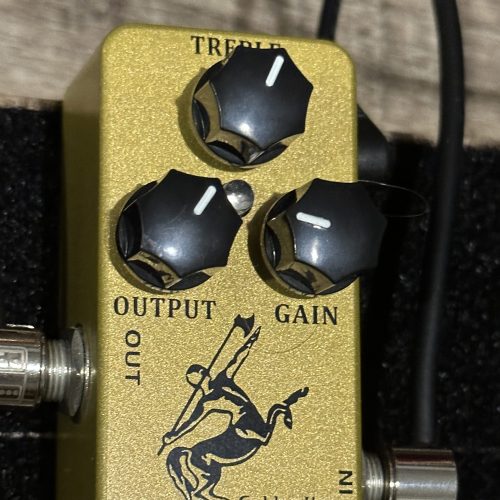 As I said with my other Klon Clone review (Read here), I have never used a real Klon in real life, so I won't be comparing this pedal, I will be seeing if it does the "Klon" sound that we have all heard in one way or another. I will be reviewing this pedal as its own thing, and what sounds it produces! 
For the demo song, you will hear my Custom Strat into the Pedal into my Revv D20, using the direct out Into my interface. For the sound demos, you will hear the Strat and various sounds from the Klon pedal.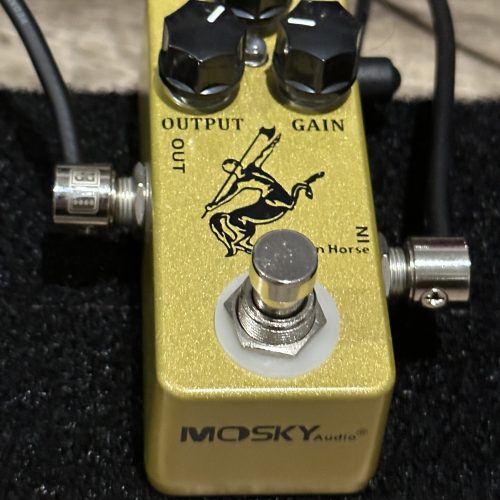 Firstly, Let us talk about the price of the Mosky Golden Horse, because it is hard to review this pedal without mentioning the low price of around £20. It isn't just the price, but the availability of the pedal, you can pick it up on most online shops (eBay, Amazon, AliExpress) as well as a Facebook marketplace and reverb. This means that the price of this pedal is very competitive and you will be able to find a good deal. Do I think it is a good value? I do! I think if you are after a pedal that sounds like this but don't plan to use it a lot (Like I will be, more on that soon) then this could be a perfect choice.
The size of the pedal is also very nice! Nice compact and small pedal. Meaning it won't take up a lot of space on your pedal board, if you only plan to use it now and then, say for a boost, then it is a perfect size! The great thing about these smaller form factor pedals is you can rotate them and fit two "mini" pedals in the same space as a standard pedal. Great for pedals you will only use the odd time.
Anything Else?
All the controls are very responsive, The control feel isn't the best but is to be expected from a budget, mass-made product. Another point to note is that due to the pedal size, the knobs aren't huge or what you would call standard size! Well, one of them is the other two are mini knobs, meaning on the fly changes might be a bit tricky or fiddly! This isn't just a note about this pedal, all mini pedals suffer from this (as to be expected from the case size). What this is good for though, is if you plan to use it as a set-and-forget pedal, then there won't be any chance of knocking the controls!
I do think the power Jack would have been better placed at the top of the pedal rather than the side, but this is a minor detail. Just makes cable management a bit weird and strange when putting it on a pedalboard.
Most importantly how does it sound? for low gain and boost sounds, this pedal is perfect! I have been using it as a boost for solos, adding a bit more gain to the tone but mainly increasing volume. It does this perfectly! However, it can also do those smooth, low overdrive sounds very easily and you can even get some nice high gain sound out of this pedal, using it with high gain and high volume to push an already overdriven amp harder! As overdrive pedal go, this one is just fine!
Final Thoughts?
The build quality is, well it is together. Not saying it Is falling apart. The pedal does come in a metal housing so will be better than a plastic pedal. However, they have cut corners somewhere to save money and I would say build quality might be one of the places! The graphics and writing aren't as sharp or clear as other pedals. The pedal is currently on my gigging pedalboard, So if I have any issues or "easy" damage then I will update with pictures.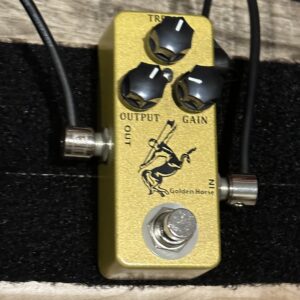 So that is our thoughts on the Mosky Golden Horse pedal, a very popular Klon Clone! For anyone that is after an affordable Klon for their pedal board, this one is worth checking out! With its key selling features being the price and also the size, it is sure to be able to fit on most people's boards. Will this be a staple on my board? I think, for now, it will be, mainly due to the size!
We shall be bringing you more of these affordable pedal reviews. If you have any pedals in mind shoot us a message on our Instagram and we will check them out. Also, make sure to give us a follow on Instagram and also subscribe to our YouTube channel! They help out the site so much.
Check out our other Articles here