Oks (ØKS) Guitar Picks – Our Thoughts and Review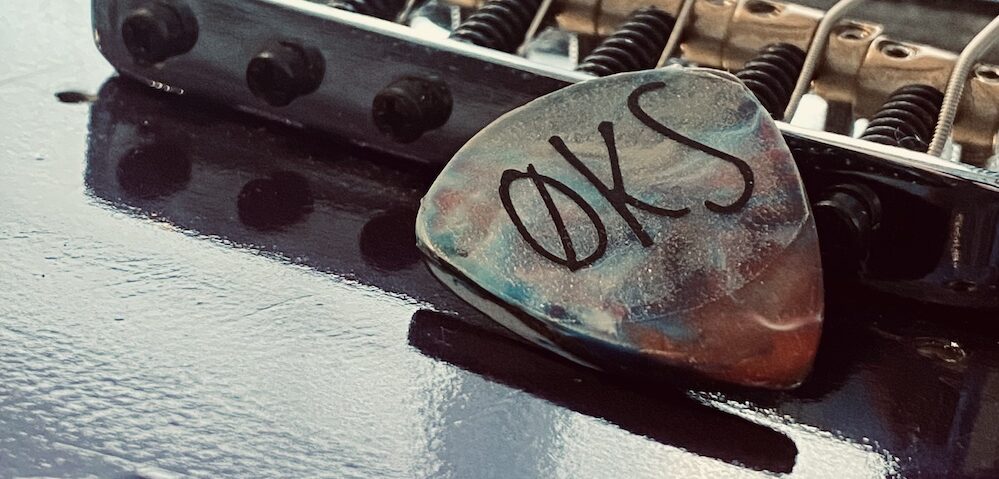 I love guitar picks, so much so that I am starting to amass a collection. So much variety to chose from, so many shapes and thicknesses with each one serving a purpose. However, I have been more drawn to the Boutique and custom made Pick manufacturers recently. I was scrolling through Instagram and came across a company called "OKS Guitar Picks".
They are a handmade pick manufacturer from Norway. Every pick is made by hand and they sell them through Etsy. I reached out to them and explained I would be purchasing some for review and they agreed to throw a few others in for me to try. So in this article, I will be reviewing the Plectrums and models they sent me. Going through my thoughts on design, Craftsmanship and also shapes and grip. What are these picks not only like to play with but also to look at and are they good value for money?
So the first pick we have from OKS guitar picks is the Shield. When I was speaking to them about picks and said I tend to favour a Jazz 3 shape, This is the model they said would suit me best. So I thought it would be best to try this one out first.
This pick has a great shape and a lovely tapered tip making it a joy to hold and play with. The pick is around 3mm thick, so thicker than your normal picks however, doesn't feel overly thick to play with, I think anyone that hasn't played a thick pick could easily adjust to this pic. A great feeling and a joy to play with.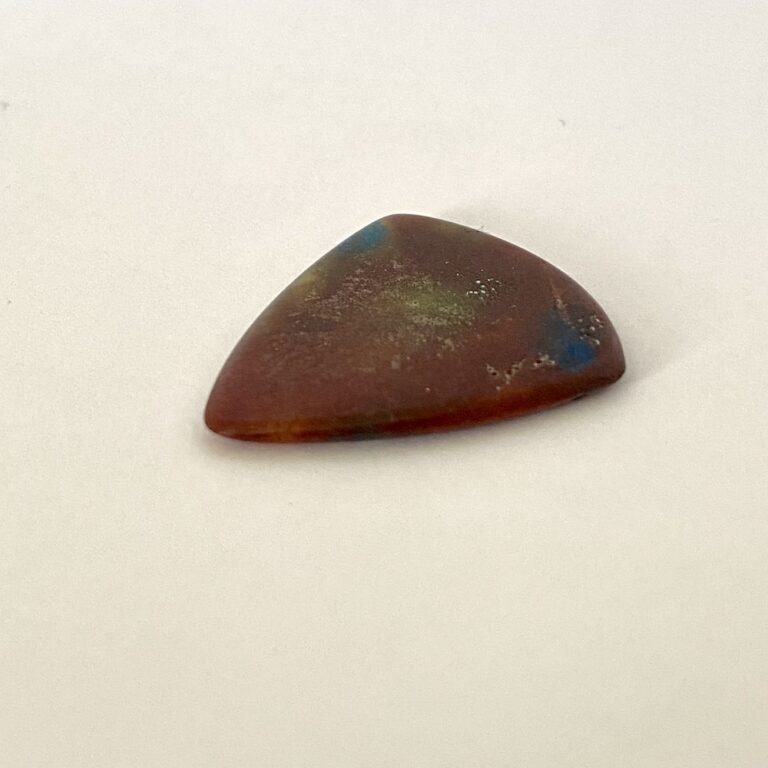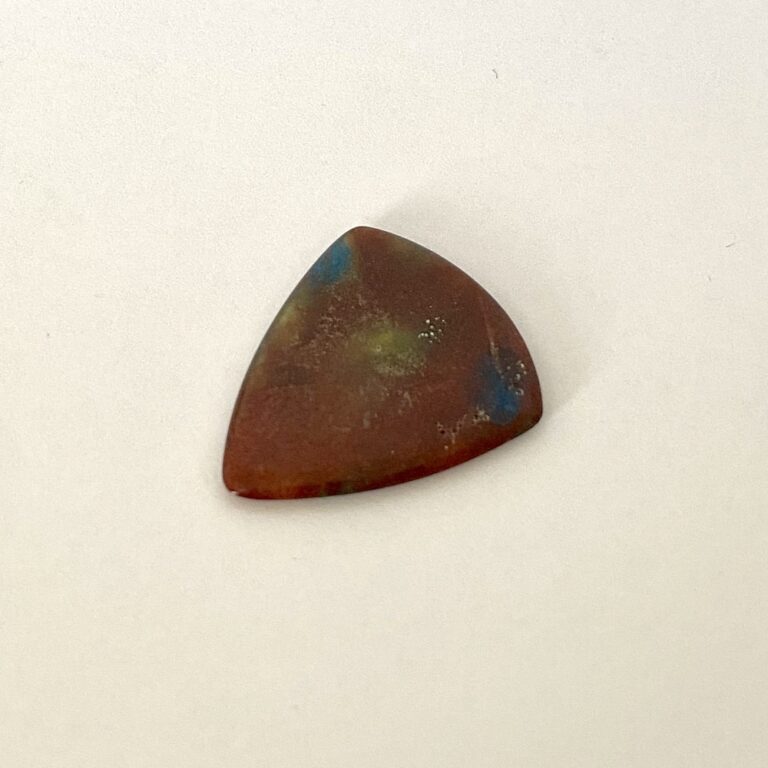 At first glance, this pick looks very smooth and seems it wouldn't have a lot of grips, however, the moment you start playing you will notice that it is rock solid and not going anywhere! After many hours of using this pick, I have noticed no signs of wear or grooves! I would say this pick is robust and will last you for ages!

Out of all the picks that were sent across I have been drawn to this one, the shape, the thickness and grip all suit me very much!
The price for this pick is 80 NOK (Around £7). Which is think is amazing value and if I am honest, too cheap for the quality. For a handmade, high-quality plectrum, £7 is a bargain!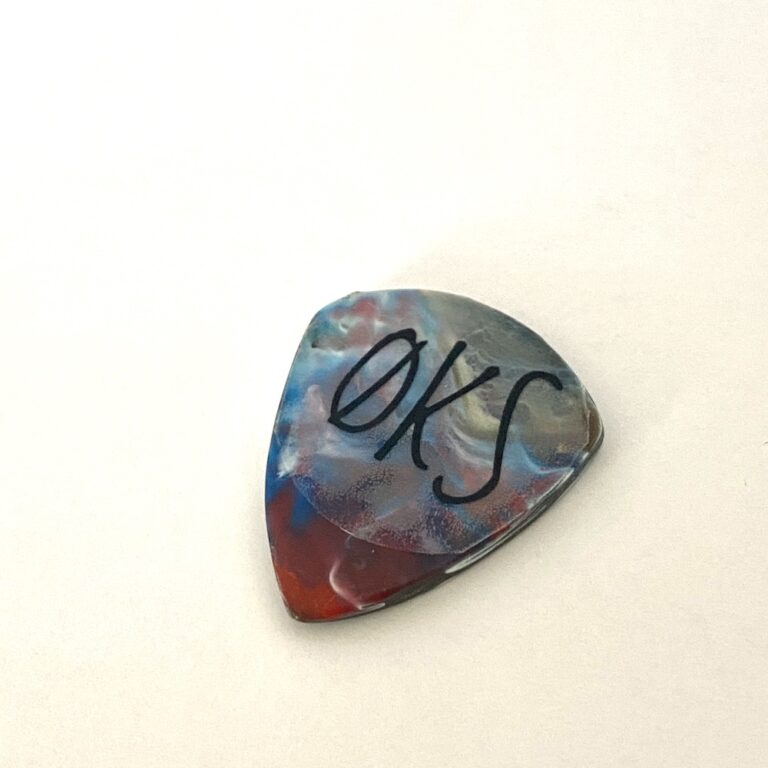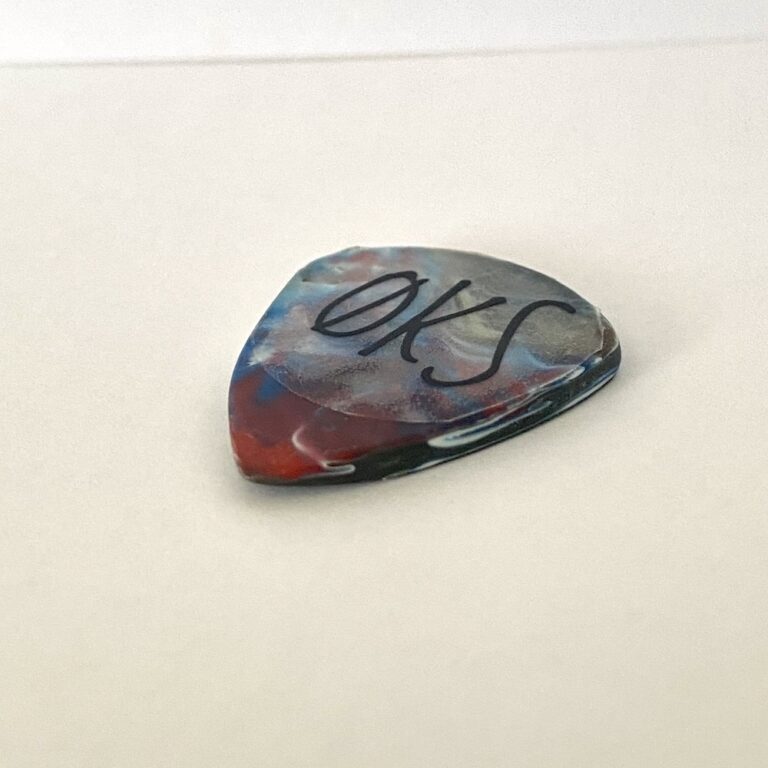 This pick is another 3mm pick, similar shape to the Shield but different dimensions. It has got a lovely tapered tip. I would say the tip is more dramatic than the shield. Meaning that it stays flattered for longer and then goes to the tapper. I have tried to demonstrate this better in a picture.
The feel of this pick is very unique, unlike anything I have ever felt before. It Is a solid pick but almost feels soft. Hard to describe but I like it, feel very comfortable under the fingers. Something to mention is that using this OKS pick I found I could tremolo pick better and faster than any other plectrum.
The Logo isn't engraved like the others with this one, It appears to be applied using a sticker, so a printed logo, is not an issue with me but made start peeling after heavy use. The pick overall has a matte look to it, a very nice look. The price for this pick is 100 NOK (Around £9). Again, a very fair price for the build quality and craftsmanship of this plectrum.
This pick is almost perfect for me as well. It is the same size as a Jazz 3 pick (A pick I am very comfortable with), however, it is a bit thicker, so requires less pressure to hold it! Big fan! Add this to the hand-engraved logo which adds a lovely grip and texture to the pick and this is a very comfortable plectrum to hold and play with. The colour and design of this pick are also worth nothing (They all are really), But the colour of this pick is unbelievable, love the colour and design. The top of the glitter in the pick is amazing
I will mention that I feel the tip of the pick could do with being a bit more tapered. That's just my personal preference for my style of playing but a thinner tip would suit me better. However, this doesn't make the plectrum any less playable!
The price for this pick is 100 NOK (Around £9). As with the other two, this is great value for money. Considering it's got the hand-engraved logo and all the work that goes into shaping the pick, it is a great value.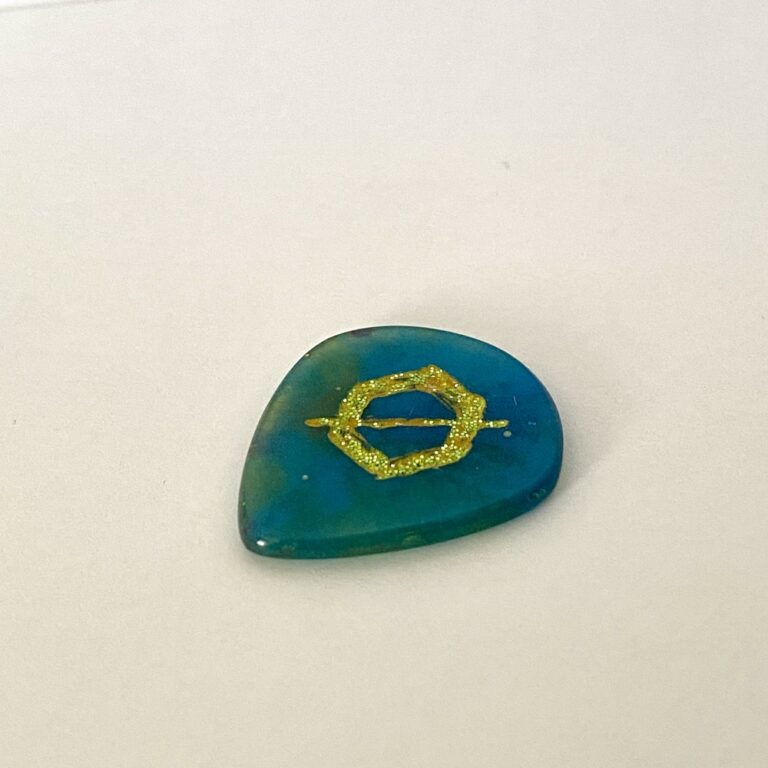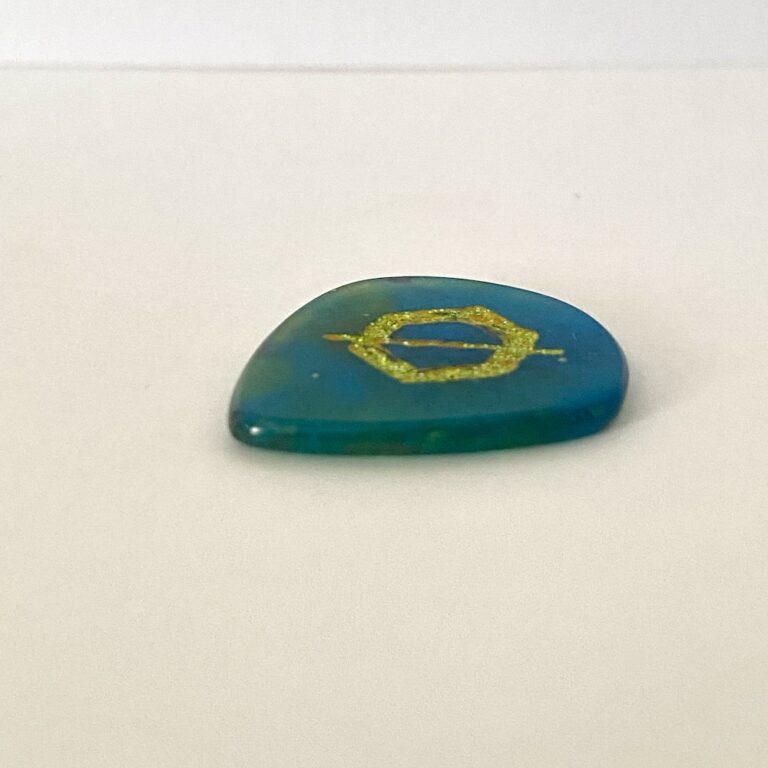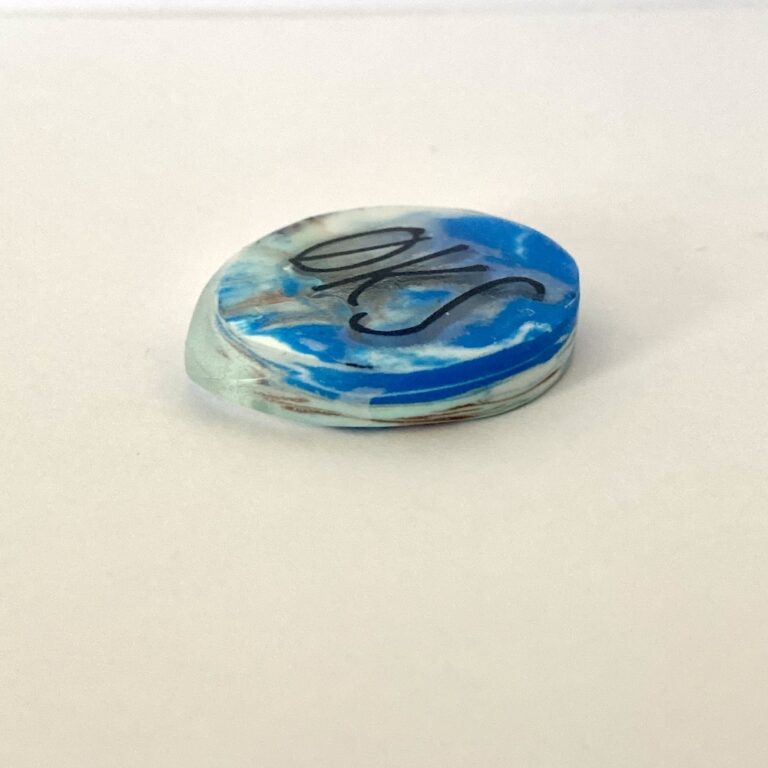 This pick I was interested in trying. I have never played what I would call a "thick pick" or an "extreme pick". However, I know a lot of people do and they love them. So was keen to try them out.
This pick is a big old boy! It is the biggest pick I have ever tried! This pick a huge 7mm! A proper thick old boy! If you haven't ever tried a thick pick, you might think that you would have to adjust to get the pick distance to the strong correct. However, this is not the case. This pick was comfy and easy to play! Used it the same as I would any other pick.
What you will notice is that because the pick is thicker you won't have to use such force to grip it! It is really easy to hold and so comfy! You don't need to use much pressure to hold it! I would be happy to say that you are unlikely to drop this pick! Also, I have noticed that getting pinched harmonics with this pick is easy, Is it to do with the pick? Maybe, but I feel that using these picks I can find and hit pinched harmonics a lot easier. Small thought I had.
The price for this pick is 120 NOK (Around £11). This one is a bit more expensive than the others for obvious reasons. It has more material and will require more work to shape and refine. However, as I have said with all these OKS picks. It is still such great value!

Few Final Thoughts on OKS Guitar Picks
Just to help some people with the thickness I have taken a few photos of the plectrums next to a standard 1.5mm Jazz 3 pick. This might help some people understand the shape and thickness of some of these picks.
It is also worth noting that all the engravings and logos on all these OKS picks are hand engraved and suit each pick design amazing. The colours and designs are well thought out. Each pick's engraving helps add that extra bit off the grip and a lovely texture to the plectrum.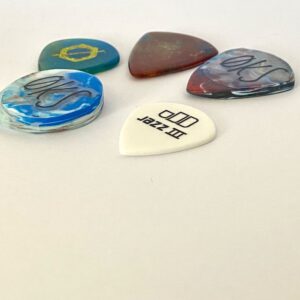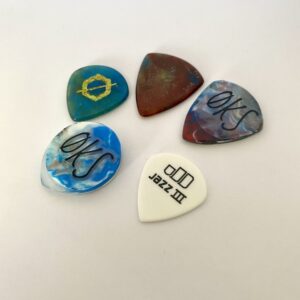 I will also touch on postage and packaging. They are all made and sent from Norway and delivery only took a few days, a really fast delivery and as they are postage in a standard letter envelope they will it through mailboxes. They came on a bit of green card with a lovely handwritten message. A very nice touch.
Overall I don't have too many bad points to say about these picks, all the points I have made have been personal preference. The price is great, the service is amazing (they are very quick to respond on their Instagram page), overall a joy dealing with and using these plectrums, I will defiantly be using these plectrums a lot In the future!
That is our review of the OKS Guitar picks. I am impressed with the quality and designs on them! I will be purchasing more of their shapes in the future! I would say if you are in the market for a boutique plectrum, you should check out OKS Guitar picks! They are of great value and offer a wide variety of shapes and grips, with plenty of more in the works. Custom made picks for this price is a steal! Make sure to give them a follow over on their Instagram.
If you want to check out more about OKS Guitar picks or you want to purchase some for yourself, then I highly recommend that you check out their Instagram or their Etsy store links below.
OKS Links:
Check out our other Articles here