LT Custom Guitars Pioneer 1 First Impressions - Our Thought having played it.

As you all know, a few months ago I went to see LT Custom Guitars to build/mod my Squire Telecaster and turn it into the best Telecaster ever built, in my opinion! (You can read the article here!). Well, while I was there I got to the chance to play newly released Pioneer 1 Guitar from LT Custom Guitars. The first one made and it was left-handed!
So while Lewis was busy setting up the Telecaster, I went and had a fiddle on the Pioneer 1. Today, I won't be doing a full review (That will be for another time) but rather first impressions. The thoughts I had when I first played it and what went through my mind. So without further ado, let us get straight into it.
What is the Pioneer 1? Well, it is LT Guitars very first batch production model. Meaning that it is a set model but you still get some customisations. So you can look at it as a semi-custom guitar? If you wanted to future customise it and make it a true custom guitar, Lewis would be more than happy to help you.
LT Custom guitar says this about the Pioneer 1,
"Although the Pioneer is a production guitar, you still have the opportunity for customisation with 2 choices of body, neck, fingerboard with matching headstock veneer, as well as a choice of regular or reverse headstock – giving you the potential for 16 different combinations, all of which are available left-handed at no extra cost!"
If you want to read more about the Pioneer 1, head over to the LT Custom Guitars website here.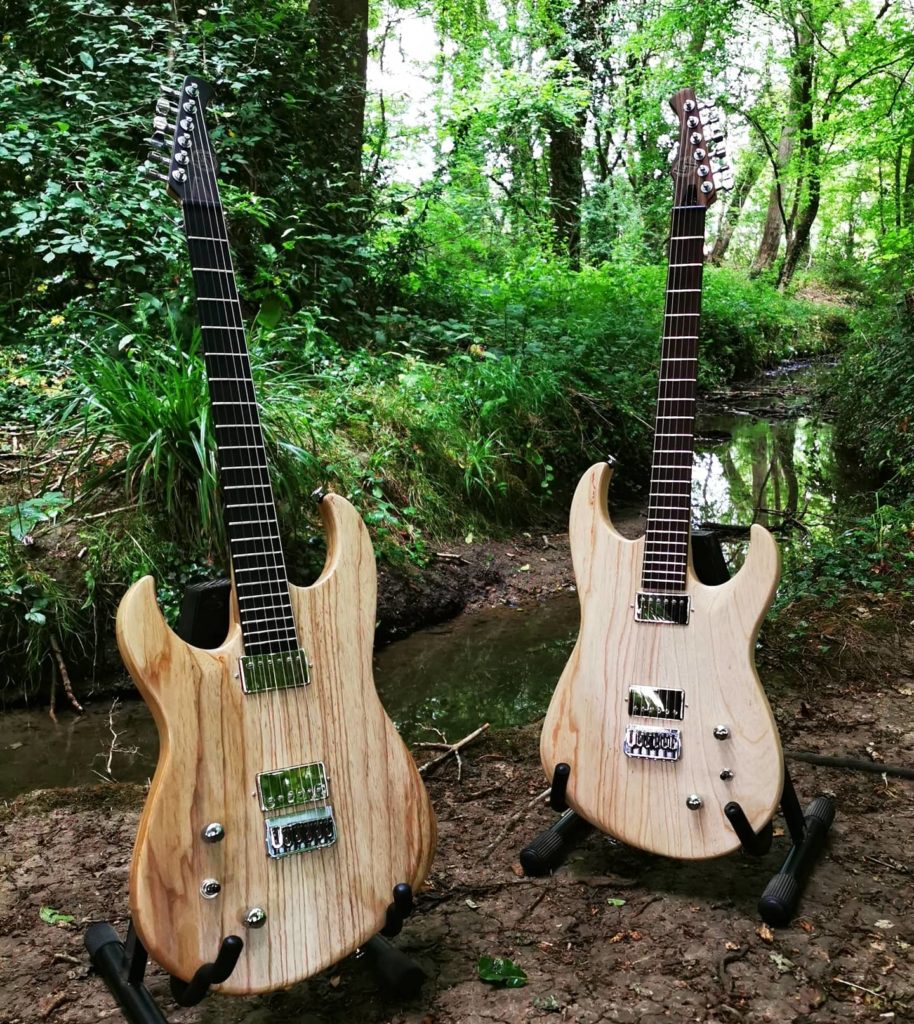 What were my First Impressions?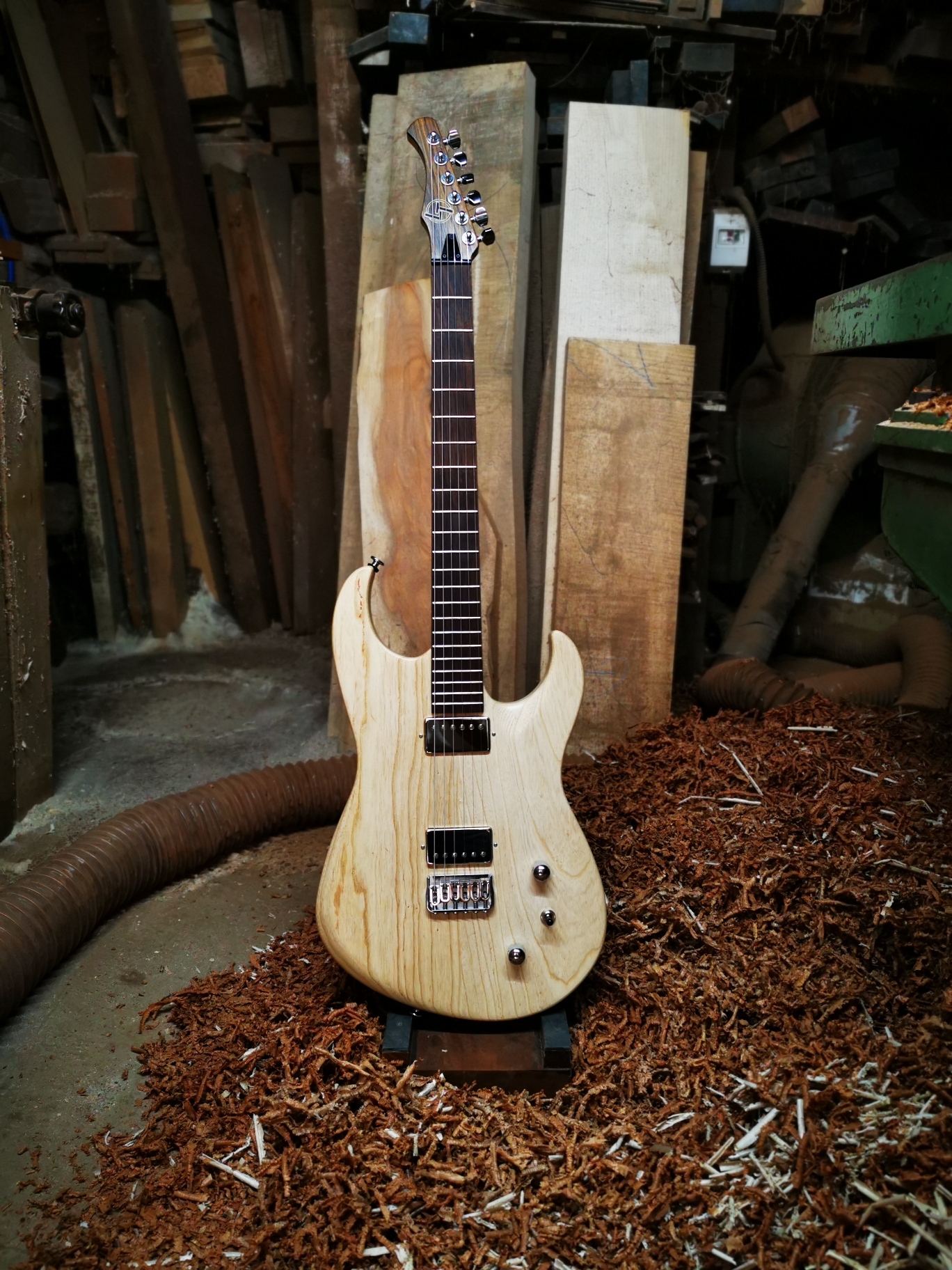 What was my first impression when first picking up this guitar? I want one! My god, this was as near to perfect as a guitar could get. Honestly, I have played a lot of guitar, expensive, cheap and budget. Nothing I have played comes even close to this. Let us start with my favourite part, the neck!
The neck on this guitar is witchcraft. It is the best neck I have ever played! I have played Ernie Ball guitars, and yes they have incredible necks! However, what lewis has done with the Pioneer 1 is just mind-bending! It is fast, smooth the perfect thickness, I would say it is on the thinner side but not to thin that the fat neck people won't like it.
What else did I like about it? The overall feel and weight of it! As you can see from the photos this model is bare wood with a natural finish. Which personally isn't a finish I am huge on, but on this guitar, it works! It looks amazing! Pair that with no fret markers and this guitar has a very mean but approachable appearance. It would be able to play any gig, any genre at any tuning!
The shape stood out, it is a different design but also remains very familiar. Making it easy to pick up and play, but also making it a guitar that looks different and will always get people looking. The headstock was reversed. I don't personally have a preference, on the orientation of the headstock. However, Lewis can make it either way. I think the reverse headstock works well with the shape of this guitar.
How did it play? Exactly how a custom made, handcrafted guitar should play! Perfectly! This guitar puts every other guitar I have to shame! It is equipped with Alchemy 'Hartshorn' Humbucker Pickups which sound incredible (Full Alchemy Review to come). With that amazing neck, it felt fast and precise. Being left-handed himself, Lewis set this guitar up perfectly (Which is rare on left-handed guitars), Hipshot Hardware, CTS and switch craft electronics. Making this the perfect gigging guitar! 
I know from my short time playing it that it will be easy to play this guitar every night. It would be rock solid and sturdy! I would love to get one in for a long term loan to do a full review on! (Maybe I will just have to order one!).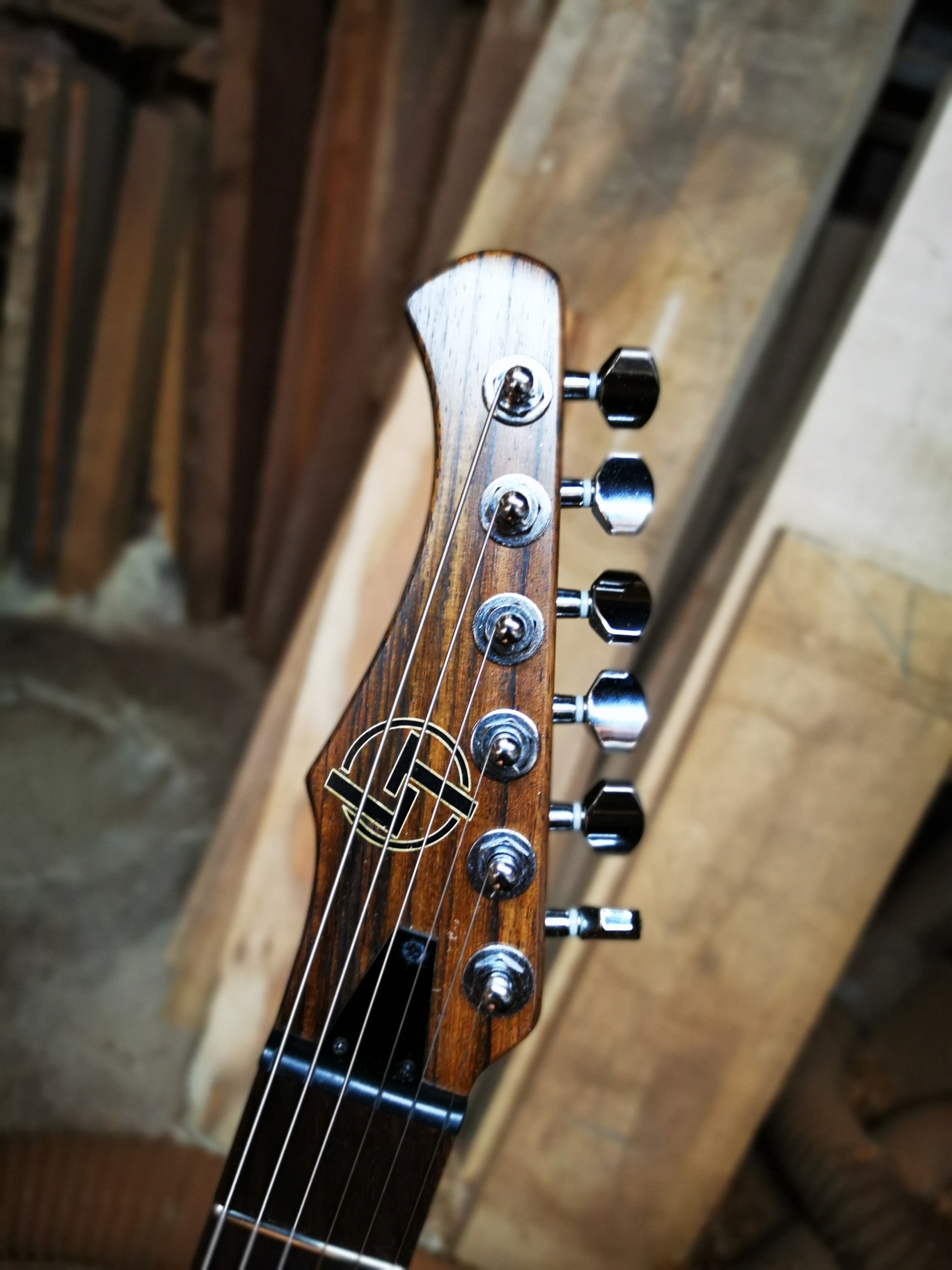 So what do I think of the LT Custom Guitar Pioneer 1? It is a tameable beast. Plays amazing! Sounds amazing! And the build quality is second to none! If you are in the market for a custom guitar, or even another guitar, in general, make sure to check Lewis out as he does some amazing offers and finance packages! 
Would I own a Pioneer? 100%! Although, speaking to Lewis he has some new things coming soon which also interest me, however more on that another time! If you see LT Guitars at any Guitar show make sure to go and say hi and give the Pioneer ago! You won't regret it!