JSA Hot Toddy Review – Could be one of the best gain pedals I've played!
Guess what? Have another JSA pedal review for you today! I know! Another one! The guy just makes great pedals! Today we have the "JSA Hot Toddy". A light overdrive Pedal based on a few famous circuits! Circuits we are all familiar with! The Timmy and the Boss OD circuits! We have been using it live and in the studio and thought we would put together our thoughts on the JSA Hot Toddy overdrive pedal.
As with all our reviews, we will start with running over the pedal's features and functions and then move on to the sounds and finally what our thoughts are! It is worth noting that JSA has supplied the pedal, but all the thoughts are my own!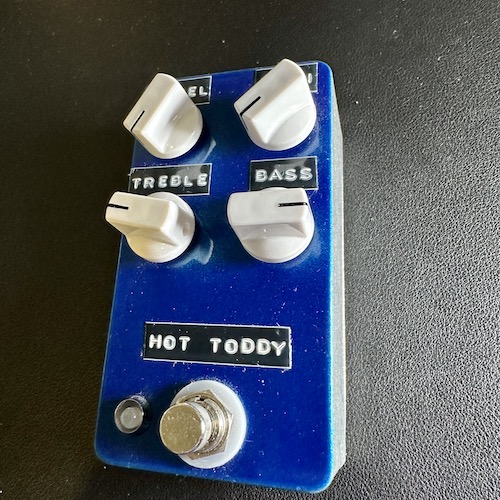 The Hot Toddy is a pedal that has been 5 years in the making and is one of JSA's production pedals. The JSA Hot Toddy is a transistor Gain pedal. It is similar (in a way) to a Tim but built using transistors rather than IC op-amps. More of a Boss OD circuit. Aimed at giving you a light to medium overdrive tone, it aims to push your amp and saturate your sound while still cleaning up nicely on the volume. Now, this pedal is aimed and subtle gain, however, as you will hear, it can do more!
The JSA Hot Toddy has 4 controls, starting at the top left it has a "Level" knob, which controls the overall output of the pedal, to the right it has a "Gain" knob. This controls the amount of gain or clipping in the pedal. In the row below we have a "Treble" knob on the left and a "Bass" knob on the right, these control the High frequencies and the low frequencies respectively.
All inputs and outputs are top-loaded with one input and output and in the middle is your 9v input to power the pedal. At the bottom next to the foot switch you have a nice and bright LED to let you know if it's on or off.
As with all JSA Pedals, they are well-built, usable and all hand-built by one guy! This means you know you will get quality when the pedal arrives! The pedal sale is direct from JSA for £99 plus postage.
While playing with this pedal, I just got in the pop-punk kind of mood! So the demo song is very pop-punk, using a low to medium gain all the way through! All sounds are recorded with my Custom LT Strat! However, the demo sounds will show off what the pedal can do and all the various gain stages it is capable of! Of course, the sounds are provided thanks to the amazing Revv D20 and my Custom LT Guitar!
To start off with, this pedal looks amazing! I love the colour! It's a blue shimmer kind of colour! JSA has outdone himself here with the colour! As with all JSA pedals I own, the controls and knobs are fantastic and provide great feedback! They are also very responsive and easy to work with.
Sound-wise, this pedal has a wonderful Low to mid-gain sound! You can use this to drive and overdrive a clean or low-driven amp, or use it into an overdriven amp and push it even further! Can be used in so many ways! Combine this with the very responsive bass and treble controls and you have a simple hit effective EQ section to sculpt your sound, alongside your volume and gain controls for your saturation sounds.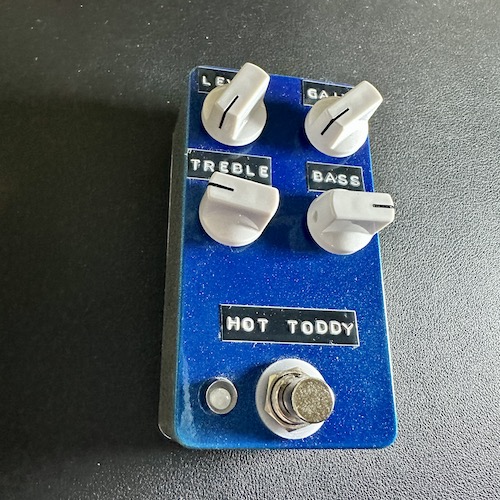 The JSA Hot Toddy is perfect whether you want to get your gain from the pedal or just use it to push your amp into a natural overdrive. Mixing up the Gain and volume knobs Will give you a huge variety of medium to low-gain sounds! Being able to push into higher gain sounds with the correct amp setup! I would say, if you want those John Mayer or SRV tones, you should take a look at this pedal!
As with all of JSA pedals the build quality is amazing and the communication is amazing! Have an issue? Send him a message, have a question? Send him a message! Is so properly knowledgable and helpful! Like I said, build quality is always amazing and this pedal is no different!
Few More Thoughts
Worth talking about the price, the sounds, the build to order and the fact it's one man one pedal. I find the asking price of £99 fantastic! That is great value for money and puts it right in with the lower-end mass-produced pedals, but above them for the hand-built factor. A perfect combination!
Negatives? Well, I am really struggling! There isn't much I can say that is bad about This pedal! At the end of the day, it is a simple overdrive pedal that has been executed exceptionally well! Built to do a job and does that to perfection! One comment I might make is that if you are after a high-output pedal, something for Hard Rock or Metal. You want all your gain from your pedal, this might not be the pedal for you! You would most likely go for something like the JSA "Ratbert".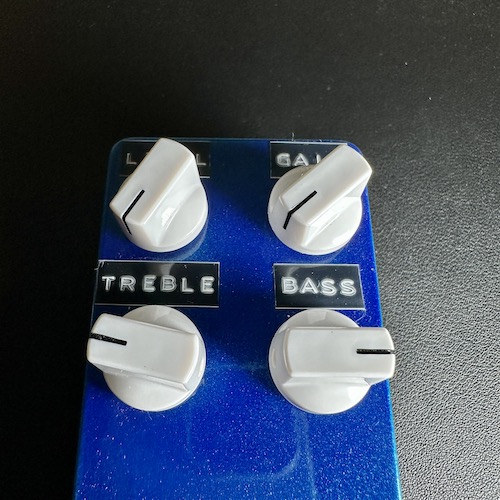 Huge thanks to JSA for sending this pedal over! He did send me the pedal but as always my thoughts are my own! This pedal is a great gain box! So many sounds and highly versatile! I love using it. Balls to the wall gain pedal, but it can do a whole range of gain and tones. We have plenty of JSA pedal reviews on the channel, he makes some incredible pedals, there are some links below to them!
If you liked what you saw in this review then please check out some of our other pedal reviews here! If you want to, you can head over to our Instagram and give us a follow and also subscribe to our YouTube channel here. It helps the site out massively!
JSA Pedals Links:
Check out our other Articles here