Maybury Fish Hook Guitar Review – A Semi Hollow T-Style
Today we have a review I have been waiting for ages to do! We have a Maybury Fish Hook Guitar. I met Jason at a guitar show a few years ago but got talking to him at the British boutique festival. We have spoken about a review and have been arranging it for a while. Well, I have finally got my hands on one of his custom-built guitars! And boy, am I excited! 
I have been playing the guitar for a bit and doing some recording with it. Playing various genres and styles with the same guitar and almost the same rig (this will become relevant later), so thought it was time to put together my opinions! So first, let's talk about the actual guitar and the specs, shall we? Then we can dive into my thoughts and feeling on it!

The Maybury Fish Hook Guitar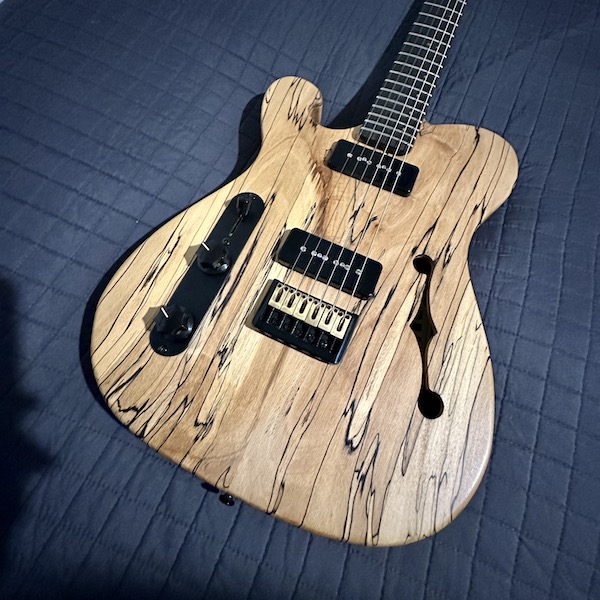 Maybury Guitars Is a custom, hand-built guitar company based out of Surrey, England. Run by Jason these guitars are built to order and highly customisable to whatever the client needs and wants. This guitar we have today is part of Maybury's "Fish Hook" lineup, A t-Style guitar with some design changes and improvements. The guitar is a semi-hollow design made out of lovely woods to give it great sounds but also look good. So let us dig deeper into the specs.
The body of the Maybury Fish Hook is a Semi-hollow design and a one-piece spalted Maple body. with a spalted beech top and looks incredible with its oil finish! The neck is a Figured White oak with an ebony fretboard with a 25.5" scale. It has Medium Jumbo fret and Brass and resin inlays, which have been offset towards the top of the fretboard.
More on the Maybury Fish Hook Guitar
The pickups are a set of Monty P90s. These are Monty's take on P90s and are slightly higher output. They aim to have more mid-range and output than your standard "vintage" P90s. The rest of the hardware is black with a nice bridge with Brass saddles and locking tuners for that ease of restring and tuning stability. 
As far as the controls you have your standard T-Style layout,  a 3 way selector switch and a volume and tone pot. A simple but familiar layout we all love!
A very high-spec guitar indeed! So what do we think? Well first why don't we hear what it sounds like!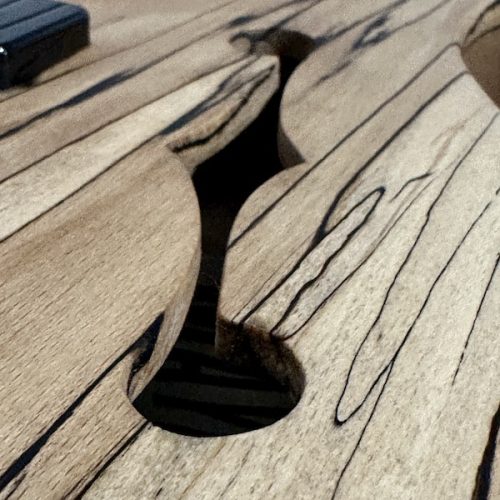 For the sounds, I put together a quick demo song in which I used the Revv D20 for the amp and the Bleak District Landscraper overdrive going Into the front end, being a Telecaster-inspired guitar I had to put a little country twist on it! Then I run through some sounds and different tones you can get out of the guitar. Again, using the Revv D20 and my new full pedalboard (Full rundown and article coming very soon) to get some different sounds. All sounds are recorded using the Revv D20 DI output.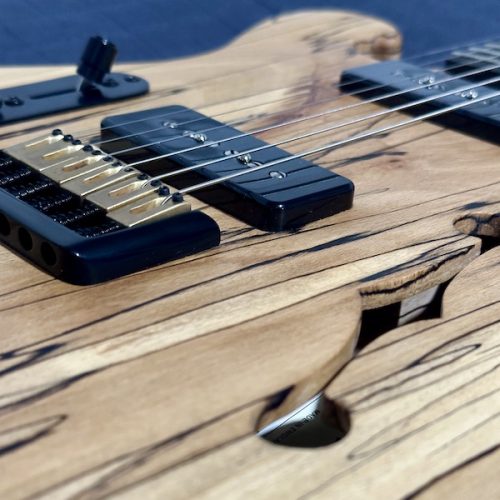 I think the first thing that hits you about the Maybury Fish Hook guitar is the looks! The wood selection and design are very eye-catching. I know looks are subjective but I think we agree that this guitar is beautiful! The grain of the wood with the finish, the design and the shape. All come together for a great-looking guitar! Even if you never planned to play this guitar, it would look stunning in any room!
The pickups in this guitar, the Monty P90s, are superb! The neck pickup has a really warm tone to it, great for rhythm and warm leads, and the neck pickup has a bite and snarl to it. Both Pickups react well to the volume pot allowing you to clean up overdriven sounds, pair this with the 3-way switch and it leads to a very versatile selection of tones! Pair the Pickups with the fact that this guitar is semi-hollow and this gives a lovely resonance and sustain! 
Anything Else?
The Maybury Fish hook guitar plays wonderfully as well, feels fast and comfortable to play on. The frets are a good size and the neck shape allows it to be a good thickness but also keep it comfortable and fun to play. The Maybury Fish Hook has been set up wonderfully, with great action, great Intonation and all the electronics working perfectly! The guitar's Controls feel high quality, with the knobs having great resistance and the three-way selector switch being snappy and secure to use. Giving you plenty of confidence to use them while playing and performing.
Any negatives? Not really, don't have a lot that's bad to say about this guitar. It is on the heavier side! Being made of Oak it is heavier than a standard Tele (this might due to the fact I am now used to the weight of my LT Strat). However, it isn't off-putting or back breaking! It isn't even the heaviest guitar I have played.
Final Thoughts?
Overall, the guitar has a very unique look, and can tell the design has been well thought out! The black matching hardware, the brass saddles with the bras inlays, it's all been thought out and shows! Pair this with the wood types, design and build quality, and it makes for an amazing guitar that plays wonderfully!
As far as Maybury go as a company, Jason is a proper lovely guy, easy to talk to and will help you in whatever query or question you have for him! If you are after a custom built guitar, you should definitely be considering Maybury Guitars!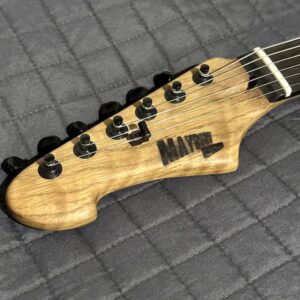 Hopefully, you enjoyed our review of the Maybury fishhook Guitar. I first want to say thanks to Jason for sending the Guitar over and letting me play it, it's been an absolute joy to play and love recording with it. 
If you want to know more about Maybury or this Guitar, you can head over to Instagram. Give them a follow and if you are interested in ordering one just shoot them a message over there as well or you can visit the website. All these links are below. 
Also, make sure to give us a follow on Instagram and also subscribe to our YouTube channel! They help out the site so much.
Maybury Guitar Links:
Check out our other Articles here