Thomann Dual Guitar Gigbag Review
With gigging and band practise slowly coming back I was looking for a way to compact my gear. Make it easier for me to carry to gigs and rehearsals. I was looking at purchasing the Mono Dual Gutiar bag, however, I saw that was rather expensive. I was browsing through the Thomann website when I stumbled across their own brand dual guitar bag. 
I decided that as it was more affordable than the Mono, by rather a lot, that it was worth a shot! So I pulled the trigger and purchased it. After a few used to rehearsals I have decided to put together a review with my thoughts. Is this just as good as the £200 Mono case? Will I continue to use it? Let us find out.
I also want to mention that I purchased this gig bag out of my own money Thomann didn't send me one or pay me to make this review. Now that is out the way, let us get on with the review.
Which model did I get? Well, I was going to buy their Dual Electric Guitar case but after doing some research and some measuring, it turns out that a semi-hollow guitar (like my 335) won't fit in. So I looked at their Electric/Acoustic model. After measuring it looked like it would fit, so I decided to buy it (link at the bottom of the page if you want to purchase your own). 
The case itself is £38 (£46 with delivery to the UK). Which is a bargain when compared to the £235 price tag of the Mono Dual bag (Plus Delivery). I must say that the delivery was fairly fast. I ordered it late on a Friday evening and it got delivered on the following Tuesday. If you ignore Saturday and Sunday that is around 2 and a bit days delivery. 
Upon opening the box, I found the case wrapped in your standard plastic. Taking it out I saw that the case was fairly bigger than most guitar cases, which would make sense as it can hold two guitars. The fabric it was made from is your standard guitar gig bag. If you have ever owned a guitar gig bag you will know the fabric I am on about. I did notice that the bag was very rigid and stiff but I guess using this will lose up and soften in time.
The case has a lot of pockets (We will talk about those shortly) and also a fair amount of padding around the sides and also in between the guitar slots. Could it have more padding? Of course! But I think for the price you get a good amount of protection! They have focused the padding around the main areas of the guitars (Headstock, bottom and sides).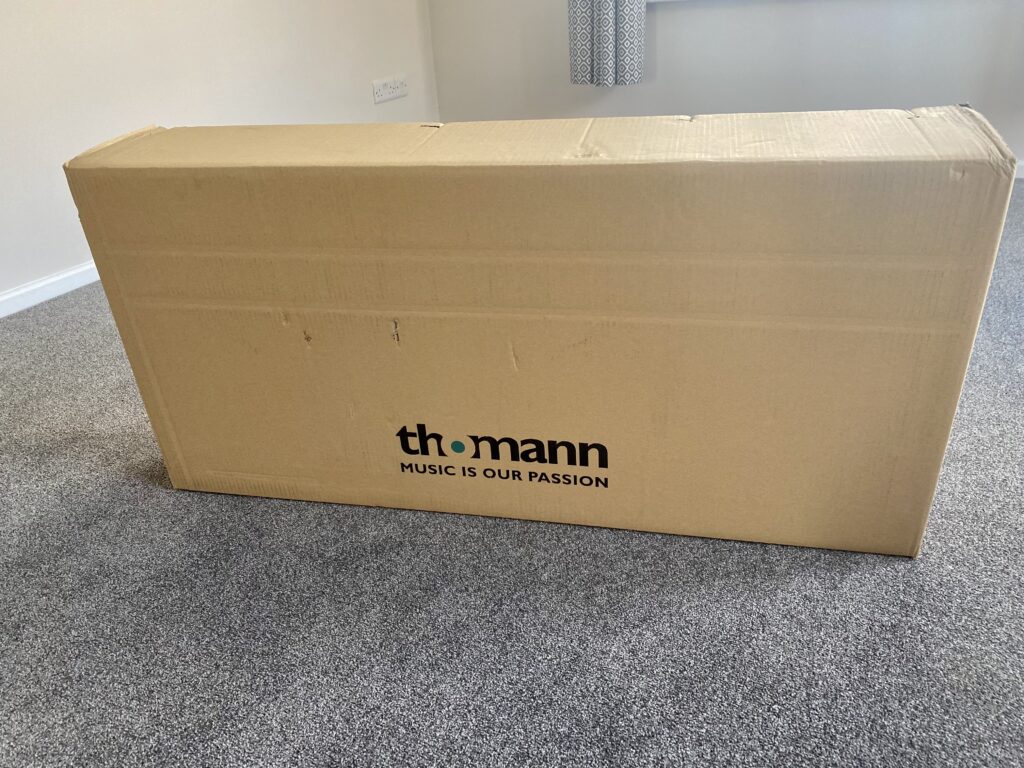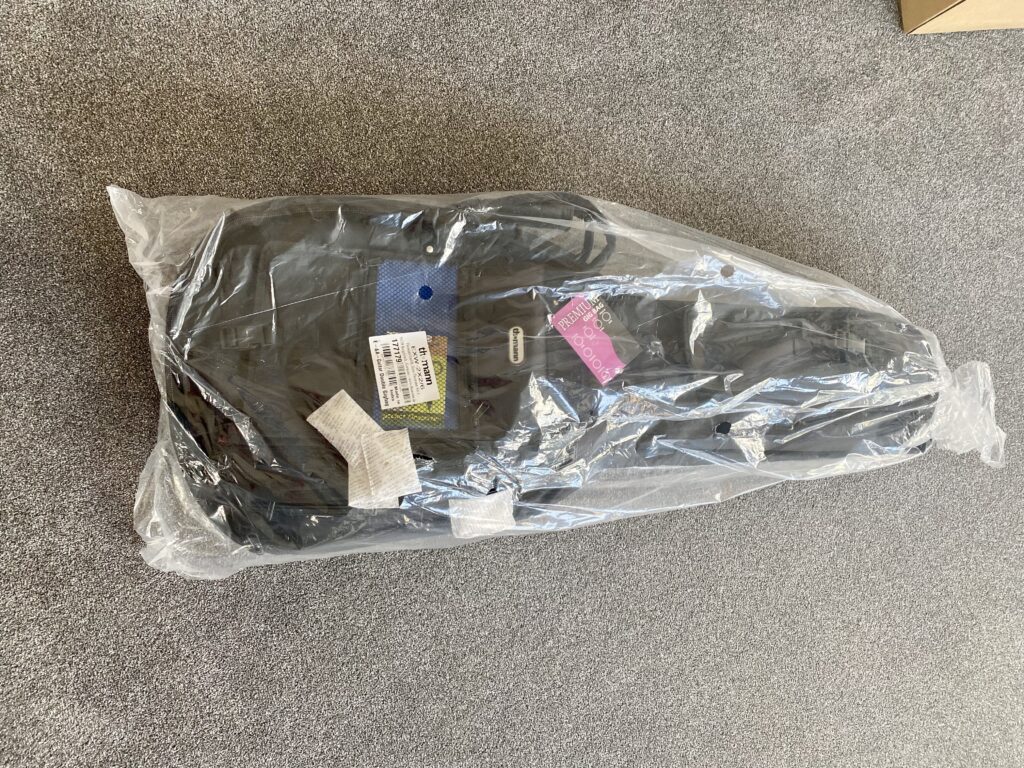 As with 99% of Gigbags, it had side handles (Which have velcro on them for easier carrying) and also two adjustable shoulder straps. I would argue that both the shoulder straps and the handle are "under padded". They could both do with a bit of extra padding for comfort while holding or wearing. Not a huge issue as it is mostly carried from car to venue etc.
The case also has a bit of extra material on the bottom to protect the guitar a bit more when placing them down. It is a small bit of plastic/rubber right at the bottom of the case. A welcome feature for semi-hollow guitars.
I would also mention that there are, what I would describe, as an overwhelming amount of pockets on this gig bag. So many pockets of various sizes. You will be able to fit a lot of gear into this case. However, doing this will add weight to the gig bag, which is an issue we will touch on shortly. In the meantime, for the rehearsals I have been to using this Gigbag, I have loaded all my cables, Two guitars, spare strings, iPad and various tools and gadgets I might need. Plenty of space for everything. I would say that I might even be able to fit my Headrush gig board into the biggest pouch.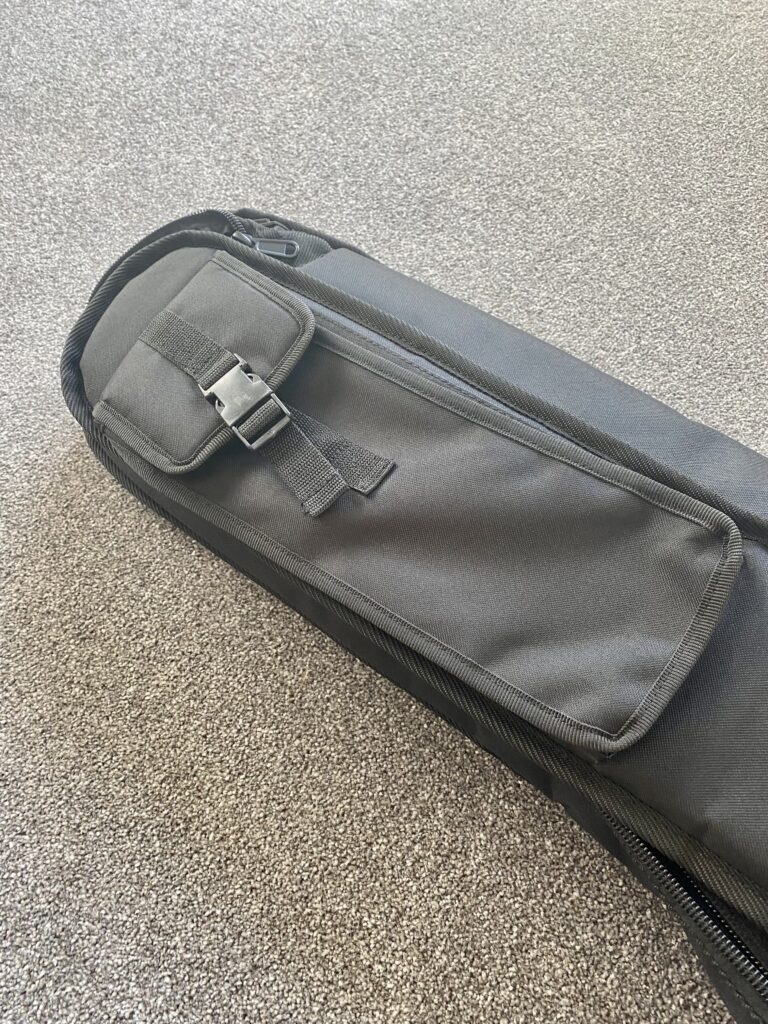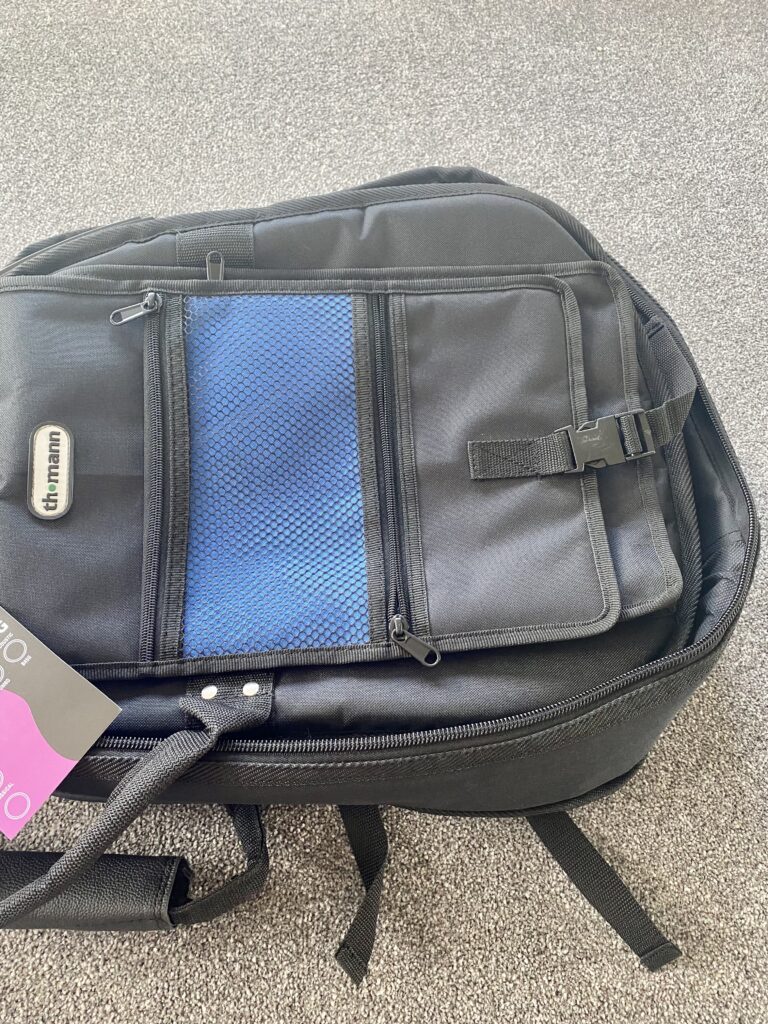 How does it hold guitars?
Very well, The semi-hollow/Acoustic guitar goes on the bottom with the solid body going on top. It holds the guitars very well and picking up the case after putting them in I don't feel any movement and everything feels locked in and secure. I feel confident that the guitars are well protected and would be comfortable having the guitars in this case for an extended period. The only upgrade I would like to see is a neck lock (More on that shortly).
I will say that the case can get very heavy when loaded up, When I had my 335 and my Les Paul Traditional in the case the weight was on the higher end of the scale. Not too bad for loading to and from the car but I wouldn't want to walk too far with it. However, when I loaded up the 335 and the Ultimate Telecaster, the weight was still noticeable but lower. This isn't the fault of the case, however, as I said above it would be nice to have some extra padding on the handles and straps for more comfort when the weight does increase.
Also with all the pockets and extra storage you can load up a lot of equipment (For the reason stated above, I don't load up too much) but you could easily carry most of the gear you need for a gig, in this case, All organised and easy to find and get too. For now, I have just loaded up some spare strings (A set for each guitar) a string winder, metronome, Cloths, Cables and a spare cable and Capo and picks. I could if I wanted to fit my pedalboard in fit but I don't due to weight.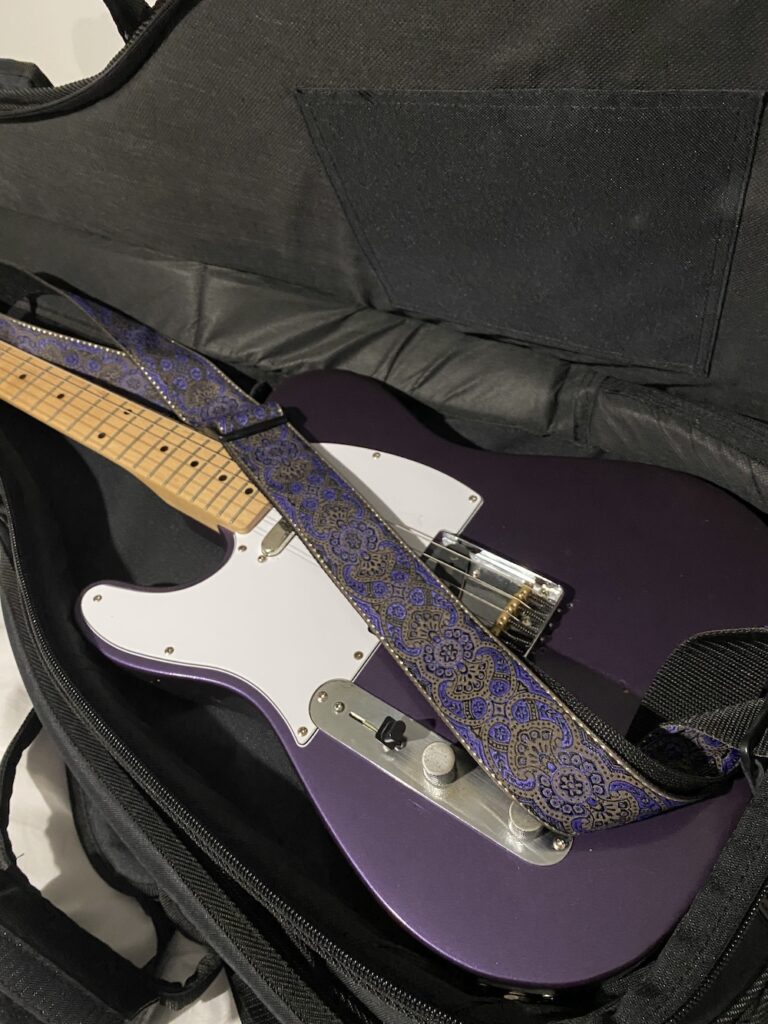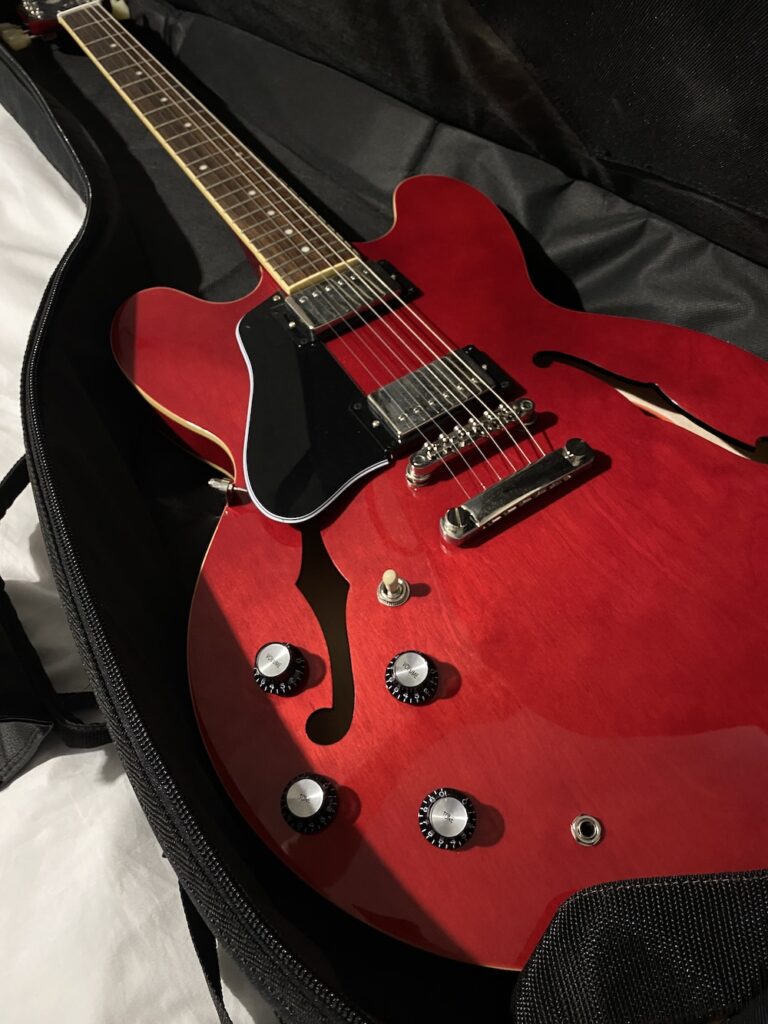 Do I wish I went for the Mono Case?
So after using the Thomann Dual Guitar Gigbag do I wish I bought the Mono dual case instead? Well, not really. I can honestly say that I am really happy with this Gigbag and can see myself using it for a long time! For the price, I don't think there is anything else I would rather buy.
I won't lie, I would like the neck support that the mono cases have (Owning a Gibson Les Paul I understand this feature), This is a feature that makes the Mono Cases tempting, however, for the price difference and I can live without the neck support. Maybe I will even DIY fit one into this case.
Also the Mono has a nicer inside. It is lined with a soft fabric to look after the finish on your guitar. This is a nice touch and something that does set this case above the rest.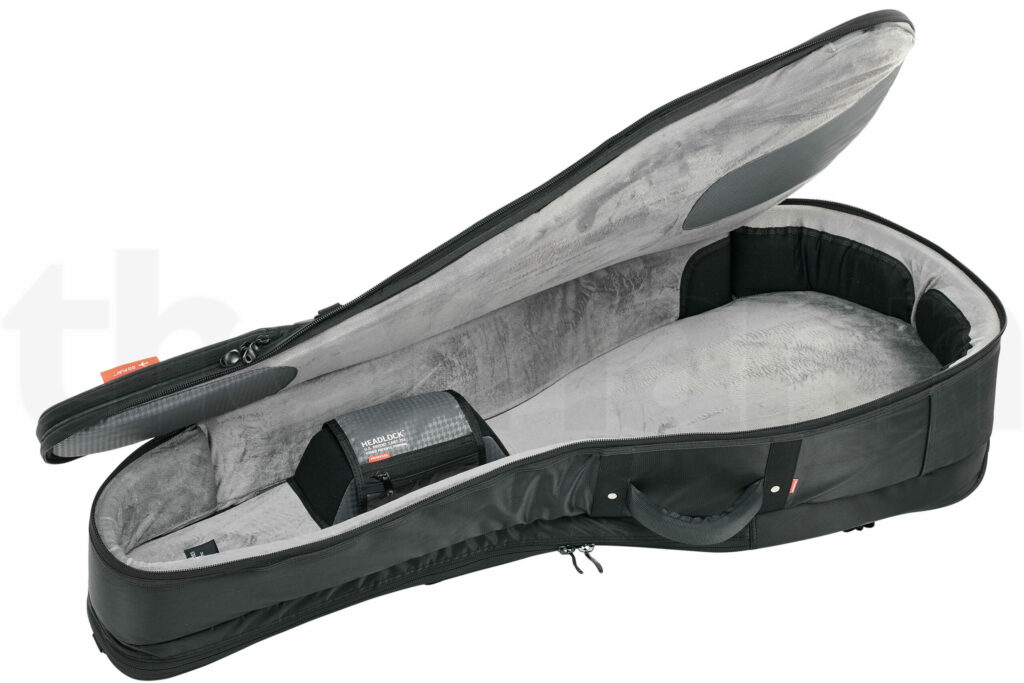 Anything I dislike about it?
There is much you can hate about this gigbag. It does its job, hold the guitars I need to do and is at a price where minor issues don't matter. Have already mentioned that I would like some extra padding on the handles and also maybe a strap or some padding around the neck and headstock. However, I am fully aware this will drive the price up. So for the money, I am over the moon with this bag!
It is also worth mentioning, and this might be due to it being a acoustic and solid body bag, but it is rather thick! The depth of the bag is a lot! It has a fairly large footprint. However, this might be because of the type, If I got the dual solid body it might be a lot slimmer.
So if you are like me and take two guitars gigging and are after one case to carry both, Before you spend £200+ on the higher end cases it might be worth you checking out the Thomann Dual guitar case. I have been very surprised by this case. I will be using it for all things transport now. I might even update this article after a few more months of use and see how it is holding up. If you want to purchase a Thomann Dual Guitar Gigbag you can here.
Having a look through Thomann's website, they have 100's of Gigbag to choose from, so I am sure that if you need a bag for some gear, they have an option for you. I am currently after a bag for my Headrush Gigboard (I am not paying £100 for the official one), so I might grab on to the Thomann Pedalboard bags. 
Do you own this Gigbag or even the Mono bags? If so how do you feel they perform? Are you happy with them? Is there another Gigbag we should check out? If so let us know over on our contact page or our Instagram! We would love to hear from you all!
If you want to check out our other articles you can head over to our blog page and view them all! We have so many articles in the works! Reviews, Advice and maybe even a few gig articles coming up. If you want to keep up to date with us then give us a follow over on our Instagram here.
Check out our other Articles here