Hudson Broadcast Pedal Review – Are Pre Amp pedals worth it?
We have a fantastic review for you, today we are looking at the Hudson Broadcast! This pedal has been out a while now but there is still a hype around it. I am lucky to get my hands on one and try it out. So thanks to my good friend "Lighthouse Instruments" for loaning it to me! I have been messing around and playing with the pedal for a bit now, so thought I would put together my review and see if it lives up to the hype online!
As always we will be going through the pedal, design, sounds and of course thoughts! So let us first dive straight into what the pedal is in case you have never heard of it!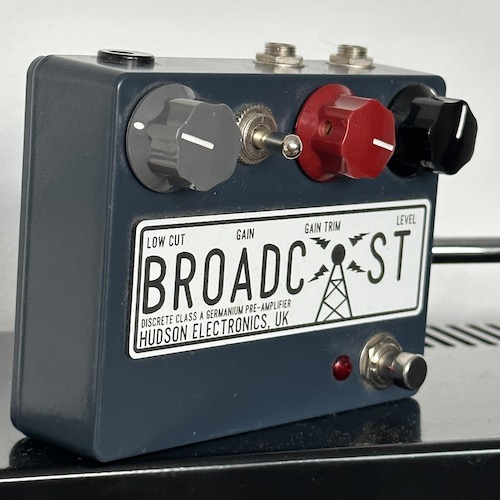 The Hudson Broadcast is a class A Germanium Pre-Amplifier. Designed to go into the front end of your amp to act as a pre-amp, a boost or an overdrive. This pedal is aimed to deliver everything from a subtle volume increase to a warm overdrive all the way to a Fuzzy heavy drive.
The pedal has a very simplistic design with a medium size enclosure, three coloured knobs and one switch and foot switch. The Hudson logo is printed on the front on a piece of metal! It comes in a standard-size box but comes in a pull-string bag with a few box goodies in there.
Each pedal is hand built, wired and tested by Michael Hudson which is a very nice touch and not something you get with "mass-produced" pedals a lot. It will run on a standard 9v power supply and draws next to nothing as far as power is concerned. 
More on the Hudson Broadcast Pedal
The Hudson Broadcast is very simple and only has 4 controls, three knobs and a switch. So let us run over the control! On the far left, we have a low cut, which Attenuates the low end of the Broadcast. This control also interacts with the gain of the pedal. Next, we have the gain switch, which switches between a Germanium and a Silicon transistor. To keep it simple, one has more gain the other has less gain. Next we have the gain trim knob. How much gain (or clip) do you want on the pedal? Finally, we have the level, which adjusts the overall volume of the pedal.
Time for the most important bit, the sounds! We have created a demo track, which uses the Broadcast Into my Revv D20 using my LT Custom Strat. All the gain sounds come from the Hudson Broadcast! The chorus you hear in the demo track comes from the Boss CE-2w (Review Here). After the demo track, I then run through some sounds and demo the sounds you can get with this pedal. Using just the pedal straight into my Revv D20 (Review Here). A huge variety of sounds from this pedal!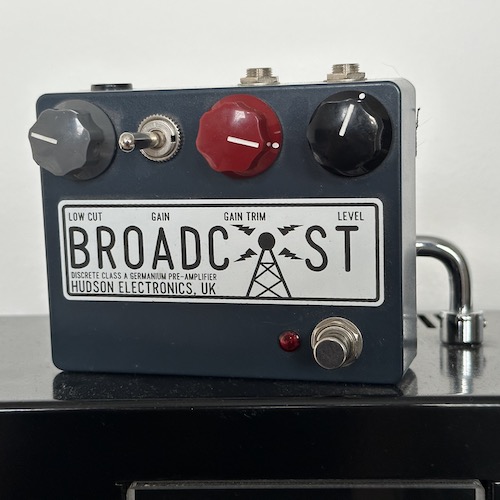 The build quality of the Hudson Broadcast pedal is second to none with sturdy housing, and great labelling and the knobs and controls feel amazing with a Super bright LED. The packaging follows the build quality and is top-notch! The pedal coming in a soft bag with stickers and a lovely manual. One thing I will say about the build quality is the input and output jacks on this pedal are amazing. They have a strong grip on your cable jacks and your cables will never slip out or come loose in these. Great for a study and reliable pedalboard.
How Does it Sound?
So how does the Hudson Broadcast sound? Well, As an always-on pedal, it is glorious! Helps bloom your amp and really brings out the true sound of your amp! Set it to the low gain mode and set the Volume and gain to around 2 o clock works perfectly! As an "always on" it is just phenomenal. Cranking the gain up and flicking it to the higher gain sounds brings an almost fuzz-like sound and feel to the pedal! Giving you high gain and fuzzy overdrive! Great for throwing it at an overdriven amp! However, using the Hi-Cut knob allows you to control those higher frequencies, in case things get a bit hissy or fizzy!
As a clean boost, it is perfect for solos. Allowing you to increase the volume but also add a small amount of gain to compress and stand out for your solo. A perfect boost pedal! However, I would say using this pedal as a solo boost would be underusing this pedal!
Final Words
The pedal cost around £150-£165 depending on where you shop. I think for a pedal of this quality and sound is a good price. Could you get a similar sound with a cheaper more affordable pedal? Absolutely! There is no getting by that this is an expensive pedal, but if you are a gigging musician looking for a great sound and hardwiring overdrive pedal, this is it! 
It was an absolute joy to use this pedal! So many good sounds to be had! I honestly believe it can make any amp blossom! The Hudson Broadcast is so easy to work with as well! Turn the knobs to any position and it will sound amazing! I don't think this pedal has a bad sound in it!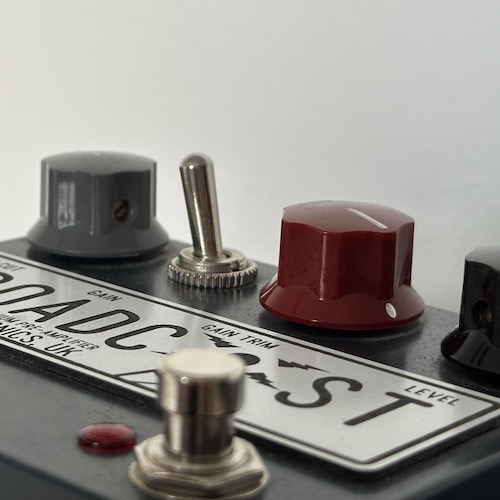 Thanks to Ben for loaning me his Hudson Broadcast and letting me do this article! Make sure you check out his Instagram and Website! The guitars he makes are so beautiful! I will sadly have to return this pedal to him, but in a few weeks, something will be joining the studio that I am super excited about.
As always make sure to give us a follow over on our Instagram page and subscribe to our YouTube channel! Doing both helps the site out so much! We are approaching a milestone and will be doing a giveaway soon! 
Hudson Electronics Links:
Check out our other Articles here