New Rombo Picks Review – Our Full Thoughts

Introduction To The New Rombo Picks
A while ago we had the pleasure of trying out some picks by the brand "Rombo". They were fairly new and sent us some picks to try out. We loved them! Still use them regularly! We properly enjoyed playing with them and have even ordered more plus a few other accessories they sell! Anyway, they have grown and got bigger and bigger and now they have some more shapes and pick designs coming out! 
They sent them over for us to take a look at and put together our thoughts! Brand new shapes and brand-new designs! So let's dive into each one of the new picks Rombo has released! 
This is the thickest of the new range, and it's even thicker than what I would go for! However, due to the design, it never feels "heavy" or "hard work" to use like I feel some thick picks do! I found the pick gives a nice "meaty" sound when playing! Good for quick and fast runs and lead lines! 
The shape is a bit strange to look at but as soon as you hold it and start playing it all makes sense! The grip and feel are so nice! Thanks to the design you have a 2mm point but a bit more thickness where you grip! Making it feel really sturdy and secure in your hand! No need for loads of pressure for it to stay in your hand!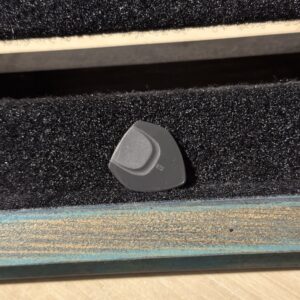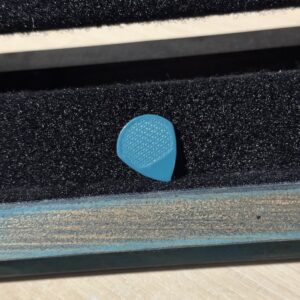 This is the first one I tried out! When I first opened the box this is the plectrum that drew my attention! I actually picked it out to test and ended up using it to record a guitar demo. The Mosaic is a lot thinner than I would normally use, I tend to go for a 1.5mm+. However, this pick felt so comfortable and useable in the hand! Fantastic for strumming and picking notes outs, can even be used to so lead lines! I don't know if it's the shape or the material but this pick "plays" a lot thicker than it is! The Mosaic sounds a lot thicker than it is, and has a lovely tone and playing quality to it!
As with all Rombo Picks the grip is fantastic and allows you to grip the pick without needing to put too much force on it. This means that when you are playing for extended periods, your hand won't cramp or ache. 
I actually used this pick when I record the Golden Horse demo, so if you want to hear it in action then head over to our review here to hear it.
This one is slowly becoming a top 5 pick for me! Feels great in the hand, is a good thickness and is a great shape to play with. Allows me to play fast runs for lead lines but also pick out chords and strum with them. It's a good all-rounder! 
The Rombo shell is 0.95mm thick, so a good thickness for a lot of people! The shape is similar to a Jazz III pick but is way better and has a much better grip! The pick has a very smooth tip but the actual grip has a texture (Every pick in this pack has this feature). What this means is you get a nice smooth picking action without suffering a loss of grip.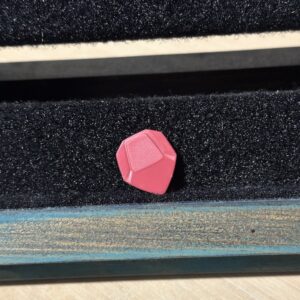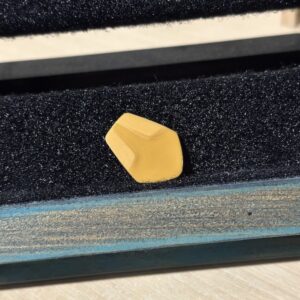 Straight of the line, this is a very different shape than what you might be used to seeing! And it does take a few minutes for the pick to "settle" in your hand and feel normal. However, once it does, it feels rock solid and super comfortable! With the extra material there to grip onto it feel nice to hold.
The Rombo Dune is 0.7mm thick, so slightly thinner than the shell! However, I don't know if this is by design or a happy accident. But due to the shape, the plectrum has several areas you can use to play! All giving different sounds and lending themselves to different styles. 
A Few Other Comments on Rombo Picks
I haven't had these picks that long so can't comment on wear, however, if they are anything like the previous models, you won't be wearing these plectrums out any time soon! Rombo make a rock-solid pick that doesn't wear, warp or lose grip as you play!
Currently, this lineup is in the crowdfunding and Kickstarter phase, If you want to get yourself some you can support the project and receive some picks! All the links for this are below! Rombo is a great company and very friendly. Can't wait to see them grow into a huge company!
Want to give a huge thanks to Rombo for sending me these picks and asking for my opinion! I do recommend you check out their selection, amazing shapes and designs and something for everyone for every style! 
I wanted to release this article on the day they launched, however, due to postal issues in the UK and EU they didn't arrive till the day before!
If you want to purchase some for yourself then check out the links below to head over to their website and follow them on Instagram! 
If you order any, make sure to tag us in your photos on Instagram. We would love to get all your opinions on them. Thanks to Rombo guitar picks for sending these over.
Check out our other Articles here