JSA Atmos Delay Pedal Review – How about another Delay?
Would you believe it we have another pedal from JSA! This time it is the JSA Atmos Delay! The new delay pedal that he has released! As you should all know by now, I love delay pedals! One of my favourite effects! So was so excited when JSA said he was doing a Delay pedal. 
In this article, we will go over the pedal and talk about its features, and then we will hear some sounds and then talk about what we think about the pedal. So first things first, as they say, let's talk about the pedal, what it does and also the controls it has.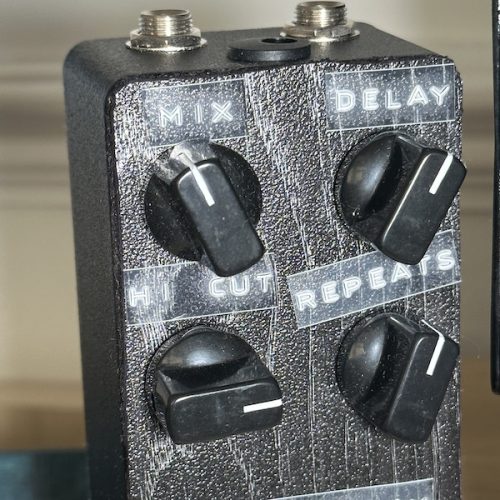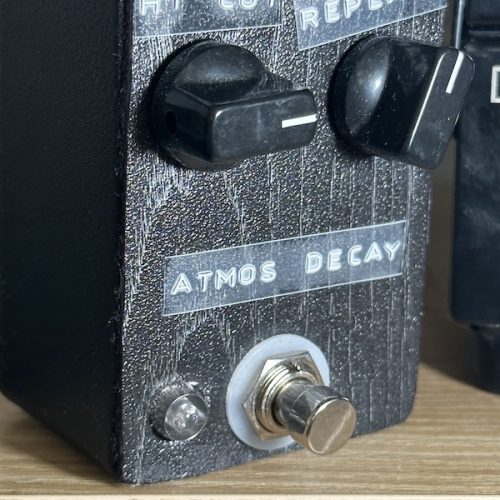 This pedal comes in, what I would call, the standard JSA housing. It is the same size as the Eureka Compressor (Review Here). The housing is a bit different in that JSA has covered it in a Lino covering (Check out this Instagram post for more information), Giving it a dark look with highlights and a slight texture to it. As with all of JSA's pedals, it has printed raised labels for the controls! This pedal has the input and output located at the top of the pedal, as well as the 9v power supply. And a super bright LED letting you know it's on!
More on the JSA Atmos Delay Pedal
The pedal has four main knobs with one internal control. Starting on the top left, we have a Mix knob, Which allows you to mix in the delay, To the right of that we have a Delay knob, Which is your Delay time, Turning it to the left speeds it up and to the right slows it down, Very simple and easy to use. On the bottom left, we have a Hi-Cut knob, which allows you to cut the high frequencies, If you turn it all the way to the right, you won't have any high frequencies and you will get very "dark" sounding repeats. To the right of that we have a Repeats knob, this is how long you want the repeats to go on for. Turning this all the way to the right will send it into a feedback loop!
Inside the JSA Atmos is an internal trim pot to adjust the overall volume of the pedal, this allows you to boost or cut the whole signal from this pedal. You would use this to match the volume when the pedal is on to the same volume when the pedal is off.
This was a challenge because I found this pedal so inspiring! However, while practicing I found a nice chord progression and expanded it into this demo song. All the delay you hear in the song is recorded with the JSA Atmos delay pedal going into the front end. All guitars on the demo track and sound walk-through were recorded using my LT Custom Strat and Revv D20.
You can check out the sounds below! Make sure to subscribe to our YouTube channel to see more exciting reviews!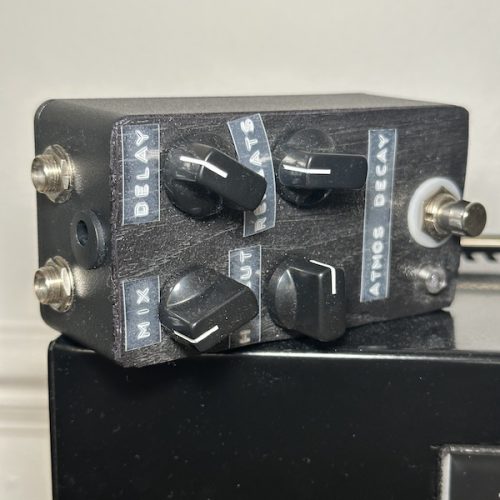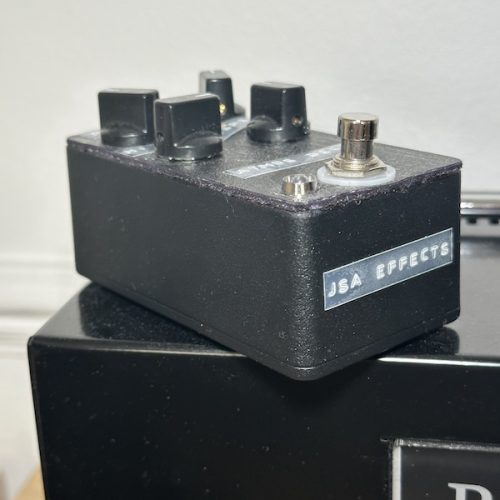 This is one of my favourite-looking pedals from JSA, he has experimented and covered it in a Lino texture, giving it a very distinct, dark and nice look to it. This also means that every pedal is slightly different. This pedal is also a good size, it is the same size as the Eureka Compressor Pedal (Review Here). I would call it a mid-size pedal. Would be good for anyone after a delay pedal but doesn't have a huge amount of room on their board. It's small(ish) but still big enough to have plenty of room for all the controls.
This pedal has a super useful control! The "Hi-Cut" knob acts as a Low pass filter. Meaning you can cut the top end of the repeats off! Why is this helpful? Well, if you are after that super atmospheric, lush and washy delay then removing the high end allows you to do this. You can really get the delay to sit in the mix. Turn it all the way to the left and you will get a sharp and clear repeat! Great for those "U2" delay tones. What I love doing is setting the repeats high, so you get a lot of repeats, but cutting the highs using the Hi-Cuts, gives you a lush delay tone for solos but doesn't muddy the mix.
Anything Else?
So how does it sound as a delay? Well, to put it simply! It sounds amazing! So many delay sounds to be had, combining the "Hi-Cut" and "Mix" knobs allows you to really dial in a sound you can use. You can get everything from Sharp, Urgent delay tones, to washed-out, laid-back delay tones! Perfect for any genre and style! I tend to like the hi-cut just over 12 o clock and the mix around 9 o clock. This allows me to up the repeats while making sure they stay in the background and do not cloud or muddy the mix. If you set the pedal right, you could almost wash out the delays and make it Into a sort of dark reverb kind of sound! 
As with all of JSA Pedals stuff, build quality is amazing and customer service is perfect! Always there to answer questions and help out in any way he can. Believe me, I send him a lot of messages and questions! Really nice guy!
Final Words
If you are looking for a Delay pedal with a tap tempo, this isn't the one. This pedal does not contain a tap tempo. After speaking to JSA, I now understand how hard it is to put a tap tempo. So it is understandable! However, it does not contain a tap tempo, so if that is something you are after, sadly this pedal doesn't contain it.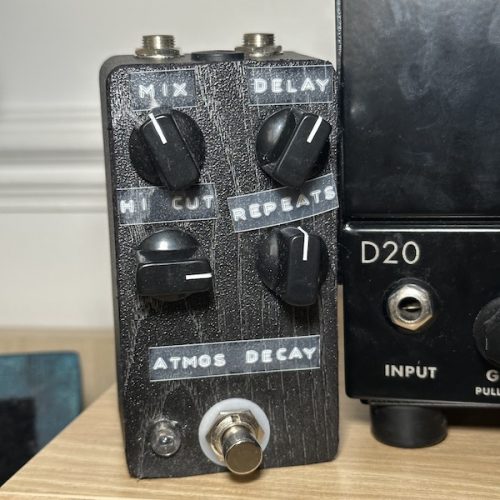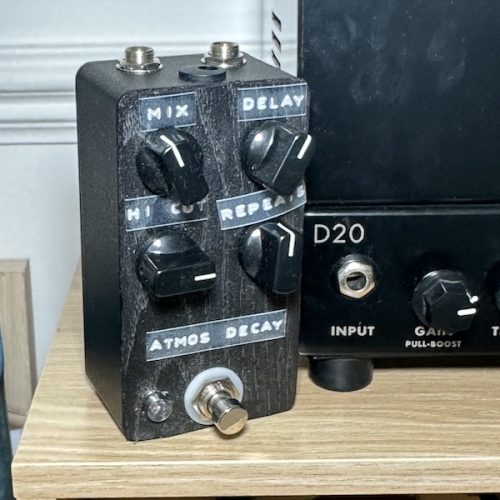 Again, When I saw JSA show this pedal on his Instagram, I just had to get one. So thanks for putting up with my messages. This pedal is fantastic and will be a regular on my board! I can't wait to try it out with some other delays and get an almost multi-head kind of sound going on. Thanks to JSA for building me one, This wasn't a paid review or a free pedal, I paid for this pedal, and it was well worth it!
Playing this delay pedal has got me thinking and I have spoken to JSA about a "custom" delay pedal project. Let's just say this pedal has gone back to JSA for some Modifications! More on that to come!
If you have a pedal in your head that you can not find anywhere, shoot JSA a message, I am sure he would be able to work something out for you! The guy is a wizard at creating pedals!
Please drop us a follow over on our Instagram! It helps so much! If you want us to review any pedals then please let us know.
JSA Pedals Links:
Check out our other Articles here