Strymon Brig dBucket Review – The perfect delay for every Occasion?
When you talk about modern pedal giants, it's hard not to talk about Strymon! They have been around a while now but I'm the last few years have shot to the front line with their insane line of Pedals! Well, today we have their newly released Strymon Brig dBucket Delay pedal! 
The Strymon Brig dBucket Pedal is their version of the Bucket Brigade Delays, in their new compact form. A feature-packed pedal with simple controls but dig deeper and you will discover many more options! However, this does come at a cost, and the question is, is it worth the price? Well, let's find out what the pedal can do first! 
Strymon Brig dBucket Pedal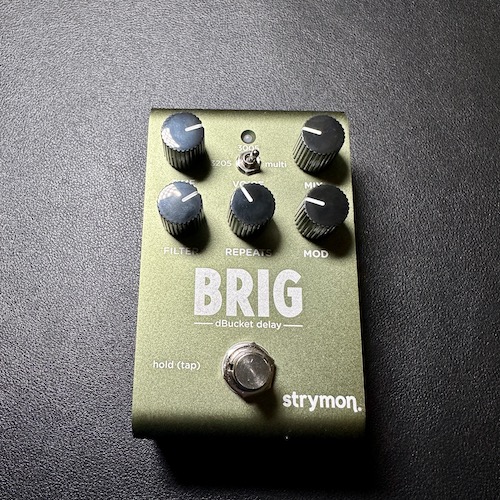 Now, this pedal packs an almighty punch, so I'm not going to go over all the things it can do, but I will go over the main points and then highlight some other points of the pedal. So let's start with the controls.  
Controls-wise, this pedal has a fair amount, so we will quickly go through them. On the front of the pedal starting at the top left we have the "Time" knob, this control the time of the repeats, to the right of that we have the "Voice" switch. This switch controls what kind of Voicing you want far left we have "3205" which simulates a vintage one-chip delay giving you between 30-300ms of delay, the middle is "3005" which simulates a vintage two-chip delay and Will give you between 100ms- 1 Second of delay and right is "Multi" which created a Multi delay using two delay lines set at the golden ratio. To the right of this, we have the "Mix" knob, which controls the blend between Wet and Dry. Allowing full dry and full wet! 
Final Controls
On the bottom row, starting on the left we have a Filter control, this roles the highs on the repeats, making them darker. Next to that, we have the "Repeats" control, which adjusts how long you want the delay to go on. Finally, on the far right we have the "Mod" control. This adjusts how much modulation is on the repeats. At the bottom middle of the pedal, we have a foot switch. If you hold down for 2 seconds, will allow you to use Tap Tempo.
On the back of the pedal, you have several inputs, outputs and switches! On the far left we have our Mono input, next to that, we have our Output. Above the output you have a switch that allows you to switch between mono and stereo outputs. To save space they have used a single TRS output to allow stereo out with one cable! Then we have our Expression/Midi input, allowing you to control the pedal with a midi or an expression pedal. Finally, there is a USB-C input for updates and your power supply input. 
For sounds, we did something a bit different. We didn't do a full demo song! Due to the fact I find this pedal so inspiring, I decided to just find a setting on the pedal like, hit record and just let the pedal take me somewhere. The whole song was recorded in one take and with only one setting on the pedal! All Delay sounds are from the Strymon Brig using my Custom LT Guitar, going into the Thorpy heavy water and then into my Revv D20.
After that, we go through some (not all) of the sounds you can get from this pedal. This pedal is jam-packed with features and we didn't want to sit for hours and go through them so we went through the ones that we would personally use.  
Firstly, the look and design of the pedal is spot on! Good colour with a distinct font and text colour! Everything is easy to read and adjust on the fly! Knobs, text and switches are spaced out perfectly! They have really thought about the design of this pedal and used the available space while still making it compact and on a smaller form factor. 
Not something I notice on most pedals, but when I first took the Strymon Brig dBucket out of the box, I did notice how light it was. Not a good or a bad thing but something to notice! I guess due to its size and its weight, you wouldn't really notice it on your board. It is definitely Smaller and more compact than I thought, really nice size. Not as small as some of the Mini pedals we have reviewed but still a lot smaller than I thought it was going to be!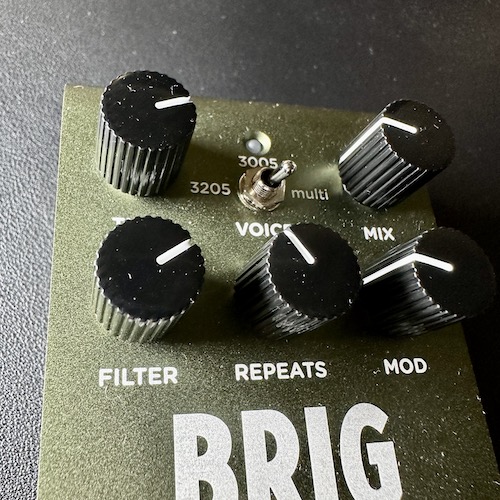 More Thoughts!
Sound wise? Can get some proper lush delay sounds! Boarding on a reverb on some! The filter knob helps get the repeats under control! As you can tell by the demo, It is just perfect for those huge atmospheric sounds! Set the repeat time to tase, Crank up the repeats and control the sound with the filter knob, it sounds just wonderful! I always heard people talk about the Strymon sound. I kind of get it now! Maybe it's a placebo, maybe it is something, but just having this pedal in your chain makes your guitar sound "Strymoney" and also makes you play in a different way! 
Thanks to the three delay choices, you can get a huge array of sounds and delay times. Pair with this tap tempo and you can get delay times from a super quick slap back to a 2-second long, modulated delay! Speaking of modulation, the modulation in this pedal is wonderful! Distinct but not overwhelming! Combined with the filter control can get some lovely delay sounds that sit back in the mix nicely!
Extra features I won't use
The Strymon Brig is packed full of features I haven't mentioned and will most likely never use, I will go through a few of the big ones quickly. MIDI! This pedal is fitted with MIDI and when you use MIDI you have access to 300 presets. Midi isn't something I use on my pedal board, however, it would be nice to be able to access the presets another way if you don't want to use Midi! 
The pedal also has an Expression pedal input allowing you to control any control through an expression pedal! If you are into creating soundscapes this will be perfect for you.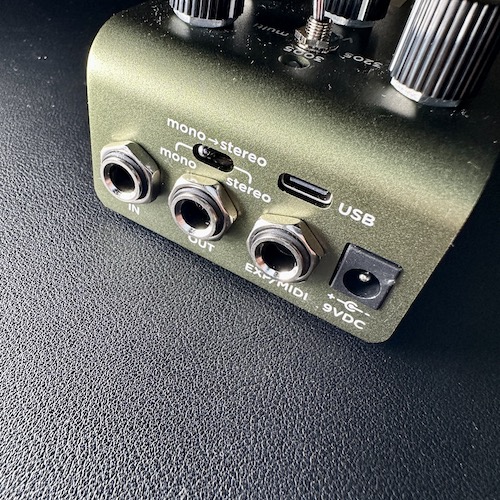 Any negatives
As you know, I always judge knobs and controls! I feel they can have a huge impact on the usability of a pedal. Sadly, I feel the knobs on this pedal aren't up to par for what the pedal costs! They feel a bit "loose". Easy to twist! Feel like they would move in Transport or alter with the slightest knock. As always, this is a very minor point but when you feel nice knobs and then feel one's like these it does make using a pedal a better experience. However, saying this, all the controls are very responsive and change the sound, but in a usable way. The far left and far right of the knobs are not too extreme, almost the whole range of every control is usable.
This might be me not understanding how to fully use it, but if you hold down the foot switch to go into Tap Tempo mode, you can then use the time control to control the subdivisions. A really cool feature. However, apart from the sound there isn't any feedback on what you are selecting, the knob doesn't click, light doesn't change. So you have to play to bear the difference.
One thing to note, this isn't a negative or a positive but the Strymon Brig dBucket does require 300ma for power. So if you are using a cheaper power supply make sure that it can handle this pedal! I am going to say, even though the pedal is very good! I feel that it is expensive! They retail for around £250! I feel it should have been more £200ish when you compare it to its bigger siblings. 
Hope you enjoyed our Strymon Brig dBucket Review! A cracking Delay pedal packed with a wild amount of features! I would argue more features than you will ever need! I am still using this pedal and properly love it on my board! Like I said In the review, I still the price is a bit steep. Will I try out more Strymon pedals? Well, you need to let us know if you want to see more Strymon pedals! Give us a message on Instagram or drop us a comment on this post and let us know which pedal you want to see!
If you liked what you saw in this review then please check out some of our other pedal reviews here! If you want to, you can head over to our Instagram and give us a follow and also subscribe to our YouTube channel here. It helps the site out massively!
Strymon Pedals Links:
Check out our other Articles here